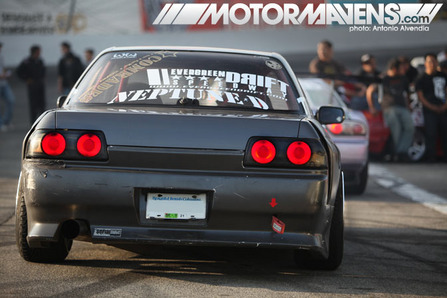 It's true. I'm overdue again on posting my event coverage. This time, the coverage is from the
Formula D Pro Am
that took place at
Irwindale Speedway
this past weekend. However, I don't think it's a bad thing necessarily.
While all the other media people that attended the event (let's be honest; there weren't
that many
) rushed home
to be the first
to post photos on their websites, blogs, Twitters, and whatnot... I decided to spend time hanging out with my friends instead. I love that I was able to do this and not feel bad (this would be
absolutely unacceptable
behaviour if I was writing for a different website). But everyone in the Motor Mavens Crew understands. Hell, some of them were even there with me for all the non-car related stuff we did that weekend... like rolling 30+ heads deep to
Dino's
in Covina for some spicy grilled chicken; or taking Yoshi on a wild goose chase to meet up with some import models at a cafe in OC; or using trucks and trailers with drift cars loaded onto them to make parking difficult in the small parking lot of
Flappy Jacks on Route 66
, just so that Ray from
Garage Autohero
could get his traditional American style Sunday breakfast
and complain
that coffee in California sucks compared to Seattle's. LOL. Oh yeah, but somehow in between all the chillin we did with all our out of town friends that came to Pro Am, we
did
somehow manage to squeeze in a little bit of time to take some photos.
Read more...
---