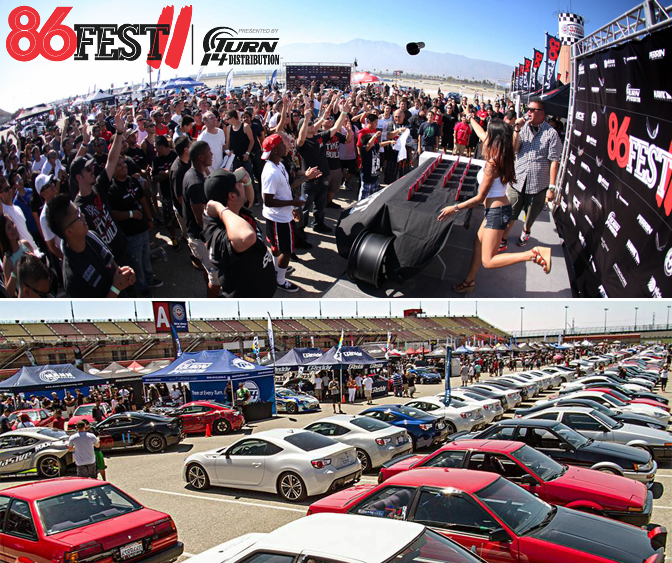 86FEST II
presented by
Turn14 Distribution
took over
Auto Club Speedway
and attracted more than 240
Scion FR-S
and
Subaru BRZ
s, 40 AE86 Toyota Corollas and over 4000 enthusiasts. 86FEST wowed its attendees with a massive vendor village, consisting of over 80 companies offering the latest advances in aftermarket performance parts and accessories, which were prominently featured in aftermarket performance Product Showcases.
Attendees got the opportunity to meet and interact with some of the brightest stars from the
Formula Drift Championship
and some of Southern California's most popular import models, as well as several fresh new faces. While spectators gathered trackside to watch the 86FEST autocross experience, most attendees were busy participating in the 86FEST Parts Raffle.
For two years running, the 86FEST Raffle has definitely remained the most popular element of the show, providing attendees with the opportunity to take home well over $15,000 in performance parts and accessories from top name brands like Hawk Performance, OEM Audio Plus, HRE Wheels, HPS Silicone Hoses, WinMax Brakes, RS-R, Cusco, Innovate Motorsports, Vortech Superchargers, Greddy, Jackson Racing, Mann Engineering, Depo, Essex Motorsports, JPM Coachworks, and Raceseng.
Read more...
---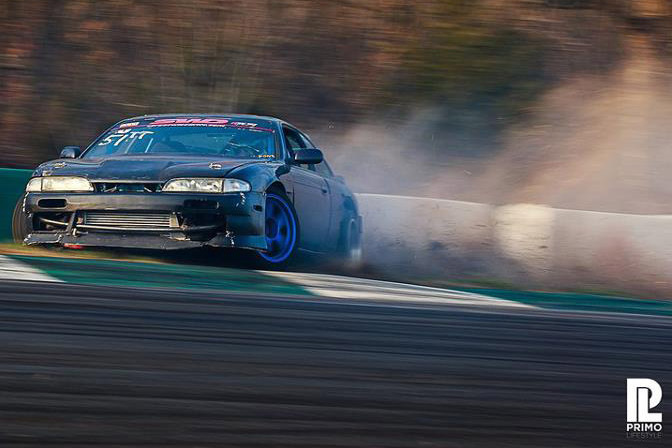 We have a winner for our January #MOTORMAVENSBUILD Contest presented by KoyoRad Racing! David Bellomo, a 21 year old Toyota Technician from Haymarket, Virginia is the owner and driver of this S14 240SX, which has a Toyota 1JZGTE VVTi engine swapped into it. Check out the Build Thread that David created on the MotorMavens forums! (more…)
---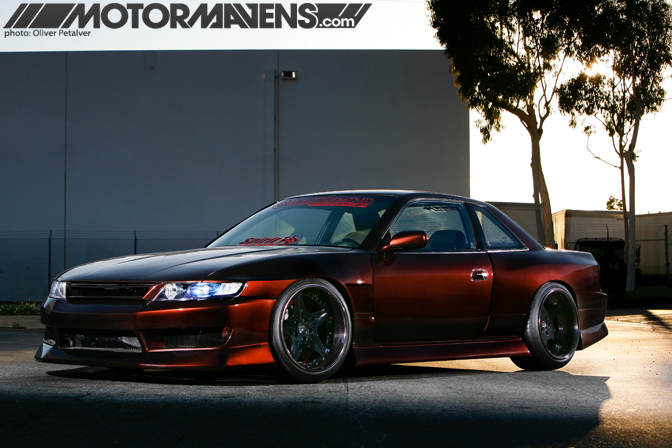 Seeing the MasterMind Odyvia for the first time at our
MotorMavens Mass Appeal Show
in
Irwindale, CA
was a mind-blowing experience. Hearing the car start up for the first time left my ears ringing for hours. However, rather than just telling tell you why I fell in love with this car, I thought I should tell you how this car came to life instead. Please fasten your seat belts, this ride is about to get CRAZY. You're probably asking yourself, what is an Odyvia? In case you didn't know, it's when you combine Honda Odyssey headlights with a 1991 Nissan 240SX (S13 Silvia) body. Hence, the name ODYVIA...I find it rather fitting for the car - the name sounds like it was plucked from an epic poem like
The Iliad.
The reason I felt so passionate about this particular car wasn't the one-off
Spirit Rei Japan
widebody kit, custom fabrication, custom interior, nor the
Z06 LS7
motor swap. It was because
it took incredible persistence and attention to detail
to accomplish - this project was riddled with issues that would make an average mechanic lose his mind.
Read more...
---