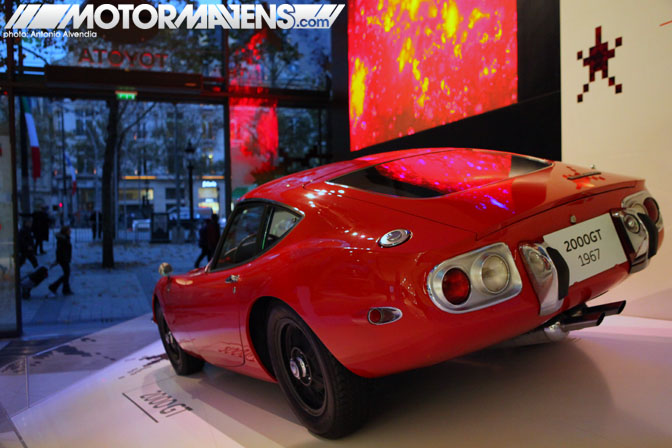 People from all over the world flock to Paris because it is well known as a city of love; a city of passion; a city of style and history.
Everyone who knows me personally knows that I have an enduring
love
and
passion
for the
style and history of fine Japanese automobiles
, especially those from a particular automaker -
Toyota
. As a driver, restorer, and collector of vintage Toyotas, I've owned something like 40 Toyota and Lexus vehicles in my lifetime, with tons and tons of rare parts and Toyota motorsports memorabilia in my private
Cipher Garage Collection
.
For those who also share the passion for Toyota automobiles,
Toyota Motor Europe
has graciously created a place for all of us to
rendezvous
.
Read more...
---
I got this awesome KP47 Toyota Starlet video link from Chihiro Yoshimura from AE/KP drift team Peak, from Kanagawa Japan. I absolutely LOVE the vintage racing footage of the old KPs…  in the video, where they actually feature the car though, I was a bit puzzled because the car's sitting on Gotti wheels, which are Italian, not Japanese. I would imagine that a car like this would/should be running some sort of TRD wheels or RS Watanabes or SSRs. I don't think those Gotti wheels were originally used on this particular car… maybe the owner of the car, Kuwahara Racing, just swapped them out at a later date. But for once, let's stop talking about wheels.
The real star of the show is the HEART of the Starlet – the Toyota 3KR racing engine, designated 137E and prepared by Toyota Team Tom's for circuit racing. I had to pause the video and rewind it several times so that I could get a better look at the really cool vintage parts used on this car. Most of these are what I like to call unobtainium… that is, you will never in your life find parts like this! Stuff like the vintage KP47 TRD parts, like the fiberglass hood and N2 flares, TRD rear wing, TRD high rise 3KR headers… should I go on?! (more…)
---