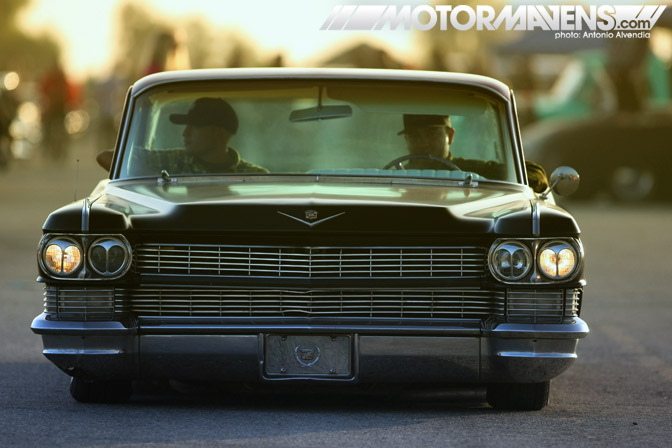 Los Angeles is a melting pot of many cultures, so the car culture in Southern California is diverse as well - this place is ground zero for modified cars! Los Angeles has automotive heritage that spans from the first hot rodders and dry lakebed racers in the 1940s and 1950s to the evolution of the European and Japanese car scenes on US shores that began in the late 1960s and continues strong until today. People complain about all the smog and traffic and crappy roads in LA, but we're lucky - as far as I'm concerned, we have it all.
As Southern California car culture evolved from traditional handcrafted V8 powered hot rods to include the modification of small bore, high power output Japanese cars, our car scene truly has come full circle. It may be difficult for some to grasp this, but today, one of the most popular events in Southern California celebrating
hot rods and the culture behind them
is actually run by a group of hardcore hot rodders from Japan! The event I speak of is the annual
Mooneyes Christmas Party
at
Irwindale Speedway
, and year after year, it captivates me like it was my very first car show. Year after year, the Mooneyes Christmas Party remains paramount in my mind as the very best hot rod event I've ever attended.
Read more...
---

Spocom%3a+Models+%2b+Formula+D%2c+Time+Attack+%26+VIP+Cars
Check out our newest video on Streetfire.net, which features some video footage from the Spocom USA show at the Long Beach Convention Center. We decided to go to Spocom to meet up with some friends, and also to see what it would be like if we combined the footage from the small Canon HF S100 consumer HD camera I'm testing with the footage from Antonio's Canon 5D MarkII digital SLR, which he normally only uses for shooting still photos!
Luckily for us, Antonio's younger brother David was in town; he helped us capture a lot of this video footage while his big bro stopped at every. single. booth… to say hi to a friend of his. David's an aspiring video producer in training – he's only 16 years old, but he seems to have a good eye for composition already!
Enjoy the video and the music… I wonder if anyone can easily identify which video clips were shot with the 5DMk2 and which ones were shot with the HF S100?
:: Travis Hodges
---