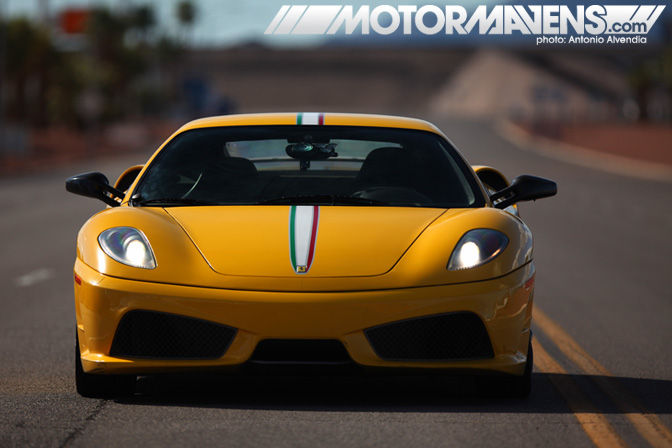 It doesn't matter if you're male or female; young or old. Everyone loves exotic cars - especially
Ferrari
and
Lamborghini
. They're beautiful; they're fast; they're exclusive. Unfortunately for most, this exclusivity stems from the fact that they're also very rare and expensive; some people never even get the chance to drive an exotic super car in their entire lifetime. The lust for exotic automobiles begins when you are a child - every car lover dreams of driving an exotic car, but usually they only get to play with smaller scale toy versions.
Luckily for us, MotorMavens sharpshooter
Mike Kim
and I were given the rare opportunity to test drive a pair of exotic supercars on a race track at
Exotics Racing
in Las Vegas! Located just a few freeway exits away from
The Las Vegas Strip
,
Exotics Racing
blends all the
luxury and service that one expects from a Las Vegas Resort
with an
amazing supercar driving experience
.
To be honest, Mike and I have always thought that test driving cars like the Ferrari 458 Italia, Lamborghini Aventador, Mercedes Benz SLS AMG, Audi R8 and Aston Martin V8 Vantage were out of our price range, so we never really bothered to look into it. Big mistake. As it turns out, our stupid assumptions were wrong. Completely wrong!
Read more...
---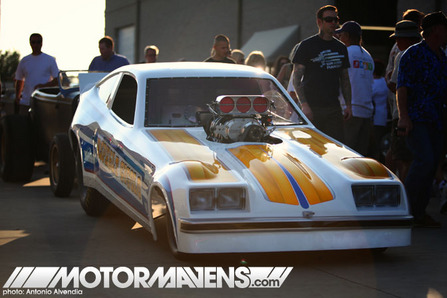 To continue on with some of my previously posted photos from the
So Cal Speed Shop Open House
, I thought I'd shine a spotlight on one of the cars that really caught my eye as I walked onto So Cal's back lot -
The Asphalt Gigolo
.
This early 1970s
Chevy Monza
funny car immediately captured my attention as it sat amongst all the hot rods at So Cal, basking in the late afternoon sunlight. Like I mentioned previously in my story, I've recently become a fan of retro funny cars. Everything from the style to the fat drag slicks to the forward-raked stance to the vintage paint and logos on the car to the monstrous
540 cubic inch
big block engine, stainless steel, and big blower sticking out the hood... what's not to like?
Read more...
---