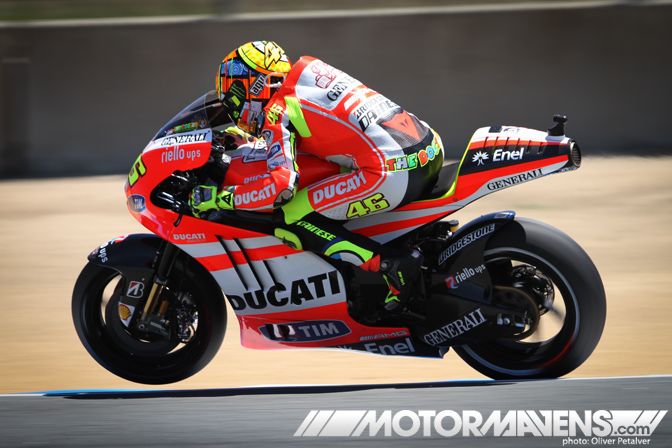 While my colleagues were in the
Pacific Northwest
shooting
Formula D
, I decided to take a road trip to
Monterey, CA
to shoot the world famous
MotoGP
.
For those unfamiliar with MotoGP, it is the two-wheel equivalent of
Formula One
. It is an 18-race series visiting 14 countries (with only two stops in the U.S.). Now in its 63
rd
year, it is the oldest motorsports championship in the world. The world's best riders pilot machinery that have been crafted with the keenest of cutting-edge technology - technology which has largely benefited from the R&D budgets of four manufacturers:
Yamaha, Ducati, Honda,
&
Suzuki
.
For the purposes of competing in MotoGP's premier class, the manufacturers are held within these general parameters: the engines must be 800 cc, four-stroke engines and the motorcycles competing must be prototypes. As you might imagine, first-rate drivers plus high-end, super machines equate to one HELL of a ride!
Read more...
---
I think I've found my new hero – Adam Craver. This guy epitomizes machines and the visceral feeling we get from them. However, he philosophizes on a major issue that has been brought up politically over the past few decades: the deindustrialization of America. Seeing that we're on an automotive site, I'm certain that we know the difference between a Phillips and a flat head screwdriver; heck, most of us probably know the difference between a flathead engine and an overhead valve engine. But he makes a great point – there is little knowledge and desire within our emerging generation to create physical things. Craftsmen aren't being replaced and the shortage is disheartening. (more…)
---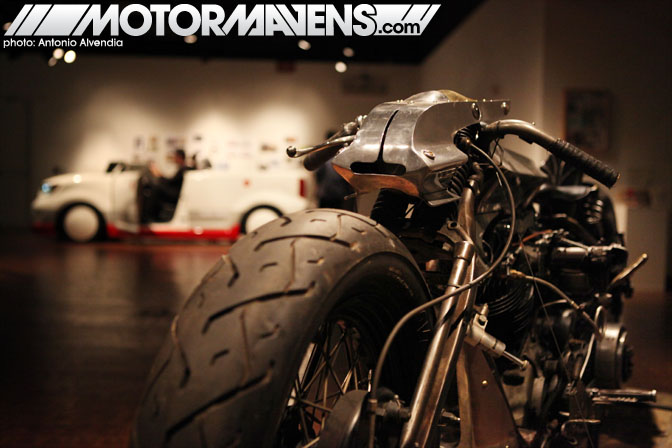 As part of its continuing "Salon Pop" series,
Giant Robot
and the
Japanese American National Museum
(JANM) in Little Tokyo (Downtown Los Angeles) unveiled the concept exhibition,
Zen Garage
, developed in collaboration between the JANM and
Eric Nakamura,
founder of Giant Robot, a brand that started out as a magazine devoted to art and the cooler aspects of Asian-American pop culture.
Even though I personally am not extremely well versed in the world of art, Giant Robot is an inspiration to me, because it started in 1994
without any kind of budget or corporate backing
(much like the MotorMavens website). Since then, Giant Robot has grown as a brand and as a movement - Giant Robot Magazine can now be found in major bookstores; there are Giant Robot stores in San Francisco and Los Angeles;
there's even a GR/Eats restaurant
in West LA! I remain fascinated by
homegrown brands that have blown up organically and become success stories
, and this is why Giant Robot's involvement in Zen Garage was interesting to me.
On top of all that, I think it's pretty interesting for an exhibit like this to exist within the walls of the Japanese American National Museum. We're talking about an museum that
isn't even purposefully focused on cars
. The JANM focuses on the experience of Japanese people in America, from World War II internment camp relics to artwork by
Mike Shinoda
of rock band
Linkin Park
... they don't normally focus on cars or car culture, so having the JANM recognize these cars and motorcycles as art... is a pretty big deal in my opinion.
Read more...
---