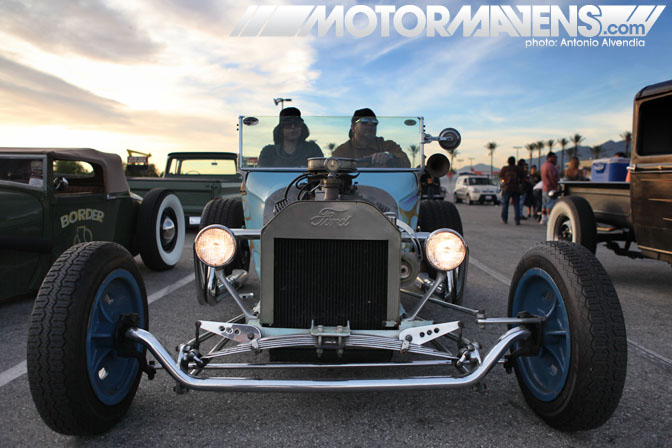 It's no secret that one of my favorite car events to attend every year is the annual Mooneyes Christmas Party at Irwindale Speedway. When I first began posting up
stories and photos from Mooneyes and related hot rod events on MotorMavens
in the past, and I think some of our readers were sort of confused. I know, I know... this isn't the sort of content that people might normally expect from a media outlet that normally covers things related to Japanese car culture and motorsports. However, we're making efforts to expand out of our normal comfort zones... because from drifting to road racing to hot rods to European cars to exotics... there's a common denominator that binds all of us
as car guys
together... we are passionate about cars!
We've lightly touched on the MotorMavens
passion principle
in previous stories, but we'll be seeing more of this in the future, as we spotlight cars that people are passionate about! I know I'm intensely passionate about the cars in my collection, and you are too. Although some of us might not come from hot rod or kustom car backgrounds, we can definitely appreciate and respect the automotive passion that the owners of these cars have put into their cars; it seeps into and affects every bit of a person's life. It really IS a lifestyle - a person's love for cars and the culture that surrounds them really does affect every bit of their lives, if they do it right. This goes out to the
real
gearheads! This goes out to the people that live this stuff day in and day out, because THAT is what it's all about. This isn't just a hobby for us - this is what we build our lives around, and we wouldn't have it any other way.
Anyway, enough of my rambling... on to the photos!
Read more...
---