Formula D driver Cyrus Martinez might not have the widest wheels or the lowest car or the coolest graphics in the Formula Drift series, but he sure has a whole lot of heart, and people love him for that. He started off as an AE86 Corolla driver, and worked his way up through the ranks, eventually earning his spot in the Formula D series with the Megan Racing drift team. It's great to see that Cyrus is doing a good job of advancing through the rankings too, with his name being hyped up through the loudspeakers during several exciting tandem battles with top ranked Formula D drivers.
With help from longtime drifting videographer "Camera Steve" Reyes, Cyrus has released a year-end video full of highlights from the season, including some pretty cool footage of Cyrus crashing into walls and such! (more…)
---
In continuing with our celebration of 8-6 Day, I wanted to bring back this shot I took of Taka Aono at Road Atlanta earlier this year. Seeing this car still compete at a top level in professional drifting really adds to the excitement and the theater (theatre?) of the event. As much fun as it is seeing two high-horsepower Goliaths battle it out, replacing one of those monsters with a David only makes things more interesting. This might be why the AE86 is still a crowd favorite, well over 20 years after its inception.
Read more...
---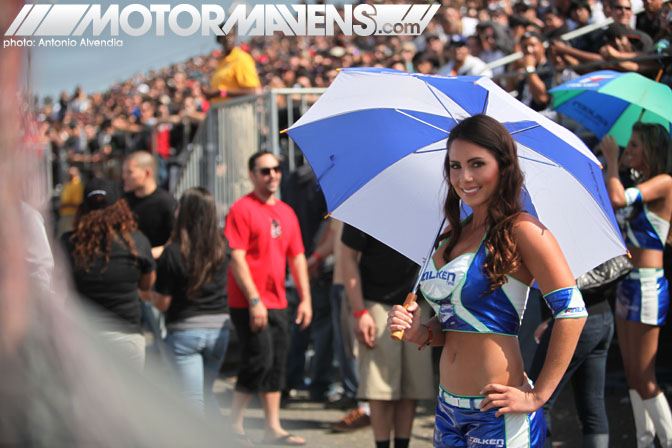 I know, everyone has been waiting to see our first installment of
Formula D Long Beach
pics. So have I! We just had to get some other deadlines out of the way before we could begin posting our images from this weekend's Formula Drift event on the Streets of Long Beach!
This past weekend was certainly an exciting one. I was excited to see all the new cars that were debuting at Long Beach, as well as seeing a lot of good friends from different parts of the world,
even if it would be only for a brief moment
. Unfortunately, when you're working at the event like I am, you're usually hustling about, going from one spot to the next, and you don't have as much time as you'd like to just chill and spend time with good friends. This event was
definitely
like that for me.
I was trying to juggle shooting photos for the website while overseeing the
Motor Mavens Crew
's event promotions efforts. Not an easy task! Also, on the Saturday of the event, I was asked to help out with the filming of
The Grid
, which is a UK-based motorsports television show that airs in 120 countries around the world! And... on top of
all that
, we debuted the new
MotorMavens X DSTROYR "Follow The Leader" shirt
at our booth, which was managed by super designer
Jon Chase
, the creative genius behind the brands
DSTROYR
and
Famous Stars and Straps
. I and the entire Motor Mavens Crew definitely had our hustle mode switched ON this weekend!
Read more...
---