Formula Drift at Palm Beach International Raceway in Florida was AWESOME!!! First off, I was excited getting there being part of the first group to shoot this location. It's Florida, it's new, they were changing the track up last minute.. It was a very freestyle feel to the weekend. Much less structured seeming than the previous events this year.
Secondly, the YAER team was out and about running wild, the drivers were killing it, and Walker Wilkerson (YAER sponsored driver) had a new reverse gear installed that allows him to enter the turns backwards. (more…)
---
MotorMavens | TANDEM OF DIE | Formula Drift Palm Beach from MotorMavens Dotcom on Vimeo.
During Formula Drift's first Florida event last weekend, there were many bobbles, a few spins, and even a couple of wrecks. The new layout on Palm Beach International Raceway proved to be a challenge for drivers, event organizers, and media personnel alike. The slippery track was slightly technical, with a high speed and high angle entry, and rounded off with a smoky finish. (more…)
---
For the first time
Formula DRIFT
history, the war was brought to the battlegrounds in
Florida
at the
Palm Beach International Raceway (PBIR)
. Locals got to witness a "Battle of the Mustangs" as
Justin "JTP" Pawlak
took another victory this year in his
Falken Tires Ford Mustang
against last year's champion,
Vaughn Gittin, Jr.
and his
Monster Energy/Falken Tires Ford Mustang
.
Darren McNamara
(who qualified 2nd) and his Falken Tire
Saturn Sky
ended up in 3rd place after defeating number one qualifier
Chris Forsberg
and his
NOS Energy Drink Nissan 370Z
. Florida was very very good to Falken Tires! In fact, Florida was very good - period.
Read more...
---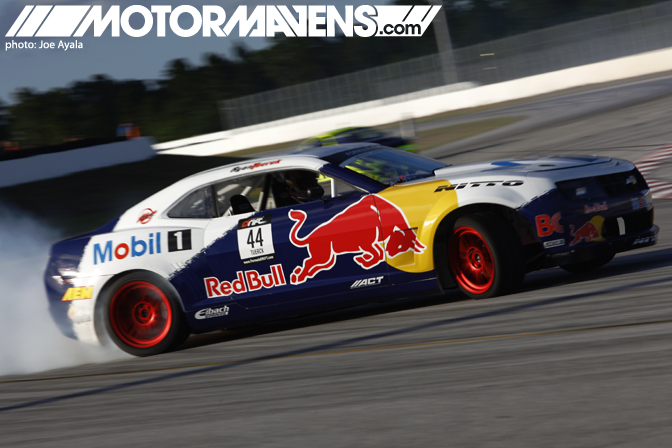 This weekend, Formula Drift brings the third round of the championship series to an all new venue,
Palm Beach International Raceway
in Jupiter, Florida. I managed to shoot a few photos while filming random shenanigans around the track. I really liked the high speed entry to this new track, flowing into a long transition on a rumble strip.
Formerly known as
Moroso Raceway
, the high speed capability of PBIR's road course did present a problem, however - the course layout led a lot of high speed drifting
right into the fans laps
. Since this was the very first time that the Formula Drift series would be running at Palm Beach, they certainly didn't expect these types of results from their initial course layout! However, since Formula D is a responsible professional organization, they decided to
reverse the course layout
mid day in the interest of driver safety.
Read more...
---