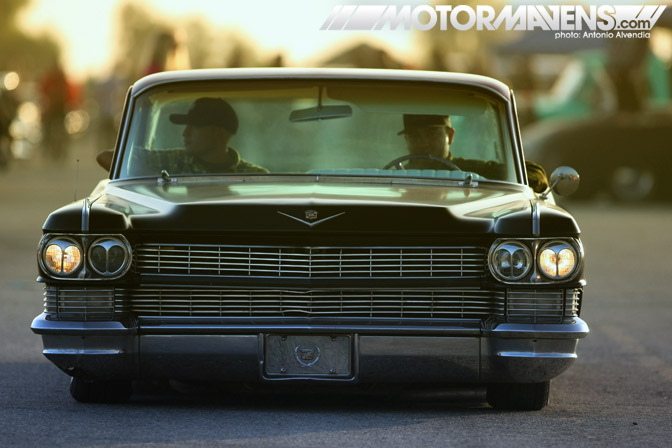 Los Angeles is a melting pot of many cultures, so the car culture in Southern California is diverse as well - this place is ground zero for modified cars! Los Angeles has automotive heritage that spans from the first hot rodders and dry lakebed racers in the 1940s and 1950s to the evolution of the European and Japanese car scenes on US shores that began in the late 1960s and continues strong until today. People complain about all the smog and traffic and crappy roads in LA, but we're lucky - as far as I'm concerned, we have it all.
As Southern California car culture evolved from traditional handcrafted V8 powered hot rods to include the modification of small bore, high power output Japanese cars, our car scene truly has come full circle. It may be difficult for some to grasp this, but today, one of the most popular events in Southern California celebrating
hot rods and the culture behind them
is actually run by a group of hardcore hot rodders from Japan! The event I speak of is the annual
Mooneyes Christmas Party
at
Irwindale Speedway
, and year after year, it captivates me like it was my very first car show. Year after year, the Mooneyes Christmas Party remains paramount in my mind as the very best hot rod event I've ever attended.
Read more...
---
---
Antonio has just gotten back from Seattle Formula D, and I'm sure many of you are waiting to see the photos from the event. He is currently preparing photos and stories to post up, but while he's doing that, we thought we would change the pace just a little bit.
Many of you I'm sure have seen some of Antonio's stories and photos from the 2009 Ink and Iron festival. (There are A LOT more photos by the way… we just thought we'd spread out the postings in case not everyone was feeling the style.) While we were at the show, we decided to get some video footage of the event. This time we only used Antonio's Canon 5D Mark II digital SLR camera in video mode. He's just starting out with trying his hand at shooting video… it's a really different skill than shooting still photos, as there are different techniques that make both disciplines challenging.
Many of you may not be aware of this, but the 5D Mark II is becoming a huge favorite of the independent filmmaker. The 5D's insane depth of field, color quality and low light capabilies make it ideal. There's no high speed or time lapse capability, it simply has amazing picture quality.
Along with video footage we got from the 5D Mark II, we integrated some of Antonio's still shots. See if you can tell which shots are stills. Enjoy the new video and let us know what you think.
:: Travis Hodges
---