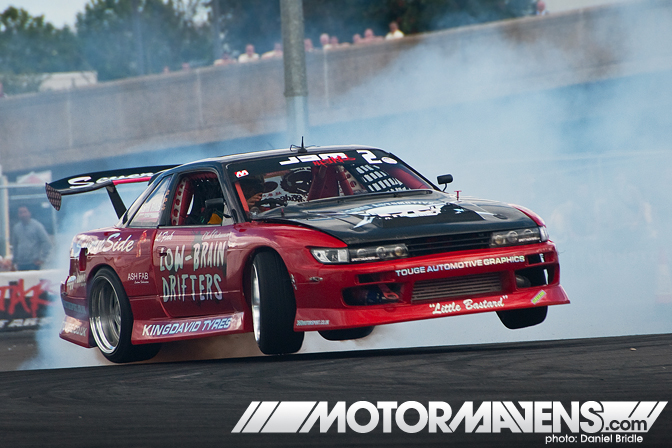 For the third year in a row
JDM Allstars
returned once again to the city of London in what can only be described as the landmark event of the series -
Wembley Stadium
. For reasons I'm not quite sure about, this years round was dubbed "THE BIG SMOKE." But over the weekend it became a very fitting title. In fact as I sit here writing this I'm still coughing and finding the remains of many deceased Federal, Nexen, Kuhmo, Neuton, and whatever other tyre brand you can think of, in my ears and nose.
Wembley is THE event to go to in the
JDM Allstars calendar. Drifters from all over Europe and even outside of Europe flock to Wembley to step up to the plate and show their talents in the competition. So bright and early (way too early) Saturday morning, I headed down into London to check out what was going on.
Usually I like to hang around the pits for a while to chat with drivers and friends, but with briefings to attend to and with the large amount of drivers competing, practice had to get underway pretty sharpish and I didn't want to miss out on any of the action. So I made a move out to the track and started shooting. So here are some photos from practice and qualifying!
Read more...
---
AWFILMS | RAW LAS VEGAS | Shreeve Gets Wild! from Abbitt Wilkerson on Vimeo.
The heat of Las Vegas can make people do some crazy things. It makes some people stay out all night, drinking beer with new friends that they just met until 10AM, ensuring that they won't have enough sleep to function as a normal human being at the actual Formula D Las Vegas event… and it makes some people stick their faces behind 180SX drift cars as they do burnouts in line for drifting practice.
Here's our vote for the best looking S13 in the entire Formula Drift series… Nikolay Konstantinov's RB-powered RPS13, as seen through the lens of Abbitt Wilkerson as Justin Shreeve clowns around behind the car…
(Hey Abbitt… where's that logo bumper?)
:: Antonio Alvendia
---