I realize that our readers have been patiently waiting for these new photos from our coverage of the IDRC Finale at California Dragway in Fontana, CA. There were quite a few racers in attendance, and quite a few media outlets out there covering the event, so I'm sure there will be lots of great stories and links out on the internet that include everyone's quarter mile times.
Rather than bringing our readers the same stories as
the other guys
, I thought I would just publish a few more photos of cars that caught my eye. I'll be the first to admit - I don't know a whole lot about drag racing or Hondas, so if I don't go into as much detail as you might expect from one of my stories about drifting or Japanese nostalgic cars, then please bear with me. Actually, I'd love to invite a Honda Maven to share information with us, and even blog on the site! It would be pretty cool, as I know I certainly have a lot to learn when it comes to drag racing and Hondas...
Read more...
---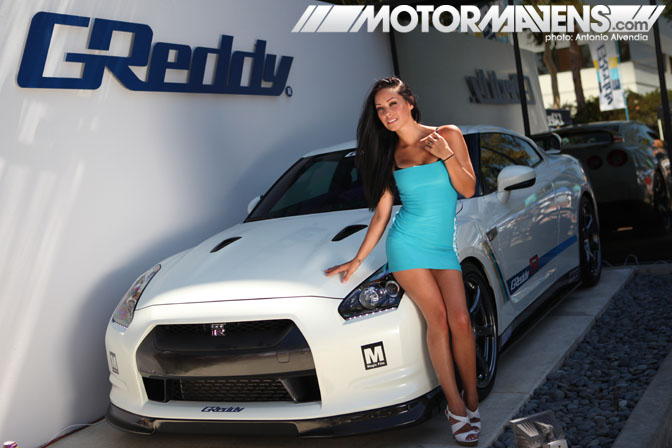 After spending an entire day in the scorching hot sun for the IDRC Finale, I felt sooo incredibly burnt out (literally) and didn't feel like doing anything at all. However, I couldn't exactly just relax at home, because I had plans to link up with some good friends for dinner and an after hours party. Needless to say, it was pretty hard to get out of bed early again (I had to be at IDRC by 7:30am on a weekend!) for the
GReddy Festival
this past weekend, so I just made a leisurely day out of it.
Since I had plans to hit up the GReddy meet with my friend
Brian Urbano
, we decided to cruise one of his Supras down to Orange County for the event. On this particular day, the vehicle of choice would be his black
JZA80 Supra twin turbo
.
Read more...
---
---
Last weekend, we were out at the Redline Time Attack at Willow Springs International Raceway, performing a camera test. Every once in a while, we have to test different types of cameras to see what kind of footage they're capable of producing.
This time, we were trying out a Canon HF S100 consumer level HD video camera. The camera costs less than $1000 USD, so it isn't too expensive, and we think it's still capable of producing pretty decent image quality – remember, the entire camera is about the size of a Campbell's Chunky soup can! The whole point of testing these different consumer level cameras is to figure out which ones have the best image quality and features-for-the-price. Nowadays, more and more people are interested in self-producing videos for Youtube, Vimeo or Streetfire uploads; this is why we think it's interesting to test real-world cameras that normal people can actually afford and edit using iMovie or Final Cut.
Anyway, at Willow Springs, we encountered several challenges – it was extremely difficult for the camera to focus while shooting through heat haze (on the track) and the wind presented an issue, but all in all, we think the Canon HF S100 isn't bad for a straight-to-SD card HD video camera under $1000. However, we'll let you watch the video and form your own opinion. What do you think?
::Travis Hodges
---