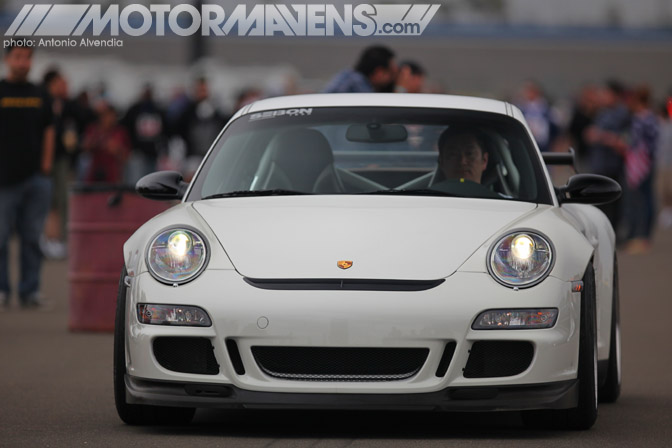 This weekend's inaugural
Speed&Stance
meet was crazy!!! I can't believe so many people turned up to the event, because we organized and promoted the entire thing in only five days. FIVE DAYS! Thanks to our friends at
Speed Ventures
, we were able to throw this gigantic car event in the parking lot of
Auto Club Speedway
in Fontana!
We advertised the meet to run between 12 noon and 5pm, but every single one of the infield parking lots at the speedway were FULL by 2:45pm! There was a crazy line of cars backed up from the infield parking, through the tunnel, wrapping all the way around to the Cherry Avenue entrance! I was told that once the parking lots allocated to the event hit capacity, the people at the gates had to turn away well over 100 cars! Insane.
Since traffic and road congestion became an issue, the good folks from Auto Club Speedway quickly opened up a couple more parking lots so that cars could pre-stage before rolling in to the actual show area, which saw both
autocross
and high speed
road racing
with Speed Ventures on the ROVAL course, and a beginner level car control clinic for
Scion FR-S
and
Subaru BRZ
owners called the
86 Dynamic Driving Academy
.
Read more...
---
It's official. Team Yellow is the most awesome grassroots team there is. With at least eight running/driving/drifting/awesome cars at any one time, drivers from all over Scandinavia, and several tracks to lay down ridiculous amounts of smoke, these guys get sh!t done. They've got an SR powered AE86, and all their other cars are 2JZ powered. There's never a dull moment with Team Yellow. Huge thanks to Lars and Dag Harlem for inviting Joe and I over multiple times and even allowing us to drive their 1JZ MarkII. We heart Team Yellow.


(more…)
---