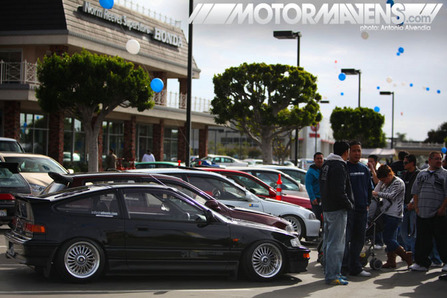 Two weekends ago, my friend
Scott Toshima
invited me to come out to a meet he was hosting at
Norm Reeves Honda
,
off the 605 freeway
in Cerritos CA. I've never owned a Honda in my life, so I never had a reason to go there previously, but I was definitely down to support whatever function Scott was throwing... plus, he said that several of the best offset Hondas in Southern Cali would be attending.
Well, Scott wasn't lying. I was honestly quite impressed with the level of the cars that came out to this gathering, which wasn't even a major carshow or anything; it was just a simple Honda meet in the parking lot of a local dealer! Even though it wasn't some sort of big event like Import Showoff or something like that, the H crowd showed up strong to show off their new wheels!
That's right,
I said wheels
! It seems that
there are more and more Honda owners catching on and joining the low offset/stretched tire movement
, and I think that's a good thing. Sure, there are a lot of people who hate on this new trend in the Honda scene, saying that it makes no sense to stretch the tires and camber the rear wheels on a Front Engine, Front Wheel Drive car... but hey, Volkswagen guys have been doing it for years, and their cars are FF too!
Read more...
---