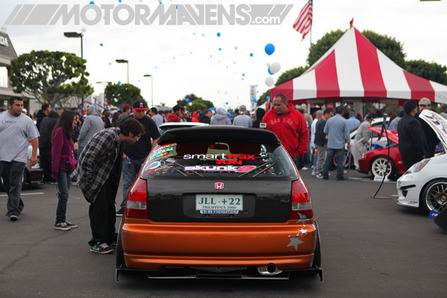 Two weekends ago, my friend Scott Toshima invited me to come out to a meet he was throwing at Norm Reeves Honda, off the 605 freeway in Cerritos CA. I've never owned a Honda in my life, so I never had a reason to go there previously, but I was definitely down to support whatever function Scott was throwing… plus, he said that several of the best offset Hondas in Southern Cali would be attending.
Well, Scott wasn't lying. I was honestly quite impressed with the level of the cars that came out to this gathering, which wasn't even a major carshow or anything; it was just a simple Honda meet in the parking lot of a local dealer! Even though it wasn't some sort of big event like Import Showoff or something like that, the H crowd showed up strong to show off their new wheels!
That's right, I said wheels! It seems that there are more and more Honda owners catching on and joining the low offset/stretched tire movement, and I think that's a good thing. Sure, there are a lot of people who hate on this new trend in the Honda scene, saying that it makes no sense to stretch the tires and camber the rear wheels on a Front Engine, Front Wheel Drive car… but hey, Volkswagen guys have been doing it for years, and their cars are FF too!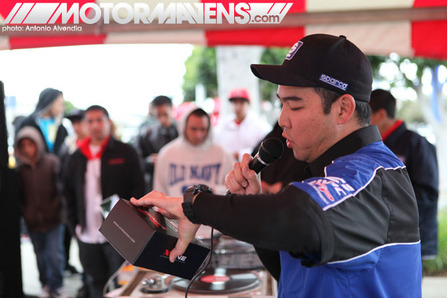 I was pretty impressed with the setup at Norm Reeves Honda, because I wasn't expecting much more than a bunch of cars parked in a parking lot… but to my surprise, they had a BBQ grill going, a big tent with a DJ and a sound system, and a ton of giveaways! Here's a photo of our boy Scott from Norm Reeves on the mic, raffling off some prizes. I'm not exactly sure what he's holding in this photo, but they were giving out some pretty cool stuff (again, to my surprise). Some guy lucked out and got some a pretty sick set of lugnuts that I would have personally wanted to win. Damn, no luck for me.
Hit up Scott directly if you need any Honda OEM or performance parts.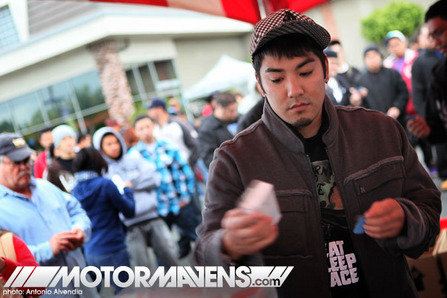 Even the staff of car magazines came out to support the event. Jeren, Brian and Tobin (above) from DSPORT Magazine came out to support the event, and I even saw a guy from Daytona Magazine in Japan.
By the way, if you like the Full Metal Jacket inspired "Born to Race" shirt that Tobin's wearing, you can get it directly from our friends at Eat Sleep Race. Whoever gave them the idea to make this shirt in black is a genius, damn.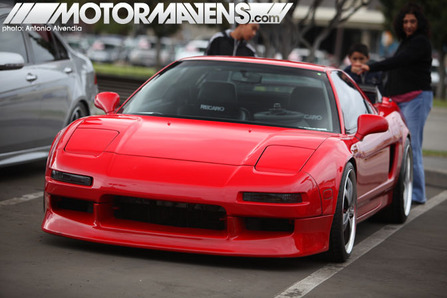 I didn't get to meet the owner of this red NSX, but I thought it was AWESOME. Someone told me it's owned by a girl. Man, I'm pretty impressed. This NSX looks pretty damn sexy and clean… I bet it's a super fun freeway car! If you know who owns this car, please email us at motormavens(at)gmail to give us the contact info!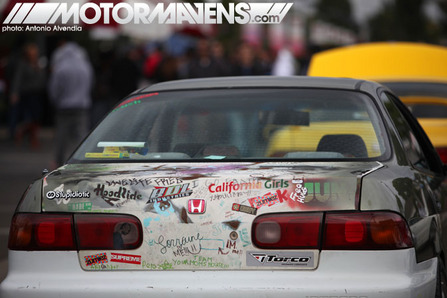 One thing I like about the Southern Cali Honda scene is the fact that people are always doing some innovative stuff. Check out the trunk lid of this Integra, which has a collage of logos, ranging from JUN to Obey to Supreme to Babe Blvd to "Team Your Mom's House." Nice.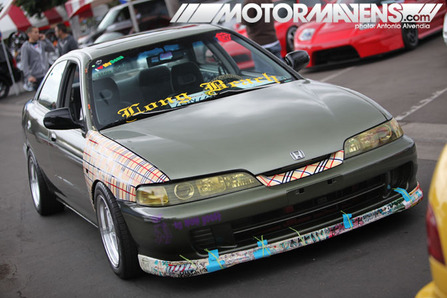 Here's the front of the same car, which features a front chin spoiler with the same graphic treatment, and a simulated Burberry pattern on the fender and grill. This is a pretty crazy scheme!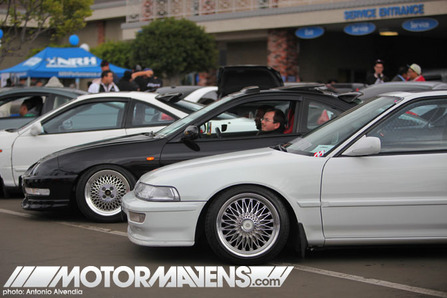 Ooooooohhhhhhhhhhh. San Gabriel Valley's Infinit Wheels crew came out to the meet with a ridiculously strong showing of Hondas that made everyone break their necks. They all rolled super hard with some rare Japanese wheels and extremely clean cars… some of which had MotorMavens stickers on them! What a cool surprise; to find our stickers on cars we had never even seen before! Coooooooool.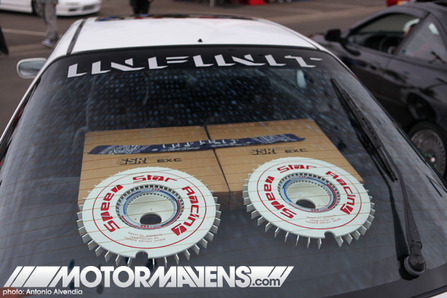 I'm telling you… Infinit Wheels had people TRIPPIN. Me included. Come on man! So sick.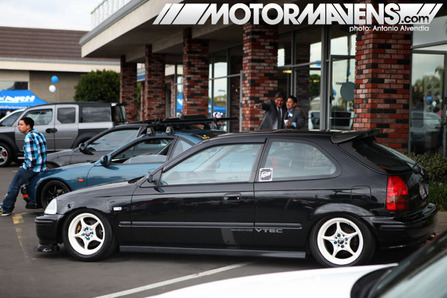 I was rushing around trying to take pics of all the cars before they drove off, so I only caught a quick glimpse of this extremely clean black EK Civic, and I wasn't able to get close enough to find out if these Mugen RNR wheels were authentic or fake.
I know, you may be thinking, "Dude. The car is just parked right there" but I was rushing around, shooting pics and passing out MotorMavens flyers and saying hello to everyone I saw. Believe me, I was pretty busy. Gorgeous looking car though.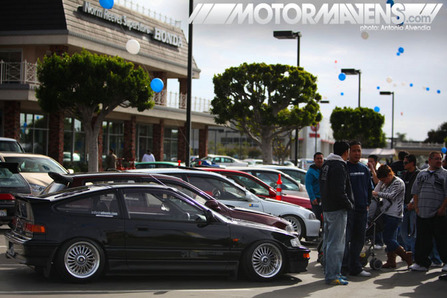 I was jocking the hell out of this black CRX. Seriously, cars like this CRX make me get excited about Hondas all over again, like it was 1995 or something. The only thing is, this CRX would smash on any other CRX from the 1995 era, with its fresh JDM parts, aggressive stance and rare, good offset Japanese wheels! So fresh.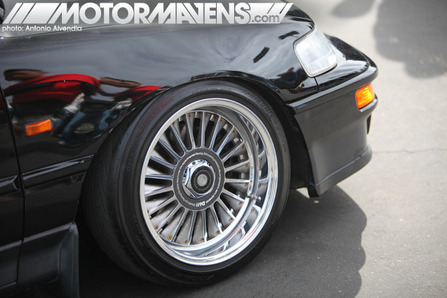 Let's take a closer look at those wheels! Hey, wait! Those aren't SSR Superfins… they're… DEFI wheels? Wait. As in Defi, the company who makes electronic boost and temp gauges?! Crazy.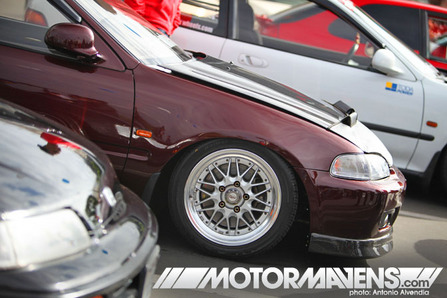 Yeah, yeah, we've seen EG6 Civics before… but WAIT. What the hell is this Civic doing with a set of SSR/Modex Dori Dori wheels… and in 5×114.3 lug pattern?! Aren't EG6 Civics 4×100..? Yes! So what the hell is going on here..? Wow, those Infinit Wheels kids are crazy. Sick.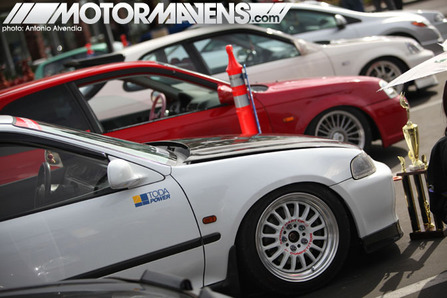 Oh SNAP! Another 5×114.3 EG Civic?! This time, it's rocking one of my favorite wheels of all time… the Sprint Hart CP-R Competition. I absolutely loved these wheels when I bought my set back in the 1990s. Even though I had them on a slow ass FWD Toyota Celica. They looked awesome on that Celica though.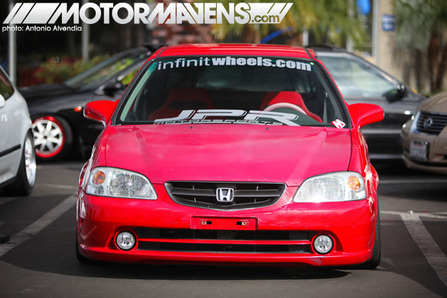 Honda Civic Orthia?! It looks like our boy Danny from Infinit got his Civic painted… well, sort of! Last time we saw this car, it was at Nisei Showoff and it had a silver front end.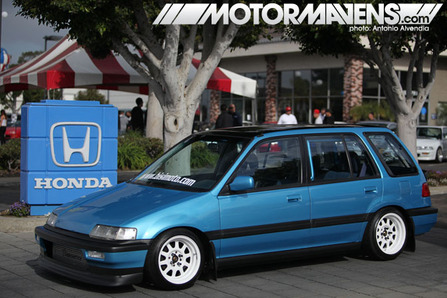 Wowwwwwwwww just look at this immaculate blue Honda Civic Wagovan! This EF Wagovan belongs to pro drag racer Bisi Ezerioha and it's putting out 700 HORSEPOWER. Yes, SEVEN HUNDRED. More on this car very, very soon. Stay tuned!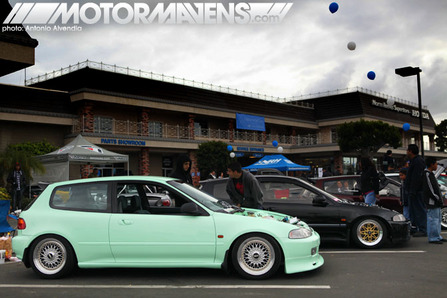 Here's the last pic I'll post up for now… I didn't even get a chance to shoot that many because I got to the meet late… which might have had something to do with the fact that I attended the Boombox 3 Year Anniversary Party at Grand Star Jazz Club the night before with some friends from out of town.
If you want to see some more photos from the event (and from a person who knows a lot more about Hondas than I do), check out Joey's website, The Chronicles. He took a lot more photos than I did, and did a great job of shooting all the cars at the show before they drove off. Just don't be offended by some of the language and terminology on the Chronicles blog though, haha! Joey kinda keeps it real.
::Antonio Alvendia
Bisi Ezerioha
,
Civic
,
CRX
,
DC2
,
Defi
,
DSPORT
,
EF
,
EG6
,
EK9
,
Enkei
,
EXC
,
Honda
,
Infinit Wheels
,
Mugen
,
Norm Reeves Honda
,
Scott Toshima
,
SSR
,
Wagovan
---