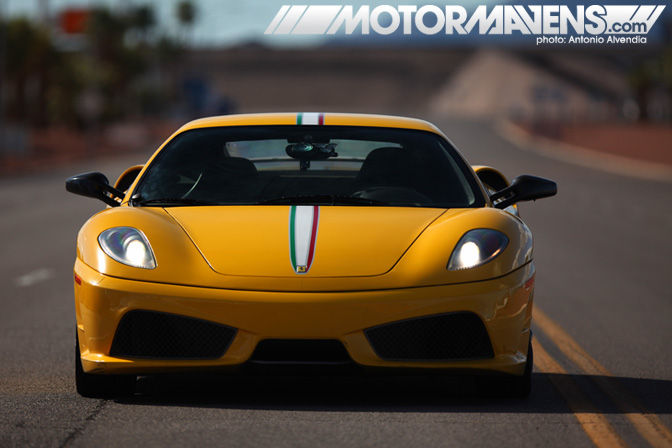 It doesn't matter if you're male or female; young or old. Everyone loves exotic cars - especially
Ferrari
and
Lamborghini
. They're beautiful; they're fast; they're exclusive. Unfortunately for most, this exclusivity stems from the fact that they're also very rare and expensive; some people never even get the chance to drive an exotic super car in their entire lifetime. The lust for exotic automobiles begins when you are a child - every car lover dreams of driving an exotic car, but usually they only get to play with smaller scale toy versions.
Luckily for us, MotorMavens sharpshooter
Mike Kim
and I were given the rare opportunity to test drive a pair of exotic supercars on a race track at
Exotics Racing
in Las Vegas! Located just a few freeway exits away from
The Las Vegas Strip
,
Exotics Racing
blends all the
luxury and service that one expects from a Las Vegas Resort
with an
amazing supercar driving experience
.
To be honest, Mike and I have always thought that test driving cars like the Ferrari 458 Italia, Lamborghini Aventador, Mercedes Benz SLS AMG, Audi R8 and Aston Martin V8 Vantage were out of our price range, so we never really bothered to look into it. Big mistake. As it turns out, our stupid assumptions were wrong. Completely wrong!
Read more...
---