For the past ten years, I've been traveling to Japan to take photos and learn about the interesting car culture there. I've also traveled to places like Germany, the UK, Belgium, and Greece, but never once have I been to Spain... until now! Ah,
España
! In just a couple of hours, I'll be traveling there for the very first time, and I'm so excited!
Truth be told, I'm not heading there to attend a motorsports event or anything like that - I'm there on other business. However, by Facebook chatting with a fellow AE86er who hails from Madrid,
Jorge Azcoitia Moreno
, I learned about some of the exciting things that his hometown of Madrid has to offer. Aside from amazing
paella
at Casa Nemesio near Plaza de Castilla and
patatas bravas
from Las Bravas, I also learned about the local racetrack,
Circuito del Jarama
, and the
Jarama Vintage Car Festival
.
Read more...
---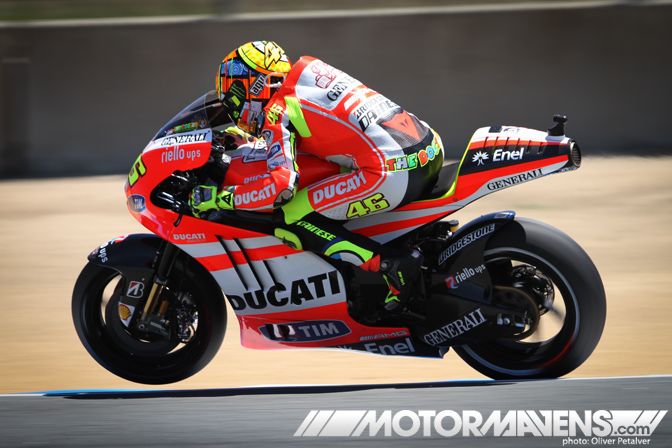 While my colleagues were in the
Pacific Northwest
shooting
Formula D
, I decided to take a road trip to
Monterey, CA
to shoot the world famous
MotoGP
.
For those unfamiliar with MotoGP, it is the two-wheel equivalent of
Formula One
. It is an 18-race series visiting 14 countries (with only two stops in the U.S.). Now in its 63
rd
year, it is the oldest motorsports championship in the world. The world's best riders pilot machinery that have been crafted with the keenest of cutting-edge technology - technology which has largely benefited from the R&D budgets of four manufacturers:
Yamaha, Ducati, Honda,
&
Suzuki
.
For the purposes of competing in MotoGP's premier class, the manufacturers are held within these general parameters: the engines must be 800 cc, four-stroke engines and the motorcycles competing must be prototypes. As you might imagine, first-rate drivers plus high-end, super machines equate to one HELL of a ride!
Read more...
---