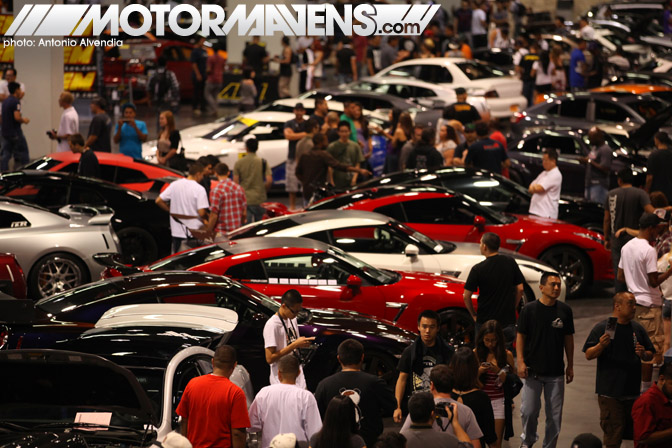 When it comes to automotive lifestyle, some people prefer hitting racetrack events, and some people prefer going to car shows. While the members of the MotorMavens crew definitely love going to the racetrack, we also realize that it's important to go to all kinds of indoor and outdoor car shows to promote our website to people that may not have seen it before.
When we were contacted by the organizers of the
Spocom Tour
to work with them as a promotional partner, we were definitely excited by the opportunities it would bring! Although the Southern California-based members of our MotorMavens Crew gained a little experience in throwing and promoting a big outdoor automotive event (
Mass Appeal
at Ken Block's Irwindale Gymkhana event), we had little to no experience in seeing what it's like to run a big indoor car show. We thought it would be extremely interesting to see the inner workings of a big car show series from people who had a track record of doing it, and so began the relationship between MotorMavens and Spocom.
The first thing we noticed about the Spocom Tour - it didn't feel like a normal car show from our standpoint! It felt like a big, fun party - a hype party that just happened to have a bunch of friends and cars crowded in between the vendor exhibits!
Read more...
---
SpoCom San Mateo 2010 from Joe Ayala on Vimeo.
Hello everyone! My name is Joe Ayala, and I'm originally from Medford, Oregon but I recently moved down to the San Francisco Bay Area. I've been an avid photographer for as long as I can remember, and when I'm behind the lens, I try to express emotion and originality in my photos. I got into shooting motorsports shortly after high school, and what can I say? I got hooked.
I hit up the SpoCom car show in San Mateo CA yesterday and decided that I would try my hand at filming the show and editing my own video for the first time. Hope you like it!
:: Joe Ayala
---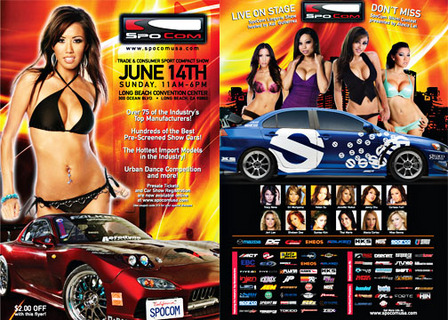 Today, while some of our MotorMavens Atlanta crew is going out to the Southeast Drift event at Turner Field, some of our Cali-based crew is going out to the IDRC drag race event happening at Fontana CA. We just received our new MotorMavens stickers, so be sure to hit us up for a sticker if you see any of our crew at these events!
On Sunday, the SpoCom Show - the Sport Compact Automotive Tradeshow is back at the Long Beach Convention Center (Sunday, June 14th, 2009 from 11am-6pm).  In talking with the people at SpoCom, they're saying this is going to be much bigger than last year!  SpoCom has added over 76,000 sq ft to fit in all the sickest cars and hottest girls (they say there will be over a hundred import models there for those who go to shows just for the T&A). We hear there will be a bikini contest, a lingerie show, and our buddy Tobin Honda from D-Sport Magazine tells us they will be conducting a model search at their booth, so make sure not to miss it!
Of course SpoCom is known for having top notch manufacturers there. This year won't be an exception, with companies like Falken, AEM, HKS, Eibach, Sparco, ACT, Eneos, and KW Suspension (and more!) bringing you all their latest and greatest goods.
We'll be there getting killer footage and photos for everyone out of driving distance from the 562 area code. If you're in Southern Cali though, make sure to get out to Spocom and hit us up for a MotorMavens sticker!
:: Travis Hodges
---