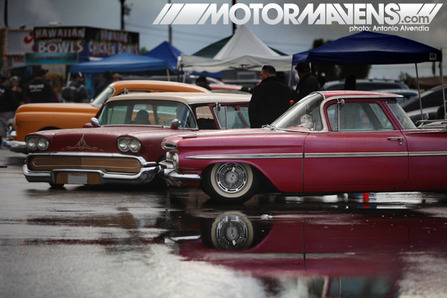 With December in full swing and Christmas-time near, tis the season for parties and holiday cheer. With hot rods on the freeway, plus an onslaught of rain, I had to yell at times, "stupid ass, stay in your lane!!!"
This past weekend, I attended the
Annual Mooneyes Christmas Party
at
Irwindale Speedway
. I can't believe it's already been a full year since
the last time I visited the show
. I have to admit... cold, rainy weather makes me feel pretty lazy. Living in Southern Cali, I think I've gotten used to the weather being 73 degrees all year round, so when it dips below 55 degrees outside, it's pretty hard for me to convince myself to leave the comfort of my baffled goose down comforter behind and trudge through the rain with 30+lbs of camera gear and flyers on my back. This Saturday, it was especially difficult because
I was out with my friends at a house party
and didn't get back until 4:30am on the day of the show.
However, I'm really glad I did make it to Mooneyes this year. Speaking to my friend
Shige
(
the man behind Mooneyes
and
Crown Classics
in Yokohama Japan), we both agreed that the rain did put a bit of a damper on the event's attendance, but it was good in a way. It weeded out most of the "trying to be down" scenesters and showed everyone who the real hardcore hot rodders were. Most of the guys who came to this year's Mooneyes Christmas Party
actually drove their period correct traditional hot rods with vintage whitewall tires on the 605 freeway IN THE RAIN
to and from the show. Now that's dedication! Much respect!
Read more...
Posted by: Antonio Alvendia | Dec 14, 2009 | Categories: Coverage | Tags: Beetle, Cavaliers, Christmas Party, Dead Sleds, Heathen Kings Social Club, hot rod, Irwindale, Irwindale Speedway, lead sled, Mooneyes, Mooneyes 2009, period correct, piecrust slicks, pin up girls, pinstriping, Rat Rod, Shige Suganuma, Takahiro Ishii, Traditional Hot Rod, Volkswagen, white wall tires, Wild Man | 29 Comments »
---