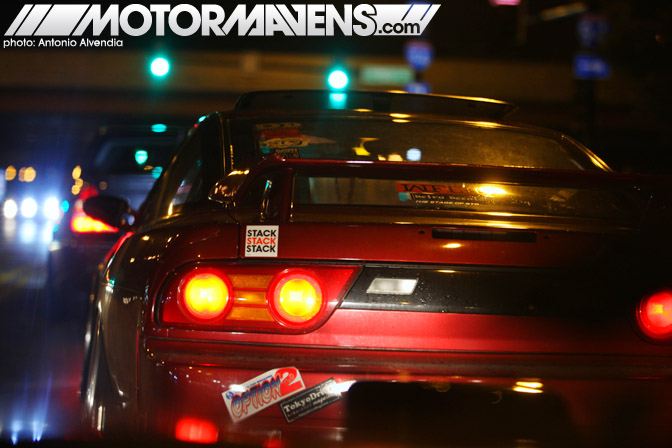 Oh snap! Just found this Risky Devil RPS13 180SX photo on my hard drive! I'm back from a period of non-publishing on the blog – 3 weeks to be exact. Sorry folks, I injured my wrist/elbow, which made it very difficult to edit photos or even type on a computer. This being said, I've only been able to publish new content on Instagram, Twitter, and Tumblr. If you don't follow @MOTORMAVENS in these places, you're sleepin!
This is a photo of Josh Maghirang's right hand drive RPS13, taken while I was sitting shotgun in Leigh Roto's JZA70 Supra. It's no secret that the Risky Devil crew, the boys from Grip Gambler, and all their other Chicago-based friends under the Junkhouse banner are a bunch of lowlifes who terrorize Chicago streets by driving like a bunch of a$$holes – tailgating each other at high speeds on the freeway, drifting freeway onramps and offramps, and street drifting in downtown Chicago right in front of popular clubs. No wonder all the residents of Chicago always yell F*CK JUNKHOUSE when they see these cars passing by! These guys are always up to no good… which is probably why I love hanging out with them! They are fun. (more…)
---
As many of you know, those of us in the Los Angeles area had a Christmas get together this past Saturday night at
The Corner Bar in Burbank CA
. On behalf of our entire group of friends who threw the party (
Schikane Clothing, Driftwell Footwork Essentials, Tokyo Drive Productions
and
The Motor Mavens Crew
), we'd like to express our deepest thanks to all of those who came out to chill with us, and those who couldn't make it, but were there with us in spirit.
Big thanks also to those who showed support of the party by donating gifts for the raffle (in no particular order) - Mishimoto, Eneos Oil, DSPORT Magazine, Buddy Club USA, HKS, Hankook Tires, Jack Daniels, and Jagermeister.
I'm just going to post some of the pics from our party on the site. To view more photos,
Add the Motor Mavens Crew
as a friend on Facebook
, and you can see more photos and view the tags and whatnot in case you want to be a stalker and randomly add girls that you don't know. (Go for it, haha)
Read more...
---