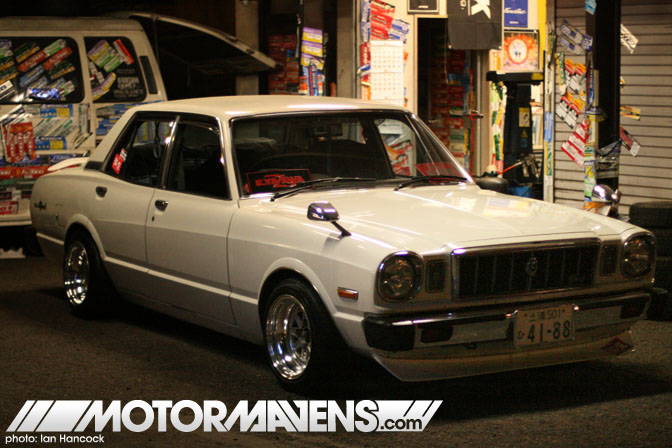 [I received an email yesterday from an Australian guy named Ian Hancock. Ian is crazy about Japanese nostalgic cars, and is currently on vacation in Japan (or as he says it, he's "on holiday") to check out a bunch of his favorite cars. He sent in a photo of this MX32 Toyota MarkII (Toyota Cressida) that he carspotted in Japan, because he knew it would be just the type of thing that Motor Mavens readers are into! Well, he was absolutely right. Here's what Ian had to say about the Mark II...]
The white Cressida belongs to Naoya Yamaguchi, who owns an old school Japanese wheel shop in Moiyra called Bellezza Auto Produce, about 15km from Tsukuba Circuit. I had been at Tsukuba for the day to watch drifting (and get taken for a ride!), and was going for a walk from my hotel to find some dinner when I came across the shop! I thought I was delirious – it was just too good to be true!
When I walked into his store, he was in the corner smoking, wheelchair bound because of a motorbike accident. Naoya "didn't want to know me" until I started saying the names of the wheels in his shop, and I showed him pictures of my KB110 Sunny from Sydney. He couldn't believe that an Aussie 20 year old would be interested in old J-tin. He couldn't speak any English, and I don't speak Japanese, so we talked for an hour and a half using a translator on the computer.
The Cressida wears huge SSR 15x9Js (-37 offset) on the back and 15x8J SSR Mark IIIs up front. From what I could gather, it is fairly stock mechanically aside from a healthy lowering, carbs and exhaust. A nice little front lip spoiler and rear spoiler finish it off, and although there are some fender gap issues, it has definately been built in the shakotan style! The body is straighter than straight, and some nice fender mirrors really set it off. I'm buying a set of 7.5J SSR Starsharks from him, and he has invited to take me out in his car next time I come over!
:: Ian Hancock
---
Ever wonder how Japanese Bosozoku and Yanki car owners came up with the ideas of how to make their cars look so crazy? Well, according to stories I've been told, a lot of these guys began making their street cars resemble the professional Super Silhouette racing cars, and then making them look a whole lot crazier and a whole lot more gangster basically.
Me personally, I love Super Silhouette cars. I wasn't really aware of these cars in the 80s when they were new, as I was too busy watching cartoons like Robotech (Macross) and playing with Transformers. However, whenever I began going to toy stores that had Japanese car models, I noticed that many Japanese plastic model companies like Fujimi and Tamiya had silhouette racers within their product lines! So awesome. Just another reminder of why I love Japanese car culture so damn much.
So let's watch the video and enjoy the Super Silhouette racers as they run Tsukuba Circuit and my favorite, Fuji Speedway!!!
:: Antonio Alvendia
---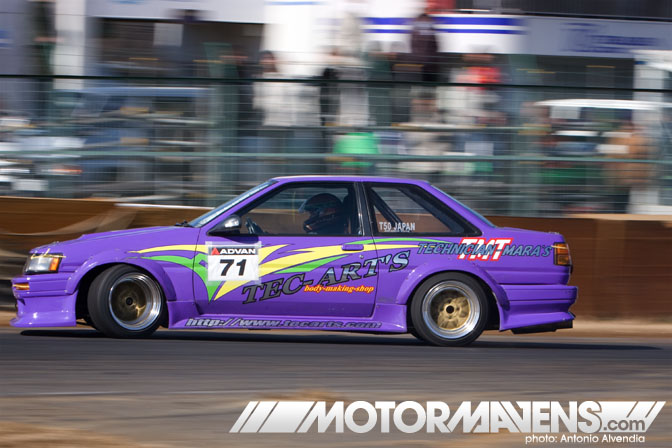 Today, I was looking through one of my old USB hard drives that contained some images from one of my Japan trips in like… 2004 I think? Or maybe 2005. Anyway, I stumbled upon this photo I shot with my old Canon 20D camera.
Even though Canon's current product offering makes me think the 20D is a POS now, I gotta give it props because that's the camera I had with me the longest… I shot with that thing for like FOUR years. That includes constant travel with at least one event per weekend, meaning I would shoot a minimum of 1000 images per weekend, using a "non-pro" bodied camera with a less durable shutter. In fact, my shutter did eventually fail on me at Road Atlanta last year. Thank God for good homies like Cody Wellons from S3 Magazine and John Choi from Falken, who let me borrow their DSLRs so I could finish shooting the event. Even though I was pissed about the broken camera, some of my other photographer friends thought it was cool – they said, "man, your camera broke because you took too many photos with it? That's dope as hell… and your 20D has been all over the world with you!" True, I didn't think about it that way!
So back to the subject matter, check out this purple Tecart's AE86 Levin 2-door drifting at Japan's famous Tsukuba Circuit. In the photo, the car is in a mid-drift transition and is about to be flicked to the left to continue through the D1 course… however, this photo was NOT taken at a D1 event!
This photo was actually taken at one of the legendary Battle Magazine "Battle of Drift" Competition events, which Japanese people nicknamed as "BM Cup" or "BM Hi." For those who aren't familiar with "BM," Battle Magazine (now defunct) was very well loved by many Japanese drifting enthusiasts because it was the only magazine out there that really featured the cool grassroots drifting movement as it was happening in Japan.
I think most American and European drift fans nowadays only know about drifting from what they see in a "professional series" like Formula D and D1 Grand Prix. However, for guys like me, who have been following Japanese drifting since the 1990s, it's all about the privateer efforts… back then, it was all about the super dope Japanese grassroots drivers who drift with their everyday street cars, battling different drift teams from different regions of Japan, etc. That's what it's all about.
By the way, did anyone notice the Japanese "team sticker" on the rear quarter window? It comes from one of my favorite AE86 teams… "Go Maru Japan." More on this subject later – you better stay tuned to Motor Mavens!!!
:: Antonio Alvendia
---