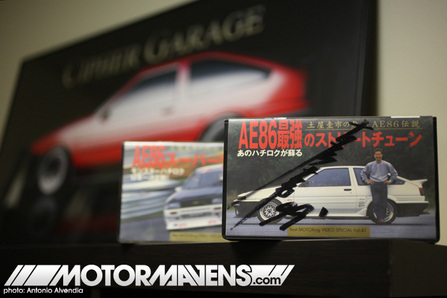 You requested it so we rewind
... Following up on our posts on the Drift King's birthday, some of our readers mentioned that they would be interested in seeing a sneak peek at some of the
Keiichi Tsuchiya
-related fanboy memorabilia that has been archived as part of the
Cipher Garage Collection
.
As some of our readers may
or may not
know, I've spent t
he past eleven years of my life
chronicling as much as I could about the history of drifting
in Japan, and its progress as it grew in the United States and spread to all the other countries of the world. As you might imagine, this has been an incredibly difficult and arduous process, and I've only been able to do as much as a single person
without corporate/financial backing
could possibly afford to.
However, because of personal qualities that include
my relentless passion for Japanese car culture
, my ridiculously resourceful/persistent/determined nature, and the fact that
I often find myself
(most of the time, accidentally)
in the right place at the right time...
I've been able to amass quite a collection of Japanese car memorabilia that some might consider historic. (I know I do.) Whether my personal collection of Japanese automobilia may be considered by some to be
overrated
or not... it is very personal to me. For every rare item in my collection, I have great stories to tell about how I found it and how it came to be in my collection. To me, THAT is the real treasure... even more so than the individual items in the collection.
Those who don't know as much about the subject matter may think it's just a bunch of magazines, stickers, toys, steering wheels, horn buttons, patches, and misc car junk stuffed into boxes, shelves, and cabinets... but over the years, I've come to realize that I've never in my life seen a collection like it - items related to Japanese drifting history... with much of it revolving around AE86s, TE27s, and vintage Toyota memorabilia. Please don't think I'm bragging - that isn't my intent at all. For the most part, I've kept all the items I own very, very private. I don't really advertise what I have or invite people to look through my things, as I never intended to collect stuff to "show off" to others. Instead, this is all just a bunch of things that I personally consider important or cool.
Read more...
---
I was on one of those endless YouTube "nature hikes" when I stumbled upon this D1 gem. The action is awesome but it's really the characters and the commentary that make D1 so cool and fun. Check out the 3 wheel action as Ueo goes against Nomuken! Enjoy!
:: Avon Bellamy
---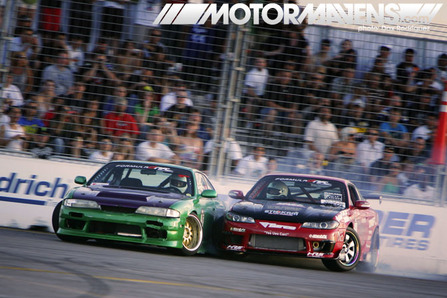 The latest round of the
Formula Drift Championship
took place this past weekend in Las Vegas, Nevada. It was sooooo incredibly hot in Las Vegas this past weekend; the Formula D teams had to work hard to make sure the drivers remained hydrated enough to perform at peak levels (last year, I remember seeing one of the drivers pass out because of the intense heat inside the car).
As a member of the media with a trackside photo pass, I remember being extremely uncomfortable because of Formula D safety rules requiring us to wear long pants instead of shorts at the track. However, just think about what the drivers must be feeling like - wearing full fire suits and Nomex underwear and HELMETS, sitting inside hot cars without air conditioning; with hot metal roofs working like a broiler due to the lack of headliners and insulation in a professional drift car.
Nevertheless, the crowd at Formula D remained upbeat and excited, due to the level of driving prowess they were treated to. Vegas drift fans are hardcore! Regardless of the heat, these fans were down to sit outside in the stands, sweating and cheering as their favorite professional drifters slid past them, dousing the grandstands in a bath of tire dust.
Read more...
---