VegasProAm Round 1 from Robert Strohmeyer on Vimeo.
I'm sitting here at the VegasDrift world headquarters, enjoying some laughs with Sin City drift organizer Nick Dizon and the Vegas Drift crew. I called Nick as I was driving up to Las Vegas, and while we were on the phone, he told me about the new Vegas Pro Am video that he just released on his website. I've been trying to check it out for the past few days, but unfortunately for the site, I was a bit pre-occupied this weekend. I actually didn't go to Vegas for a car related function for once; I drove to the 702 to join the rest of the groomsmen for the bachelor party of my boy Kero One, from Plug Label, the popular underground hip hop record label from the San Francisco Bay Area.
Since I'm sitting here, enjoying some laughs with the VegasDrift family, I thought I'd post up their newest video, which showcases some footage from Round 1 of the Vegas Pro Am. I like seeing the cars and the drivers of the different local drift scenes around the USA. Big respect to Vegas Drift for continually making moves in the drifting scene and putting in effort to give back to the VegasDrift drivers by putting out videos like this!
:: Antonio Alvendia
---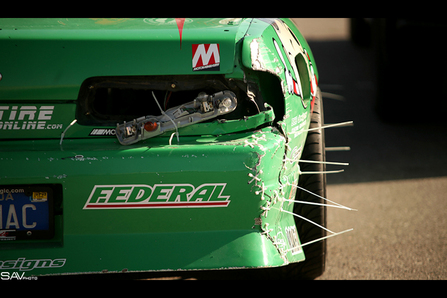 This past weekend was quite a busy one in the world of grassroots drifting. Up in the Pacific Northwest, our boys
Yoshi Shindo
and
Lucas Perez
were busy with the Evergreen Drift season opener, as seen in their previous post.
In the Pacific Southwest, many dedicated grassroots drifters made the trek to the very first installment of the
Vegas Pro Am Series
. I was sick this weekend, and couldn't make it out, but thankfully, I received a link to some event photos on
SAV Photo's Flickr page
from Sin City local
Nick Dizon.
Many people know Nick as one of the main movers and shakers of the
VegasDrift
community, but the Vegas Pro Am brought out drivers from all sorts of places - from Arizona to Pennsylvania, all the way to Canada!
Read more...
---
Just so you don't forget! This weekend, you need to head to Las Vegas for the Vegas Pro Am, which is being organized and put on by our friends at VegasDrift! This event is a perfect opportunity to get up close and personal with all the future Formula D drivers before they hit the big show… and if you're in need of some fresh new gear, make sure to stop by the DSTROYR Booth to get some fastlane fashion, designed by one of the most talented designers on the scene right now, Jon Chase! Drifting is going to take over Las Vegas this weekend; let the battle begin!
:: Jose Gonzalez
---