The Olympus Rally is a legendary event that people used to hear about in the advertising campaigns of big car manufacturers. In the 1980s, big car companies like Toyota, Nissan, Audi and Lancia had factory backed rally teams racing through the backroads surrounding Seattle Washington. It even used to be a leg of the World Rally Championship! That's right – WRC on US soil!
If you love the glory days of WRC like I do, watch this video, which features cars like the Lancia Delta Integrale, Audi Quattro, Nismo S12 200SX, Toyota Team Europe's MA70 Supra and a privateer AE82 Corolla FX-16 GT-S! There's even a few short clips of Rod Millen driving a Mazda 323 GTX (Mazda Familia) all wheel drive rally car! (more…)
---
Recently I've been checking out a lot of different videos; seeing what's sick and what produced a dry, wheezing cough. I came across this one on ContourHD's site. It features some truly inspired rally driving.
In the video, we ride along with Mads Østberg and his co-driver Jonas Andersson through Rally Sørland Shakedown in their Ford Fiesta S2000. To give you a little insight into the mad skills of these dudes, they beat Ken Block in the Swedish round of World Rally Championship and came second overall! And if you are wondering what the language is, it's Swedish. By the way, my Swedish is a little rusty but I believe Jonas is actually reading Mads one of the Twilight books…..silly Swedes. LOL! (more…)
---
Like I mentioned in my first post on MotorMavens, I am somewhat of a Euro car nut and I pretty much live for motorsports – from the sound to the tire-flavored scent…ahhh.  So while I was racking my brain figuring out what I should post next on MotorMavens, inspiration struck. What better way to do this than to pay tribute to the granddaddy of four wheel drive – the Audi Quattro?
Back in the day (the early 80s), the Quattro had a huge advantage over its front and rear wheel competitors – so much so that it completely changed the face of racing; particularly in rally. The Subaru Impreza, the Mitsubishi Lancer Evolution, the Cosworth Ford Escort, and the Lancia Delta Integrale are all brilliant four wheel drive road cars, but I think none of them would've existed without the introduction of the Quattro. Not only did it spawn the template for what we now think of as a "proper" four wheel drive car, but it revolutionized motorsport and changed the way we think of performance cars forever. For those familiar with 80's Hip Hop – the Quattro is the Rakim of four wheel drive. If you disagree, read the first three words of the previous sentence – carefully.
To think that such an important car was created when a dozen Audi engineers decided to hook up unofficially and solve a problem that was considered a pipedream before the 1970s – how does one get power to all four wheels on a road car?  The results of their efforts blew the hinges off of the world of motorsport with the Quattro winning on its first rally outing. It won the Austrian round of the European championship and then went on to win the World Rally Championship (WRC) in 1982, 1983, and 1984. Needless to say, the four-wheel-drive experiment was an instant success. (more…)
---
Peanut butter and jelly. Macaroni and cheese. Ham and burgers. What do these things have in common? It seems nearly impossible to have one without the other. Ken Block and Subaru also share this likeness. Regardless, it seems that Ken is leaving the Japanese Pleiades Oval for that of the classic American Blue Oval.
DEARBORN, Mich., Jan. 6, 2010 – Ford Motor Company announced today that it is teaming up with Ken Block, the California-based action sports icon-turned-rally driver, for future global motorsports opportunities.

Block, the 2005 Rally America Rookie of the Year and a three-time medalist at X Games, has cultivated a tremendous following with his Gymkhana videos on YouTube. In 2010, Block will campaign a Ford Focus in the FIA World Rally Championship (WRC) and a Ford Fiesta in Rally America and X Games.

"I am stoked to be rallying in a Ford. They are an impressive force in the sport," said Ken Block. "From the days of the 1970s Escorts to the Group B RS200 to the modern-day Focus and now the Fiesta, Ford just does an excellent job at rally and I couldn't be happier to now be part of this amazing heritage. Not to mention my dad would be proud. He was a dedicated Ford guy."

"Ken Block has established himself as an action sports competitor and a rising star in the world of American rally racing," said Jamie Allison, director Ford North America Motorsports. "We are excited to have him on our team to help promote our new global products, the 2011 Ford Fiesta and 2012 Ford Focus."

Rallying is a crucial part of Ford's global motorsports strategy and provides the company with the opportunity to showcase the true performance capabilities of Ford's products. Since its support of rallying began, Ford has won three WRC titles and 73 individual events. And, last year in North America, Ford's participation in the Pikes Peak International Hill Climb and X Games 15 were key elements for the launch of the Ford Fiesta for the U.S.

"Thanks to our participation in WRC, rallying has always played a key role in Ford's global motorsports programs," said Allison. "Ford is the only manufacturer that could provide Ken with global rally opportunities."

"We're delighted that Ken Block has chosen to team up with Ford to develop his rallying activities beyond America and into the global arena," said Gerard Quinn, Ford of Europe's senior motorsports manager. "Ford and its U.K.-based rally partner, M-Sport, is looking forward to welcoming Ken to the wider team of talented rally drivers using Ford vehicles to compete in this demanding sport at the highest level internationally."
While it may seem implausible to imagine Ken piloting anything but a Subaru… something tells me that his wild antics and crazy style will follow suit behind the wheel of a Ford.
Best of luck to Ken and his crew in 2010!
:: Andy Sapp
---
Ahhh… WRC. The World Rally Championship is something we're always definitely excited about. This teaser video we found on Youtube shows clips from WRC action in Greece, Turkey and Finland. We definitely NEED to get out there and shoot some footage ourselves! However, until that happens, enjoy watching WRC footage from the folks at 247 Motoring.
:: Lieze Truter
---
An amazing tribute to an amazing motorsport. I cannot stop watching this video. I can't even begin to fathom the amount of footage that went into this… and could it be edited any better? This video and it's soundtrack just feel like a match made in heaven. I hope you all enjoy this as much as I did. Hats off to 'Miika' for creating this gem.
:: Andy Sapp
---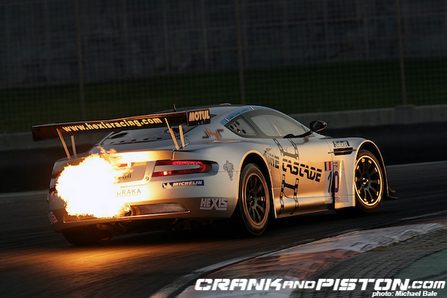 Shortly after opening up the MotorMavens Twitter account (
Follow us on Twitter!
), we learned of a really great site called
CrankAndPiston.com
. Based in the Middle East, the site owner
Phil McGovern
has assembled a great crew of writers and photographers.
Read more...
---