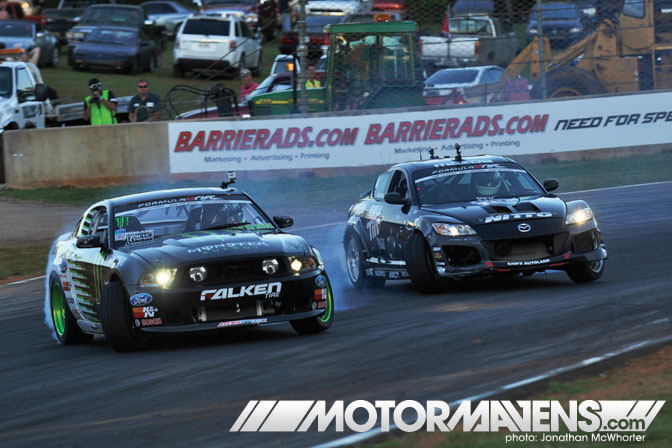 There are so many cool aspects of being a part of MotorMavens but, to me, one of the coolest is witnessing the heart and passion of the automotive industry through the eyes of the ones who live and breathe it – the true mavens. We here at MotorMavens consider ourselves to be in that number as well but we're not here to tell our own story. Our vision has always been to showcase your story – your passion. Seeing this industry through the innovative eyes of guys like Roland Gallagher, Justin Shreeve, Lucas Perez, Yuta Akaishi, Daniel Bridle, Yoshi Shindo and all of the many others who love and live what they do (including you) – that's our way of keeping our eyes glued to the real motivating force behind the stats.
That's why this story by Jonathan McWhorter was so compelling to me. It's not about the money or the fame. It's not about your company budget or your connections. It's not even how long you've been in the industry. Those are not the things that make this industry so awesome. I could tell you but J-Mac did such a great job – I'll leave it in his capable hands. After all, he reminded me. So, without further ado…
:: Avon Bellamy

………………………………………………………
………………………………………………………
Right now I'm doing my best hipster impression. I'm sitting in Starbucks surrounded by business people, moms coming in after their morning walk (or jog if they're adventurous) and…that's about it, those are the only two types of people I can pick out this early (it's 9AM, it's early) – for me.
Why am I at Starbucks this early in the morning during the summer when I could be doing something productive – like sleeping? Well – it doesn't matter. What matters is that it's giving me a good chance to get this written. I don't even like coffee – which makes being here that much more random. But that's why I ordered a double chocolatey-chip frappuccino – and yes, I had to look up at the menu to figure out how to spell that. Hey – don't judge me for my girly drink – it's delicious. You probably don't know this but I'm quite the connoisseur of chocolate milk, which is pretty much all this is (with chocolate chips in it), so it's only logical. And, speaking of logic, I'm drifting away from my point. And speaking of drifting, it has happened a lot already this summer and is only going to happen more – drifting, that is.
More specifically, I recently attended my second-ever Formula Drift event (at Road Atlanta). But, for the first time, I wasn't a spectator. Long story short: last year, sometime around November or December, I went to Southeast Drift's Land of the Great exhibition/tandem competition at Gresham Motorsports Park. I talked my way into getting a media pass, found my way to the track, took pictures, wrote words, and those words were posted on the "up and coming" MotorMavens Car Culture and Photography Blog. Later, say Januaryish, I contacted Antonio Alvendia, the site's Editor In Chief. I basically told him that if he needed any help, I was willing to assist in providing coverage of Formula D when it came to Road Atlanta. Longer story short: I was the guy for the job (or I made myself the guy for the job). Either way – I got my big break.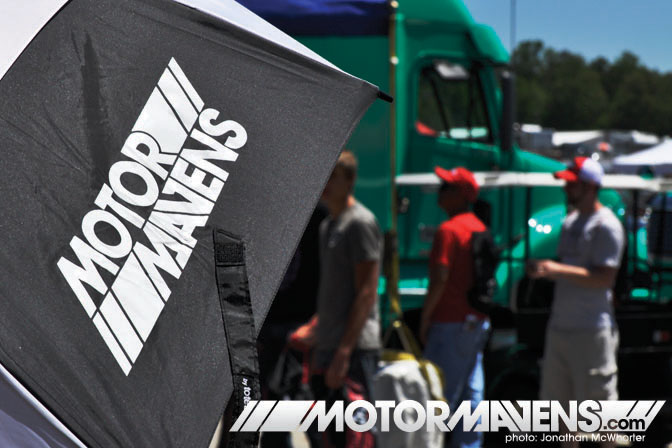 For this event I was going to need some serious equipment, not just my entry level DSLR with the kit lens. After all, I wasn't just some kid with a camera anymore – this was the big show and I needed the big guns. After searching the Internet for some time, I located the necessary equipment – the only problem was that there was no way I could afford to rent it. As you might imagine, this was a problem. If I can't get what I need to do this…well…it doesn't happen – pretty straightforward.
It was at this time, when I was  getting ready for the event and strapped for equipment, that my friend from high school, Brett May, called and asked about Formula D. He is a photography student at Gwinnett Tech and he and some friends were going to go there and shoot – for fun. I told him I could do him one better and get him a media pass and he could come shoot with me for MotorMavens. Since Brett is a much better photographer than I, I figured I could learn some things. He was planning on renting some equipment too and he told me about this website (http://www.aperturent.com) that rents out photography equipment without requiring a few random body parts or the rights to your first born child – and they're local too! So, I ended up getting what I needed from Aperturent without a problem – crisis averted!!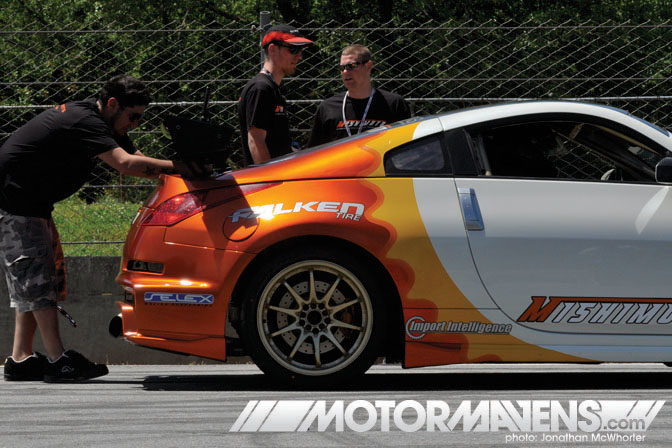 Fast forward to three days before the event. I had just finished up my finals, I'm in the process of moving out of my dorm, and (seemingly) everything is taken care of. Smooth sailing, right? Haha! Not so fast. There was a "hiccup" in the communication between me and Antonio – understandable really. He's in LA – I'm not. It's not very easy to efficiently cooperate sometimes.
It seems I needed to fill out a media application through Formula Drift to get my credentials. I was completely unaware that I needed to do this. But, no worries, right? I figured I'd just go to the website and fill out the form – no big. The only problem was it was now May 4 (The Road Atlanta event's first day was May 7) and the app needed to be in by April 28 – no later than five days before the event. I was aware of this because of the "NO EXCEPTIONS" written in red and in all caps with a very bold font. Now what?! Don't panic. I called Antonio – he said "I'll handle it" – and he did. Whew! I couldn't have had my photographer/drifter's dream come to an end like that. Not that easy. Thankfully, Antonio knows way too many people in way too many high (and low) places to let that happen – and that, my friends, is a good thing.
Now we're back on track and all set for the event itself. Brett stayed at my house the night before and we loaded up his truck and left early in the morning. We had to be up in Braselton at 9AM so we left around 7:15AM. Because we registered so "late" for our media passes, Brett and I weren't on the will call list. But that's OK because we have friends in high places (Antonio – I think I'm beginning to detect a pattern here) so, all we had to do was nicely ask the girl behind the desk to make one phone call and, boom, we were in.
Now, I have been to Road Atlanta before, but every time I pull up to this track it's like the first time all over again. From the front gate, when you get your parking pass, you can see turn 12 that leads into the front straight. The enormous path of asphalt that comes pouring over the top of the hill and sweeps down in front of the pit area is like nothing I've ever seen before. We had a few hours to kill (we didn't HAVE to be there till 11:30 for the media meeting) but we wanted to get there early and check out the venue beforehand.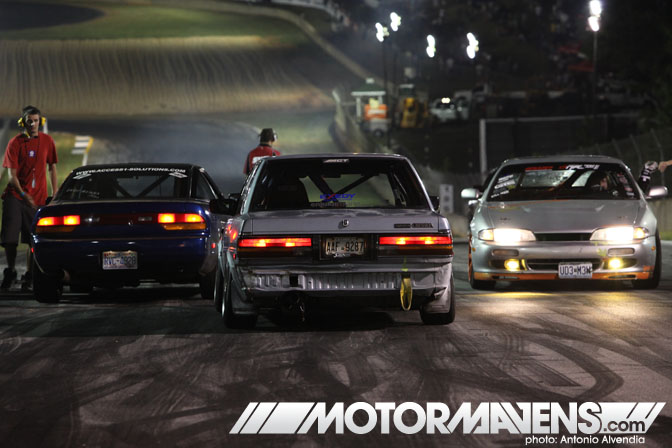 At this point, the pro-am guys were getting their practice runs in before the competition that night. It was cool to watch the local grassroots guys give the challenging road course a go. The drift course uses the back straight leading downhill into turns 10a and 10b where the drivers then head back uphill into a specifically built horseshoe that turns them around back downhill to 10b and 10a and onto the straight. The combination of the high entry speed leading into the technical corners and the drastic elevation changes makes this a very difficult course. In fact, this is where Formula D started back in 2004. The first event was held at this course and Round 2 in the championship series has been here ever since. But, enough of the history lesson – back to my story.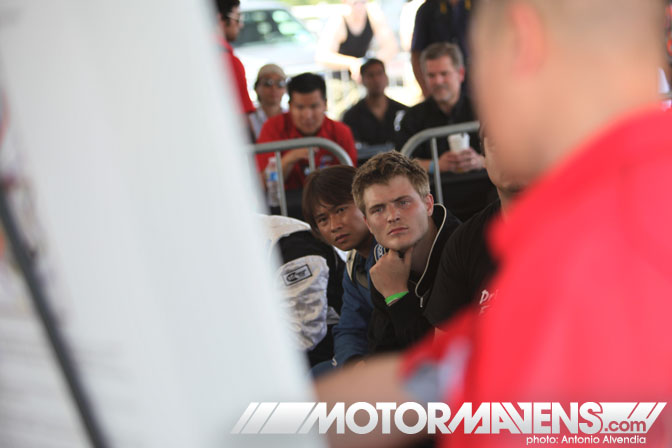 The media meeting was at 11:30AM and Brett and I had killed enough time watching the pro-am guys and walking around the paddock getting our bearings. We hung out at the media tent for the next few minutes until the meeting started. With the free drinks and snacks, this was the place to be – no matter who you were.
The meeting started and suddenly I noticed two large bulletin boards in front of us – one with rules and the other with the track map marked with designated areas for us and stuff like that. As Brett and I were sitting down, I was again assaulted by BOLD LETTERS –  but this time they weren't red.
I had told Brett to wear closed-toed shoes because that's a given when it comes to drifting. The only thing I hadn't counted on was having to wear pants. If you're not as new to this thing as I am, you probably already see my huge mistake. I had shorts on, but not PANTS! The night before I thought about it, for whatever reason, but decided against wearing pants because it was going to be HOT. So I wore shorts, and so did Brett. Well, those bold letters said exactly what I didn't want them to say: "NO SHORTS, NO OPEN-TOED SHOES, NO EXCEPTIONS." One out of two aint bad, right?
Well, I figured maybe they wouldn't notice (I mean, who looks below a dude's waist, right?) –  so, I took the "don't ask don't tell" approach. Didn't work. They noticed. The first item on the agenda (after welcoming everyone and giving the meeting overview) was the "no shorts" rule. We weren't the only ones, but that didn't help our case. To get anywhere we really needed to be, pants were required.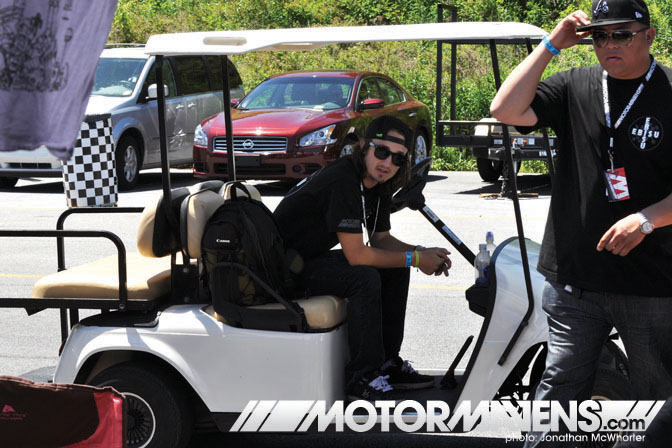 Fine. There was no way that I was going to let a wardrobe malfunction keep this from happening – not now! After the meeting, we quickly left Road Atlanta in search of pants. Wal-Mart to be exact. We found a Wal-Mart a few exits down I-85, bought us some "panic pants" (I'm officially coining that term) and got back in time to meet Antonio, Justin Shreeve, and Joe Ayala as they were arriving at the track. You probably already know that there's a whole story here that I'm leaving out. Trust me, it reads like a flashback from a Tarantino movie but you don't have the time and it's beside the point. Maybe I'll post it on the forum one day. Suffice it to say that, at this point, Brett and I both had our panic pants and our credentials and we were finally allowed trackside. What better place to meet the man who was giving me my big break?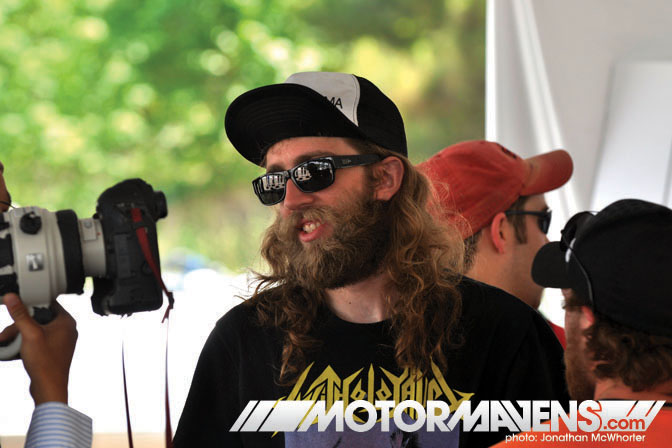 After introductions, we made our way back to the paddock to meet up with the one and only Andy Sapp. Andy is the art director for MotorMavens. He was drifting in the pro-am event that night and he just happens to be my favorite driver in the drifting world – and how cool is it that I got to work and hang out with one of the guys I've looked up to most in the sport? Also, his girlfriend, Lieze Truter, was in charge of the MotorMavens booth as well as all of our merchandise. She pretty much ran the show – no big deal. For those of you who might have missed it, that last part is called sarcasm. She not only ran the show, she also helped design the umbrella girl uniforms and generally made it happen. Thanks Lieze!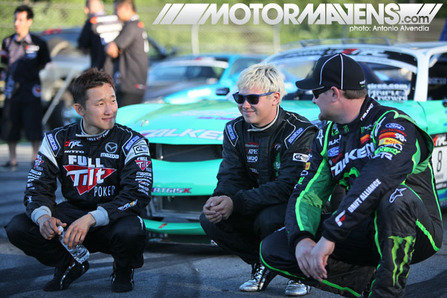 After we met up with them and got our booth set up, it was time to get acquainted with the track. The day was full of shooting and meeting new people – people I had only read about or seen in online videos. Antonio knows so many people sometimes it's just hard to fathom. So, the day went on like that – shoot a little, meet some people, rinse, repeat.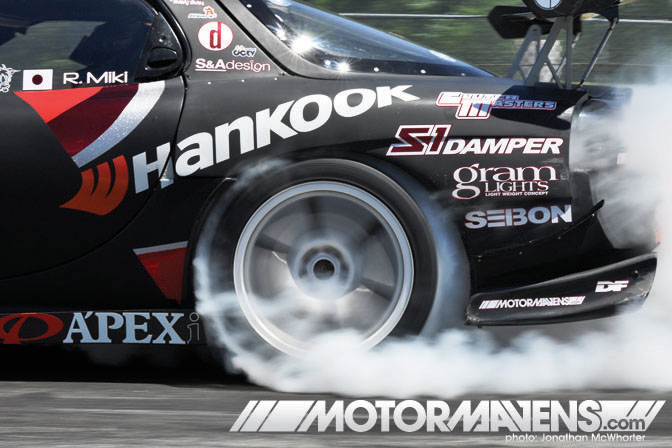 We hit a rhythm and soon the end of the first day came and everything had gone smoothly despite the panic pants. That is until 11:00 pm Friday night when Brett and I were getting ready to leave. I got a text from one of the girls who was supposed to be helping to promote MotorMavens on Saturday (that's "THE" day for Formula D competition). Unfortunately, she couldn't make it to the event anymore. That's understandable. Sometimes things come up that take precedence and there's nothing you can do – no big deal.
But wait… I want you to understand the gravity of the situation from my perspective. Now I had no one to come out and help promote. The other girls that had agreed to help out also had to cancel for various understandable reasons and I had 10 hours to produce a miracle. No big deal. There's that sarcasm again.
After a few hurried phone calls and texts, my miracle came in the form of my old friend, Lauren Lallande. Somehow I talked her into coming out and helping at the very last minute. Don't ask me how it happened. If I had to make a guess, I would say it was the combination of my boyish charm and overwhelming charisma that did the trick – or, it could be that Lauren's just an incredible person who likes to help out. For some reason that first explanation just does something for me, though.
Best of all, not only did I get Lauren to agree to get up at 7AM on a Saturday and help out with MotorMavens, she actually brought a friend (who was, coincidentally, named Lauren as well)! Too good to be true? A little bit. Both of them claimed that they had to be back in the afternoon to go to work or some ridiculous excuse like that. No worries – they wanted to help and that was AWESOME! This is to you Lauren Lallande and Lauren Ledford: I can't stress enough how much you guys helped out. Thanks so much! The only thing that you guys could have done to make things more perfect…you could have brought Lois Lane with you to help round out all of those "L's". LOL!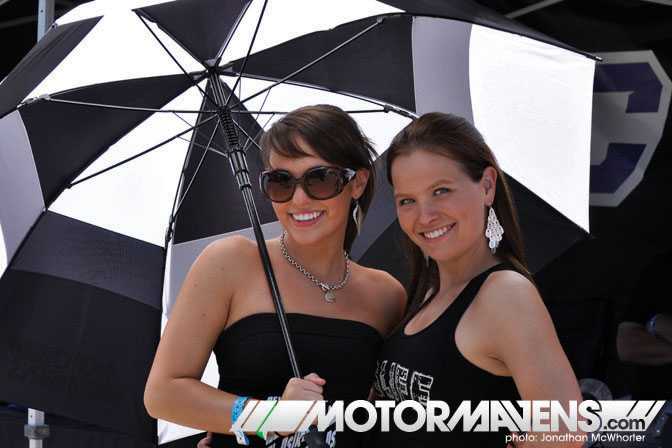 Early Saturday morning, Brett and I met the Laurens at the Starbucks by my house (coincidentally the same one where I'm now writing this) and we got on the road. We arrived about an hour or so later and, since it was still early and no drifting would be happening until the early afternoon, we had time to kill. We decided to give the Laurens a safari-style tour of the event. After what turned out to be a world class tour of the race track, we took them down to the paddock and I could see in both of their eyes that they would be calling out sick – they HAD to stay the whole day. It's just too awesome to witness for only a few hours.
Walking around the pit and seeing the professional drift cars being prepped underneath the colorful tents extending from their sponsors' trucks and hearing the revving of engines had to have had the same effect on them that I felt a few years ago at my first drift event. And, if that wasn't enough to pull them in, Dodge had a mini drift course set up at the end of pit row, where, after you waited your turn in line, you got to hop in a completely stock Challenger or Charger and go on a ride-along with a professional driver for some sideways antics. It was pretty cool but, even better, it sealed the deal – the girls were hooked. Through a pair of "mini-miracles" they both found ways to get off from the 9-5s and stay for the whole day. Good thing because, at this point, the crowd was already starting to roll in and it was time to 'get to work' – the real work. And they were much better prepared to execute their duties in their custom MotorMavens uniforms (that's 'dresses' to you and me) and umbrellas that Antonio had had specially made for the girls to help spread the word about the site and interact with the fans. Nice touch!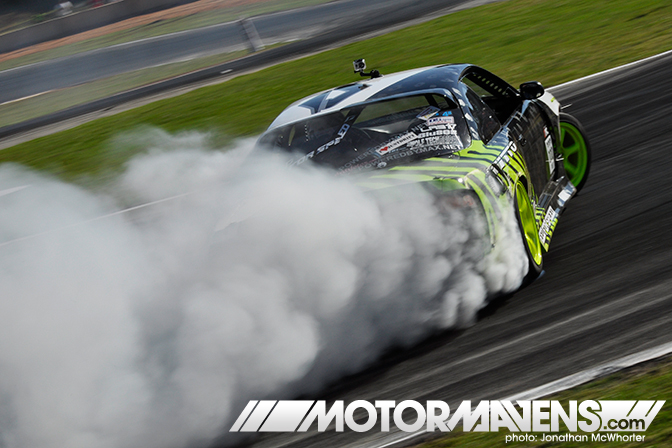 After the Saturday media meeting (which found Brett and I safely in no need of panic pants), it was time for the drivers' practice session to prepare for competition. This is when it really started to dawn on me that I was in with the right people and that I now had the right credentials – this is where it all really happens and I had the front row, center seat.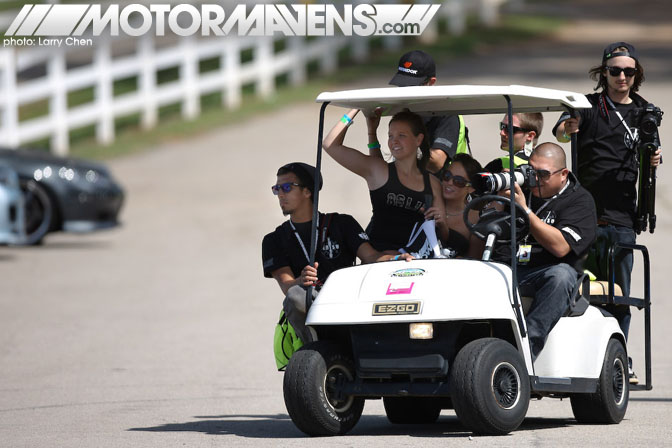 During the practice session, we hopped in the golf cart which we successfully used to transport seven people and even pulled a guy on a wheel chair at one point. And yes, there are pics to prove it – but not of the wheelchair guy so you'll just have to believe me on that one. Scooting on a little two lane road on the way to the starting grid, weaving in and out of trees, brought back images of Group B rallying from the golden days of racing. Then we were emerging from the forest at the back side of the track and passing through the final gate onto the track itself.
Being there, in the flesh, was a completely surreal feeling because I must have driven this track dozens of times before by way of my Xbox. Granted, I was in a golf cart with six other people (as opposed to going 100 mph in a Ferrari) but it was still pretty awesome.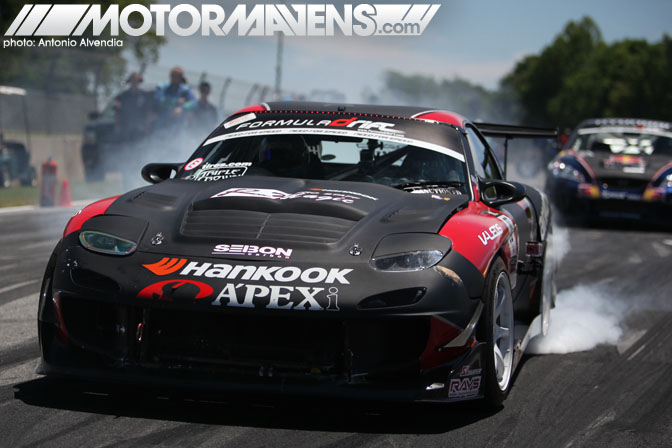 Then we topped the hill and, in front of us, amidst the myriad of tire marks from preliminary burnouts and maze support vehicles, was a herd of brightly painted monsters spitting flame from their pipes, billowing smoke from their rear haunches, and roaring from underneath their hoods as they lined up side by side; menacingly facing the hill down which they would soon launch themselves into battle. Yes. It was as epic as it sounds. And, yes. I'm as proud of that sentence as you think I am.
We parked the golf cart and Antonio briefed us on starting grid safety: don't die. Brief enough? With 500+ horsepower machines letting loose their fury on their tires only feet from you, you really need to be on your toes in case things get hairy. And, despite the fact that it was super chaotic and there was so much going on, it all had a certain rhythm to it.
It seems that many aspects of this sport are simply organized chaos – right from the starting grid. For example, the cars would be lined up and all of a sudden, with the swell of horsepowery thunder, you would find yourself enveloped in a cloud of tire smoke – all for the sake of stickier tires. This might have been the coolest (automotive related) experience of the weekend. Most people don't get to see this part of the action, much less stand as close to it as I was. I felt kind of special – privileged even.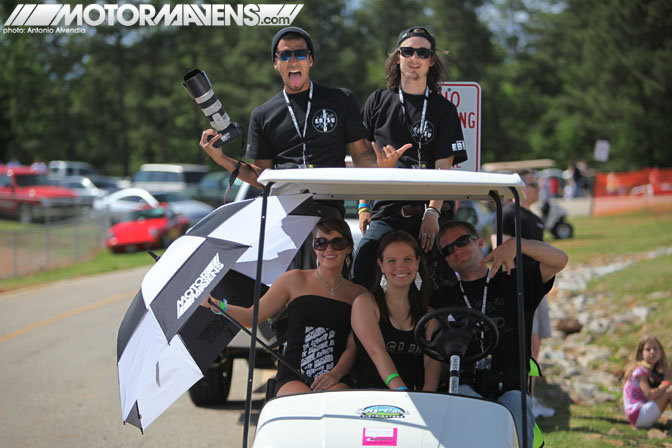 After some time meeting more people in the industry, getting my photography on, and letting my inner car nerd soak it all in, it was time to get back to the booth to hang out until the competition started. Lieze had been holding down the fort well and was selling merchandise like CRAZY (told you she was awesome). This down time gave us a chance to walk around the paddock, take in some of the atmosphere, and capture some of that with our cameras. Also, some time for me to get some of those sweet Keep Drifting Fun shirts 8].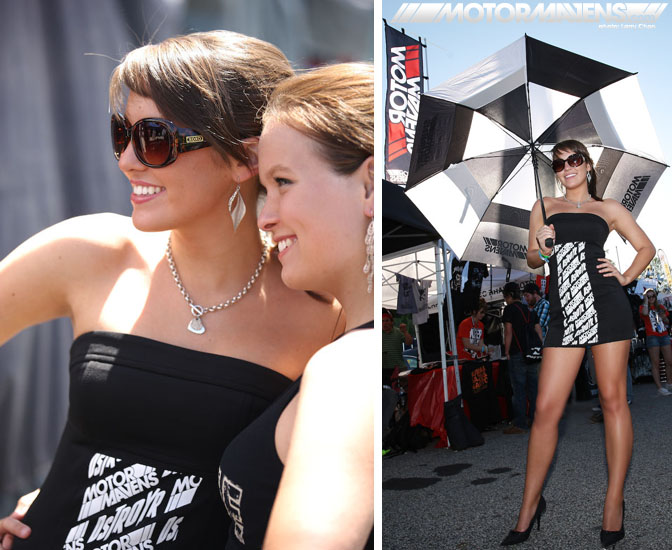 After chillin for a little (call it a brief intermission) it was game time. Opening ceremonies were about to start and we had our very own star going out on the track. Earlier in the day, when we arrived, Lauren (that's Lauren #1 in the pic above) was asking if there was a Camaro driving in the event because that is her favorite car. As it turned out, there was a Camaro at the event being driven by one of the top drivers for a pretty significant tire company (does the name Hankook ring any bells?).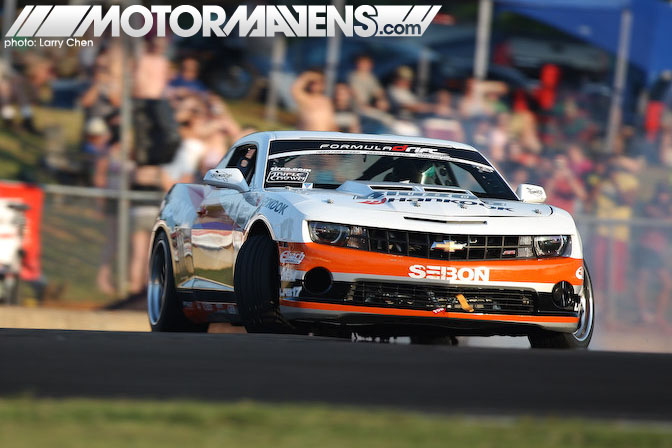 Antonio was already hatching a plan to get her out there as an umbrella girl for one of the drivers during the opening ceremonies. When she mentioned that she liked the Camaro, that's all Antonio needed. With his almost infinite connections, he worked it out so that she would be the umbrella girl for the Camaro driver, Conrad Grunewald. If you're wondering what an umbrella girl is, it's exactly what it sounds like: she stands with the driver holding an umbrella – a very straightforward and super serious business. She got to ride out onto the track as the cars lined up and introductions were made. It was pretty cool.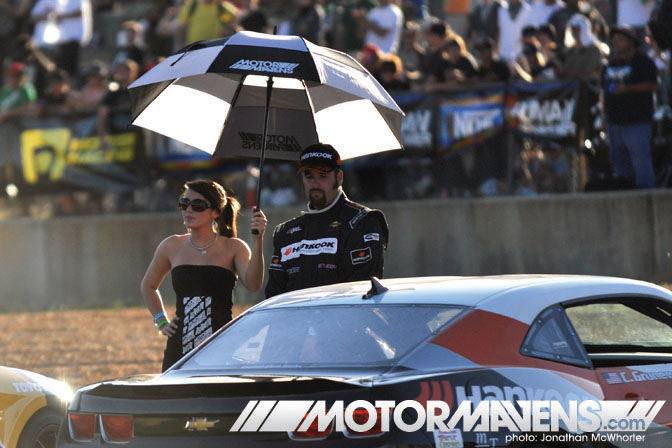 And then the magic began. The sun was setting and the light was incredible. The sky was clear and a nice amber glow began to fall over the course. As the drifting commenced it was like a dream. My two passions (photography and drifting) were both perfectly aligned in the same place at the same time. Great light for shooting, great subjects to shoot – it was prime time. And then it was over – in a blur…far too soon…
The top 3 drivers made their way to the paddock for the award ceremony, as did Brett and I. Things were dying down, teams were loading up their transformer-like trailers, drivers were signing last minute autographs, fanboys were scrambling around looking for whatever free stuff the big companies still had to give away, and we were hanging out at our booth preparing to pack it all into Andy's truck.
As we were organizing the leftover merchandise that hadn't sold yet, one of the higher ups from the Falken rig across from us came over and said they had some extra food that they hadn't eaten yet and that they were gonna let us have it. How could we say no? We proceeded to dig in to tray upon tray of barbecue from Sonny's BBQ Catering. This wasn't just a few leftovers, it was probably 50 pounds of chicken, mac and cheese, corn, pulled pork, garlic toast, etc. It was fantastic!
And that's when it all started to come together for me. As we ate, more and more people started to come over and eat, too. But these weren't just random people walking around enjoying the event. These were the drivers, photographers and videographers that I followed on the Internet on various sites – the  people that I've only read about and seen in videos. In less than five minutes, I was rubbing elbows and hanging out with the people I look up to most in this 'scene' – the people that I follow so closely. People like Will Roegge and Joshua Herron shooting their Keep Drifting Fun documentary, Linhbergh from Speedhunters, Matt Powers – making his rise from grassroots to the pro level, Vaughn Gittin Jr. & Chris Forsberg – two of the biggest names in drifting, and of course, the man, the myth, and the legend that is Andy Sapp. It was incredible. Aside from me being a little star struck, it became evident that THIS was what it was all about. Sure the drifting and all of that was why we were all there – but it wasn't WHY we stayed. There was more to the passion than just the cars and the events.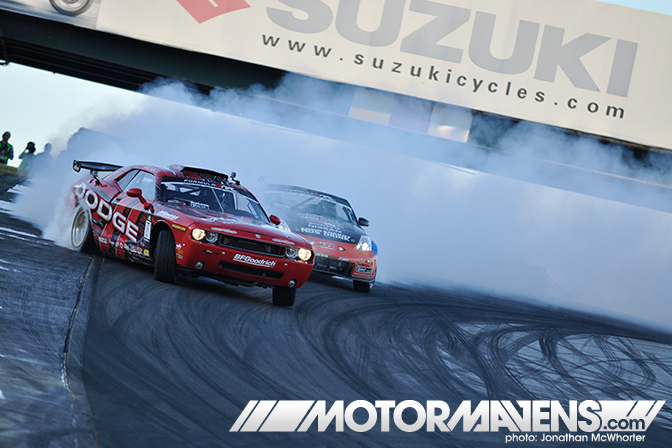 Even though I was witnessing the "big money" players of drifting, they were still just a tight-knit group of people who just enjoy each other's company. The playing around on the various golf carts that were whizzing around, the joking around with each other and enjoying good food together made me realize what this was all about – the people. The cars come and go, the winners come and go, but the people are always there. These were the people that make drifting what it is. All of them had come from grassroots drifting, making it on their own dime even though now they may or may not be backed by corporate sponsors. They still had the passion for the sport and they still knew that it was all about keeping it fun. It's not about the money or the fame – it's about having fun.
The fun that fuels the passion is why anyone should get into drifting in the first place. It was good to see that, even at this level, the heart of drifting was still there. Beyond the impact of the entire event on me, that was the most amazing experience of the weekend – seeing all of the people from each corner of the industry come together and enjoy themselves, acknowledging the two most important things: people and passion.
I wouldn't have been there, and I wouldn't be going in the direction that I am now, had it not been for an incredible series of events. I know this was an extremely (and maybe unnecessarily) long post but I wouldn't have it any other way. If you made it this far – I applaud you. If you skipped to this point – go back and read the whole thing. For real – you missed some good stuff. Punk.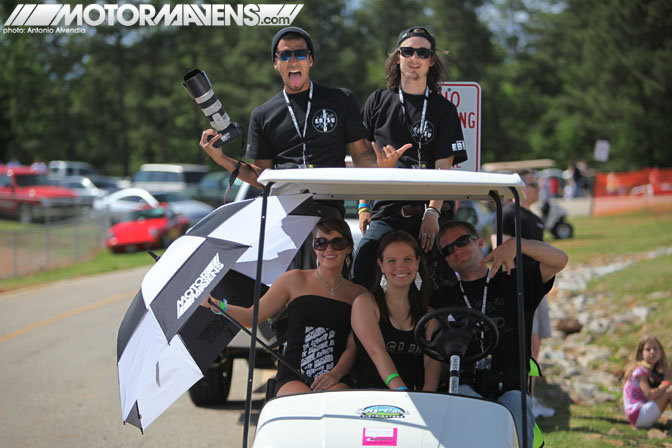 As for me, I started out writing this in Starbucks and now I'm sitting in my kitchen listening to the rain outside. I can only stare at this screen for so long, so I wanted to make sure I got everything down. It was a lot for me to remember – to re-experience a very transformational two days of my life. It was even more difficult to recount.
However, I felt that it was important to express what this industry looks and "feels" like to someone who has wanted nothing more than to exist in this space – in the reality that some insiders may take for granted without realizing how blessed they are to be able to make a living doing what we all love. So, to convey the impact of this incredible industry and the people who make it so great, I leave you with the words of my new friend and chief editor of Motor Mavens, Antonio: "Drifting changed my life." They couldn't be more appropriate.
:: Jonathan McWhorter
www.keepdriftingfun.com
www.slidestyle.com
www.andysapp.com
240SX
,
350Z
,
Andy Sapp
,
Antonio Alvendia
,
Atlanta
,
Avon Bellamy
,
Brett May
,
Challenger
,
Charger
,
Chris Forsberg
,
Conrad Grunewald
,
Dodge
,
drifting
,
Drifting changed my life
,
Falken Tire
,
Formula Drift
,
Gresham Motorsports Park
,
Gwinnett Tech
,
Hankook Tire
,
Joe Ayala
,
Jonathan McWhorter
,
Joon Maeng
,
Joshua Herron
,
Justin Shreeve
,
keep drifting fun
,
Lauren Lallande
,
Lauren Ledford
,
Lieze Truter
,
Linhbergh
,
Matt Powers
,
Mustang
,
Road Atlanta
,
RX8
,
S14
,
Samuel Hubinette
,
Southeast Drift
,
Vaughn Gittin Jr
,
Will Roegge
---