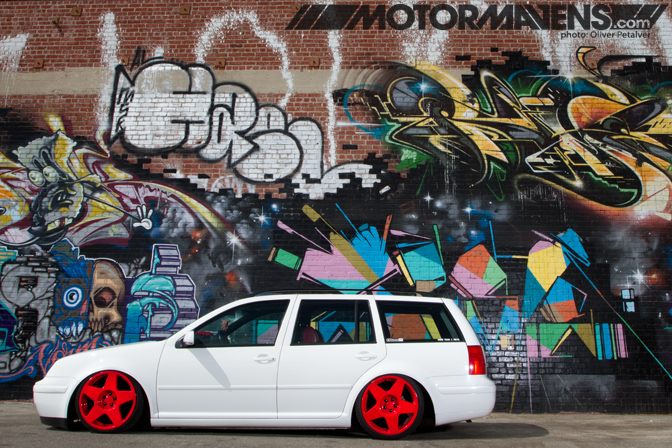 The first time I met Matt Crooke, co-owner of Fifteen52, was on a cold night in Upland, California. We were at a locally-famous restaurant called The Hat, which is known for their great pastrami sandwiches. However, I wasn't there for the beef. I was there for the weekly gathering of Volkswagens that come out in droves just to hang out and chit-chat about the trials and tribulations of owning and modding a Volkswagen. We quickly got acquainted and I soon found out what Fifteen52 really meant.
Brad Beardow and Matt Crooke are the faces of Fifteen52 – if you're in the Volkswagen scene, there's almost no doubt you've heard of that name.  However, these two guys didn't start Fifteen52 overnight. It took several years before each of them realized their calling.
Since making their move to Newport Beach, California (not long ago), they have managed to build something from nothing. This may very well be the first appearance of a Fifteen52 Volkwagen build since their original claim to fame – the printed feature of their 2001 Volkswagen Jetta two-door that appeared in Eurotuner magazine.
When I asked how they would define Fifteen52 and how they approach things as a company, Matt's vibrant enthusiasm was overwhelming. I could tell this was far more than just a philosophy for him as he took a moment to quickly school me on their overall statement and what they hope to achieve in the market.
"Fifteen52 is better defined by our concept rather than any specific line of products or services. Simply stated, our number one goal is to offer our customers whatever is necessary to make them feel they own truly unique automobiles. Approaching everything we do from an enthusiast perspective, we are a small but dedicated operation that prefers to take each job and each sale on a case-by-case basis. Customer service is our number one priority and our true measure of success is how well we manage to foster a customer's love affair with his or her vehicle." His words – and I could tell that he really meant every one of them.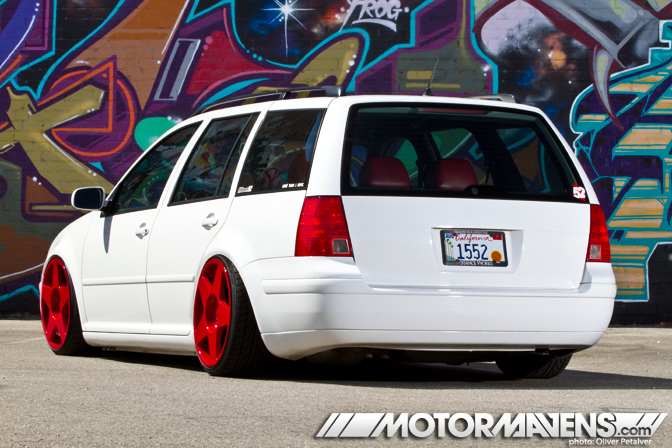 Matt had a lot to say about every aspect of the build. "My favorite thing on the car is by far the Tarmac wheels. After going through the design process and staring at them a million times from every angle, I'm still not bored with them."
"I guess there's two things I would change if I were keeping the car. I would drop a 24v VR6 engine into the car with some go-fast goodies and probably change the color of the interior. I've always wanted Porsche Nephrite Green leather in a white car, but I got a killer deal on the setup I have now, so I opted for the red. I've got an Alpine White Mk2 GTI 16v that I'm working on next though, so the green leather idea won't be just an idea for much longer."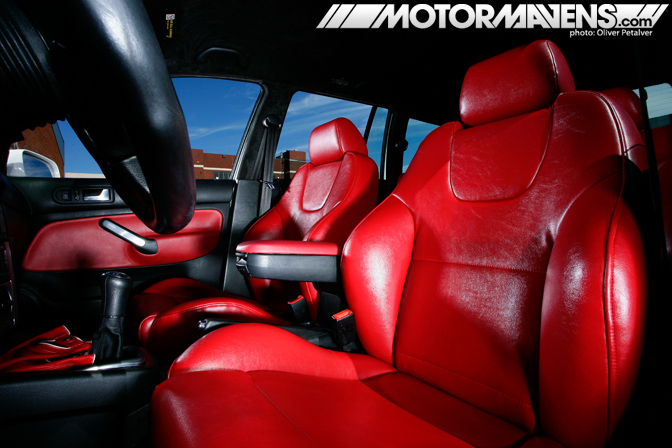 In the process of creating a glorious interior, Matt was diligent in choosing his accessories for the Jetta wagon. He decided to toss the stock Mk4 Jetta seats for the Recaro seats found on the sportier GLI version of the Jetta. He then sent out the seats to JJ Custom Interior in Tacoma, Washington to be re-trimmed in crime scene blood-red leather.
The Jetta wagon stock trim was replaced with the GLI brushed aluminum trim for that extra shiny touch. For most people that would get into a car, the last thing they notice (if they notice) is the headliner. However, guys like Matt leave nothing to chance, so he tapped JJ Custom Interior once more to put their touch on the black suede headliner and pillars, finishing off the interior points with custom Fifteen52 floormats by JustMatz in the UK.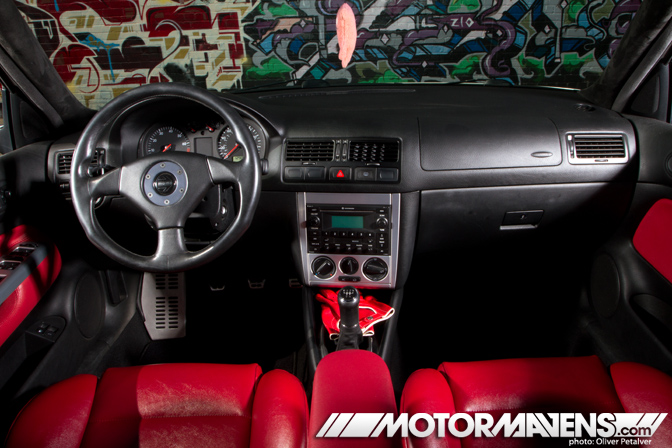 Keeping it simple with a Rieger illuminated shift knob/boot, Momo Club Sport II steering wheel, Audi TT pedals (plus dead pedal) to round things off.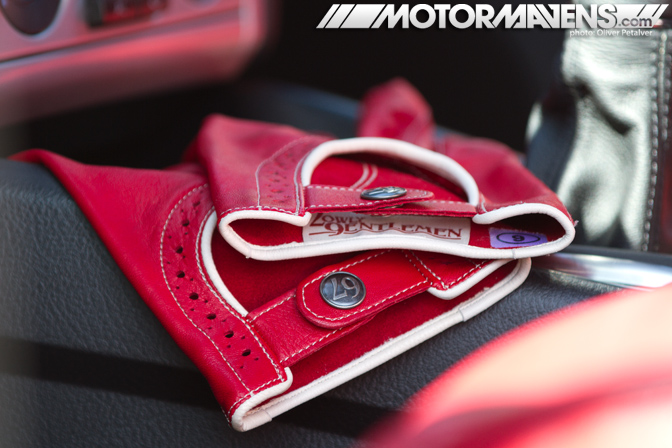 These fine leather gloves from Lowly Gentlemen are the perfect complement to the interior of Matt's Jetta. They bear the racing number 67 but, when turned upside down, the 67 becomes the LG of the Lowly Gentlemen apparel logo – brought to you by our friends at Stanceworks. Clever, eh?  I've been meaning to get my hands on some, or should I say in some…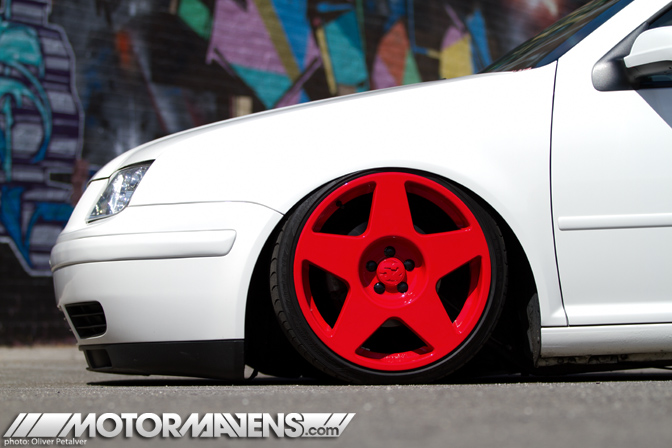 The old Group B Rally and BTCC motorsport wheels of yesteryear were the inspiration for the design of the Fifteen52 Tarmac wheel. They wanted to bring back that type of design with a modern flair; intentionally steering us away from the typical blingy, concave and big lipped wheels we see so often now to do something different, simple and retro. Matt and Brad came up with the stark and timeless five-spoke design with a completely flat face, deep drop center and no lip.
You may have seen this wheel on another car that has gained international internet stardom – the Fifteen52 Tarmac-equipped HFHV Ford Fiesta owned and driven by DC Shoes founder-turned rally driver – Ken Block.
On this car, you'll find 18×8.5 Tarmacs filling up all four corners. Matt wanted to take the white & red theme to the outside of the car and opted to paint the wheels Porsche Guards Red wrapping them up with Falken FK452 tires in 215/35/R18 size.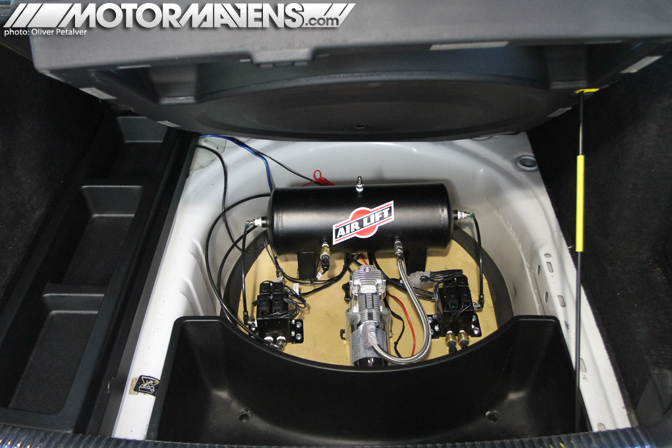 For those who aren't too keen on reading and who are thinking, "that's impossible, how does he drive like that?!" Settle down – the whole car is on air suspension. With two Air Lift Slam XL front struts, Air Lift rear bags over Suspension Techniques rear sport shocks. The system that manages all this is an Air Lift Auto Pilot Digital Management System which allows the user to have full control of the air ride system. A three-gallon tank, with one 380cc Visit compressor all kept nice & tidy in the spare tire well. A very basic setup that anyone can install in a weekend – times may vary depending on how much beer you give your buddies.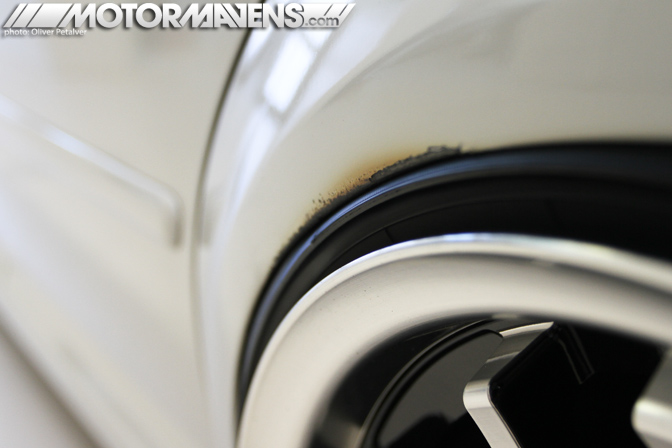 This isn't just a showroom queen either, rubber burns on the rear fender show you this car is driven… and driven low.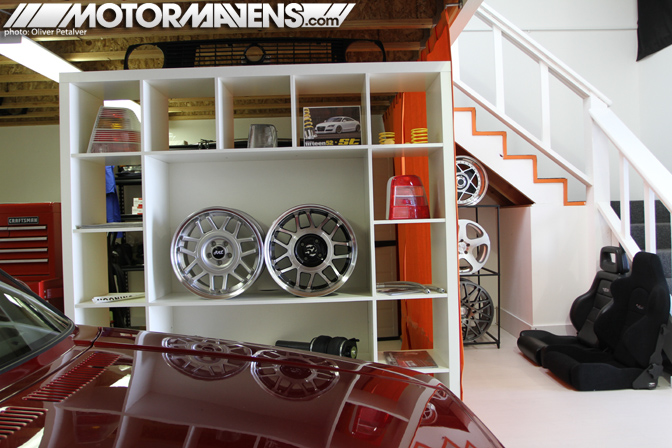 When asked what the future holds for Fifteen52, Matt quickly answered:
"As we move closer and closer to what Fifteen52 is as a manufacturer, we are more focused on our two designated lines. We have the RSL (RennSportLine), which is inspired by many retro and modern motorsport designs and the RML (RetroModernLine), which is inspired by many retro OE wheel designs."
"These two lines will not only feature wheels but various functional interior and exterior accessories to achieve that perfect RML or RSL look. We plan on offering various bolt-on motorsport fender flares, DTM cup mirrors and other accessories for a various range of specific European and Japanese vehicles in the near future."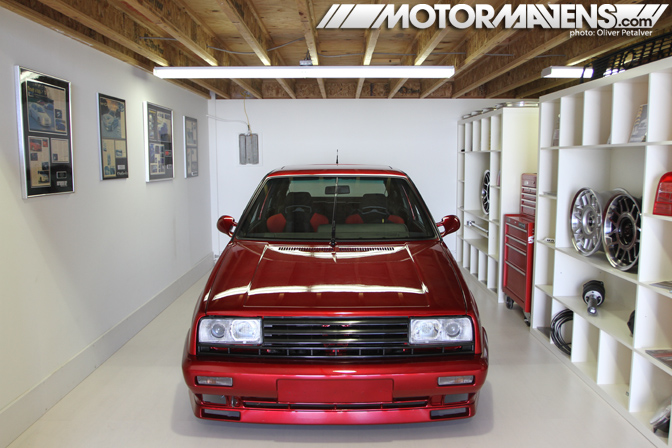 Golf Rallye anyone? In 1989, the Volkswagen Rallye Golf appeared as a rallye "homologation special." One recognizable characteristic is its distinguishable box-flared wheel arches (similar to the  BMW E30 M3 and Lancia Delta Integrale) and rectangular projector headlamps. This model featured a Syncro four-wheel drive with a G-lader supercharger version of the fuel injected eight-valve G60 1.8 liter engine.
However, the likelihood of getting your hands on a mint Golf Rallye are slim to none, with only 5,000 cars built at Volkswagen's facility in Belgium. The Golf Rallye reigned over the European market – none were officially sold in the United States. Two were brought over officially for testing and the hopes of them storming our beaches faded when the Volkswagen of America (VWOA) official who had the power to make it happen was killed in the Pan-Am Lockerbie Scotland bombing. A tragedy both personal and international!
In this case, the project that was converted with sourced parts from all over Europe just to keep it period correct if not strictly authentic. We can all dream, I guess…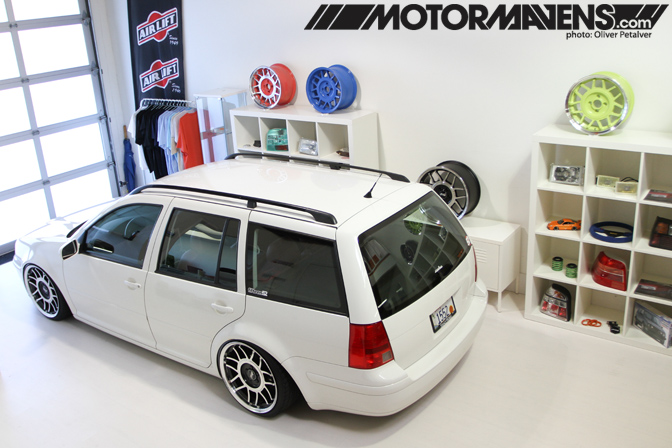 You might be asking yourself, "Why does the wagon have two different set of wheels in the picture?" I was just going to answer that. As you may know, setting up a photoshoot can be a job all on its own. With our busy schedules, lining up a location and a photographer (in this case, Oliver Petalver) can be a bit arduous. Over the course of several weeks, the Jetta Wagon was photographed in a two-part photoshoot. The first part was taken at their shop in Newport Beach, CA – Part Deux was in Little Tokyo in downtown Los Angeles, CA.
Over the course of these two shoots, Fifteen52 was in the process of releasing their Tarmac wheels and, as a special treat for our MotorMavens readers, Matt wanted to debut the car with two of their wheels on the car. For those who might be asking about the wheels pictured above, those are from the RML line, inspired by many of the retro OE wheel designs. They're a vintage take on a classic Volkswagen wheel referred to as the Snowflake, which was a stock VW wheel that came on the Mk1 Rabbit and GTI.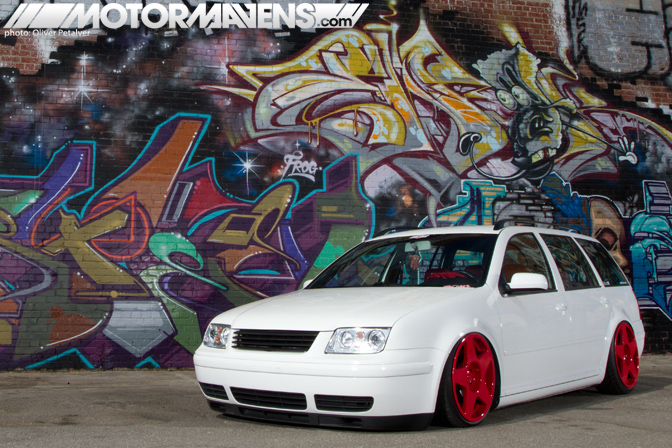 For those who have read this entire post wondering what Fifteen52 means, we have finally arrived. Fifteen52 is a VW code name for a piece of diagnostic equipment used by Volkswagen in the late 90s. If you're a VW guy at heart like I am, you're probably thinking that's a pretty cool name.
:: Tamer Omran
---