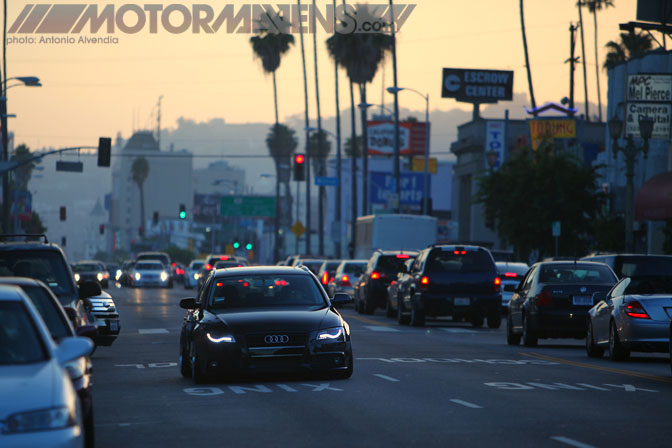 One thing about lining up a photo shoot is that sometimes it doesn't always go according to plan. After several months of planning, I was finally able to lock down a shoot date with Brian Henderson's 2010 B8 Audi A4 Avant. This, my friends, is what I would call a truly magnificent piece of machinery. Everything about it oozes class and originality – and who doesn't like class and originality?
After hanging around for awhile talking "car guy stuff" with Brian and Jason Whipple, the two guys who run the Rotiform shop, I was able to find out a little bit more about Brian's previous car history. Much more than just the car, I was interested in getting to know the reasoning behind the  choice of the beautiful B8 Audi A4 Avant you see here as well as the motivating force behind Rotiform.
With Brian growing up in Colorado, and being the avid snowboarder that he is, he needed an all-wheel drive vehicle with room to carry all the snowboarding gear as well as seat four in comfort. You're probably thinking "SUV" but that was not the answer for Brian. In his case, Audi's Quattro system turned out to be more than sufficient.
Having been into the Volkswagen and Audi scene for quite some time, Brian is no stranger to the VAG world. He had acquired several Mk2 GTIs over the years before buying his first 1998 Audi A4 Avant. "The Audi Avant was just a logical progression from a GTI, as I was never a huge fan of the A4 sedans."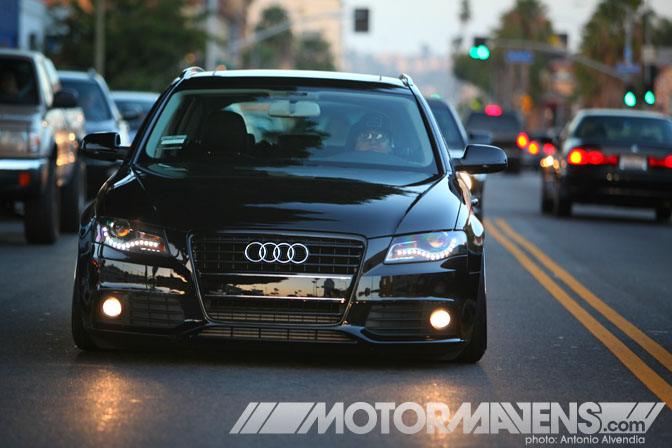 One of the main reasons for the purchase of this very distinctive car was that it was to serve as a marketing vehicle for Rotiform. The air-ride came in handy as they were able to set the car at any ride height they wanted to for photo shoots, showing customers what the wheels would look like at stock height, spring lowered, coilover low, and, in extreme cases, air-bag low.
Beside being a glamorous company car, it occasionally gets used around the Rotiform shop in the everyday dealings of a wheel company – from picking up and delivering cast/forged wheels to taking wheels to vendors for the ultimate refurbishing. The true inspiration behind this build, as Brian most appropriately states is "To really give the Belgians some competition, as they have been known to build some of the baddest Audis in the world."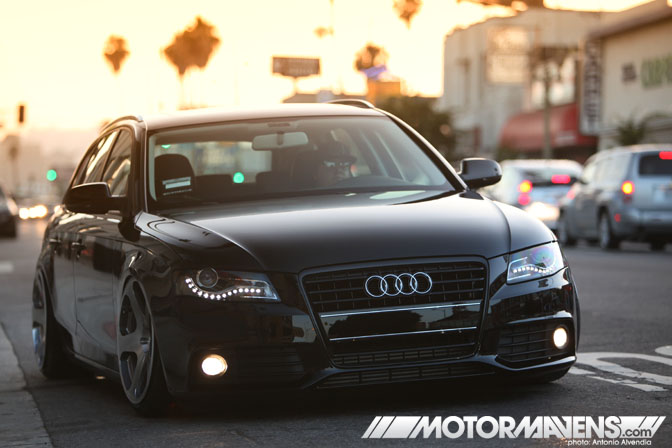 The wheels that you're staring at now are Rotiform's NUE wheel: a forged concave monoblock design with a brushed face and barrel with polished windows. Sizes are 19×10 in the front and 19×11 in the rear.
Before taking delivery on his B8 Avant, Brian was contemplating selling his older gen, B7 Supercharged, Audi S4 wagon (sitting pretty on BBS RS wheels), to buy a Porsche 911. However, the call of the bachelor's life was quickly silenced when he became the father of twin girls. Factor in a sharp increase for Rotiform in business and clientele and an upgraded version of the Audi Avant became the most logical path to take – as "They" say, duty calls – but duty can still be enjoyable, right?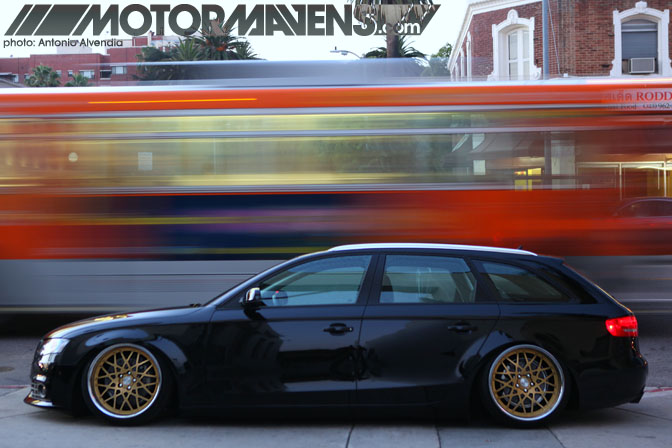 On the other side however, they're running the gold anodized Rotiforms Split BLQs which add the perfect contrast to a car like this. These split BLQs are a forged/true 3 piece wheel with hidden hardware. The sizes are 19×10.5 in the front and 19×11 in the rear.
Starting fresh, Brian was able to keep it simple and go for a few wisely chosen items to enhance the presence of the grocery getter.  GIAC Tuning for the ECU reflash – check. AWE Tuning for the larger intercooler core and the exhaust system to open those lungs a bit – check. For cosmetics, an  AE performance Black Optic Grill, an S-Line plate filler to get rid of the ghastly stock license plate and, the pièce de résistance, European spec head lamps.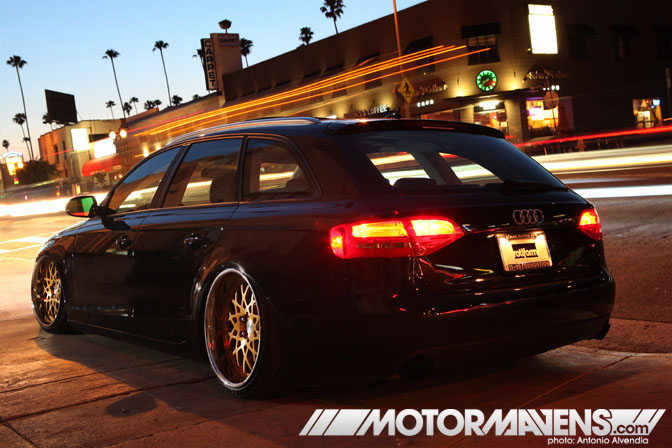 Brian took the time to tell me about the thinking behind the Split BLQ design. Rotiform's approach with the Split BLQs was to port a single piece wheel into a multi-piece wheel – which isn't as straight forward as it might sound. According to Brian, oftentimes the changing of a wheel's profile and the addition of a lip will totally change the look – so they went through numerous revisions in making sure that the split wheel was as good or better than the original BLQ (flat face). With the flat lip and hidden hardware on the Split BLQs they feel they took a great looking wheel and made it that much better – what do you guys think? For those wheel guys out there wanting to take the old school look that much farther, they offer it in a sandwich mount, with exposed hardware and a step lip. Dope.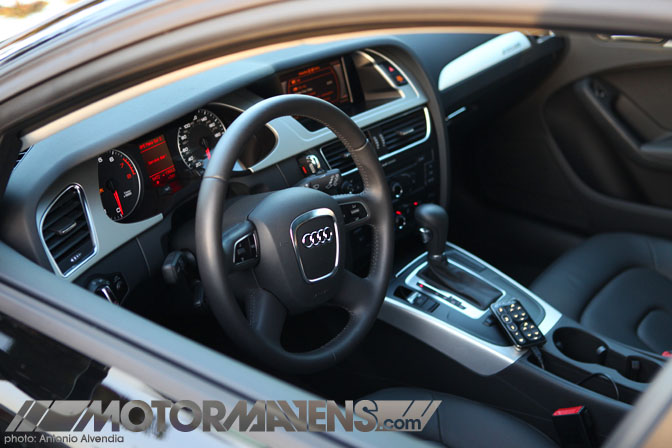 Keeping it "all business" the interior remains stock (except for the air bag controller). But Brian tells me there are plans for a re-trim later this year. I'm also told that there could be a possible color change. No word on what color that will be but Brian says he'll take suggestions from the Motor Mavens Crew. Any suggestions?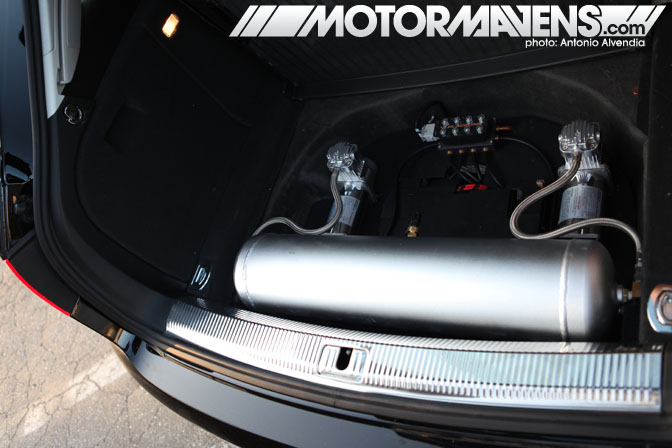 Here is the very neatly installed air ride set up, which includes a Bagyard "Supreme" bag setup using Bilstein struts. Managing all of this is Accuair E-Level Pro management and the whole install was done by Dorbritz Designs.
You may have noticed the gigantic wheel sitting there? That's Rotiform's newest release called the VCE. I was very interested to find out the design inspiration for this wheel, because (IMO) it is so reminiscent of the old school Compomotives – one of my favorites.
Brian told me that he's always had a thing for the old OZ DTM racing wheels that were found on the old school Mercedes 190E that ran in the 90s. They wanted to put their own twist on it and bring it to the consumer in modern sizes. Currently there are about five or six other wheel companies that have done something similar to this design because it's just one of those classic race-style wheels. They wanted to bring back that classic feel and style that so many wheels had in the 80s and 90s but with a modern twist. Their perspective is that the modern wheel market is a bit stale with too many over-thought, over stylized wheel designs. Simple elegance is timeless.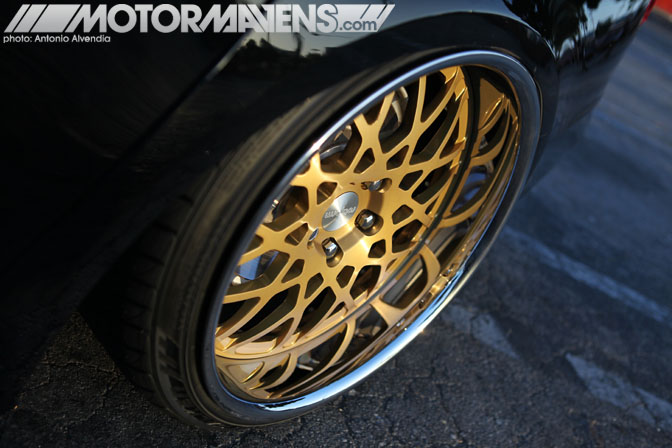 The Split BLQ and the VCE represent the essence of the Rotiform philosophy: compellingly classic yet forward thinking. A throw back  to the classic split mesh wheel but made with modern technology and a modern look. Sometimes we have to look to our history to more surely navigate our future. The guys at Rotiform wanted to thank their sponsors for making this build happen: Reno at Accuair; Austin at GIAC; Drew at Dorbritz Designs; Rich at OEMplus; and Todd at AWE Tuning.
I would like to thank Antonio for the amazing photos and for making this photo shoot a reality and Mike Kim for his help with the shoot. Thanks guys.
For more info on the products that Rotiform carries, check out their website
:: Tamer Omran
2.0t
,
A4
,
Accuair
,
AE Performance
,
Air Bags
,
Antonio Alvendia
,
Audi
,
Audi Avant
,
avant
,
Avon Bellamy
,
AWE Tuning
,
B7 Audi S4
,
B8 Audi Avant
,
B8 Audi wagon
,
Bagyard
,
BBS Wheels
,
Bilstein
,
Brian Henderson
,
Compomotives
,
Dorbritz Designs
,
european
,
GIAC
,
GIAC Tuning
,
Los Angeles
,
Mercedes 190E
,
Mk2 Gti
,
NUE
,
oemplus
,
rotiform
,
Split BLQ
,
Tamer Omran
,
VCE
,
Westminster
---