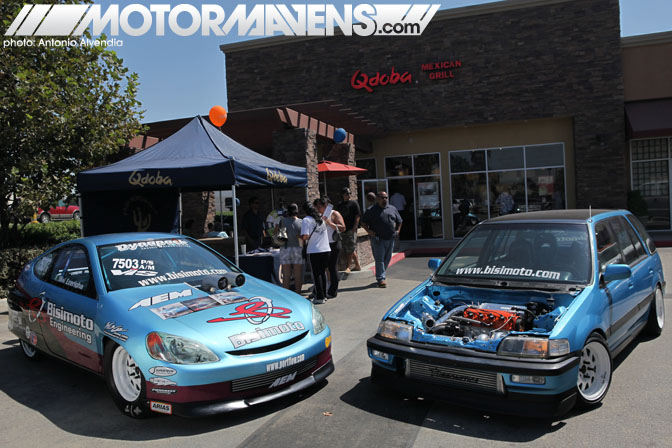 Those that are following MotorMavens on Facebook, Twitter and Tumblr probably already know that our friends from Bisimoto Engineering invited us out to the grand opening of the new Qdoba Restaurant in Ontario yesterday. When we arrived out at the restaurant, the parking lot was packed, and there were no spots to park anywhere nearby. We just double parked the E39T alongside the trailer, and were immediately greeted by the always smiling Bisi Ezerioha, the charismatic drag racer and engine tuner that you might have seen in our off-the-cuff Norm Reeves Honda Meet video feature.
A lot of people were crowded around the Bisimoto Honda Insight drag car and the hoodless 700hp D16Z powered Civic wagovan that Bisi drives on the street (Sshhhhh! We hope that we don't have any cops reading this!). Luckily, we were able to use our MotorMavenly powers of persuasion (or coercion) to ask people to move out of the way for just a little bit so we could reposition the cars and snap these photos!
Here's a close up of the Bisimoto Honda Insight. We would have taken some closer-up images of the car's engine bay and whatnot, but we figured we would be seeing the car at this Saturday's IDRC Finals at California Speedway in Fontana anyway, so we thought we'd just wait until Saturday to shoot the pic. We didn't want to bother Randy Villanueva and Bisi with having to undo all those dzus fasteners and remove the one piece front end just for us!
Luckily, the hood of the Honda Civic Wagovan was already off, so we were able to get some clean pics of the engine bay. Man, that is one clean engine compartment and one humongous Turbonetics ballbearing turbo! We've been seeing tons and tons of really impressive wire tucked engine bays in Hondas and VWs lately; it's really inspiring.
Check out this bird's eye view of the Wagovan's engine bay. Retardedly clean. Oh, and did we mention that it makes 700 horsepower? Not too shabby, D16Z!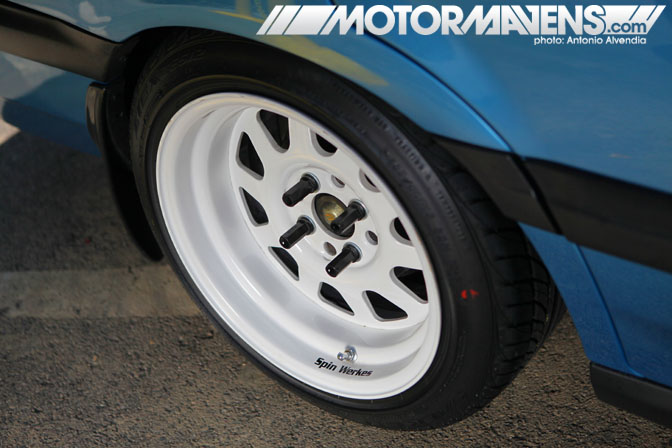 Another cool feature of the Bisimoto Civic Wagovan that we like alot is the stance of the car. It's pretty cool that instead of buying some old school JDM wheels like most of the other Honda guys out there (not that there's anything wrong with that – we LOVE old school Japanese wheels), we think it's really cool that Bisi is running these lightweight aluminum wheels on his streetcar, because he uses the same wheels on his race car – in different sizes of course.
Damn, wouldn't it be awesome if they made those wheels in sizes and PCDs that fit AE86s and other RWD cars? Hmmmmmm… *lightbulb*
:: Antonio Alvendia
Bisimoto Engineering
1916 S. Lynx Place
Ontario, CA 91761
Ph: 888-922-6686
Monday – Friday 9am-6pm PST
AEM
,
Antonio Alvendia
,
Arias
,
Bisimoto
,
Bizi Ezerioha
,
Canon
,
Civic
,
D16
,
D16Z
,
Drag
,
Honda
,
Insight
,
offset
,
Qdoba
,
Randy Villanueva
,
Spun
,
stance
,
Turbonetics
,
Wagovan
---