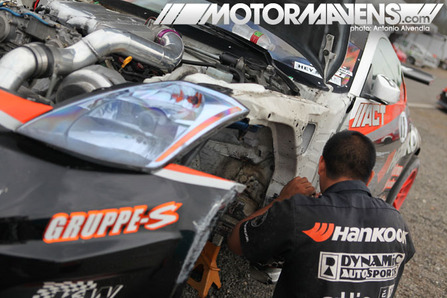 It's really, really late. I just got to the Formula D "host hotel" in Bothell, WA not too long ago, where tons of the Formula D tour regulars are sitting out in the lobby and outside patios with drinks in hand, being loud and cracking jokes, trying to unwind from a long day at the track.
However, some teams had a longer day at the track than others… when I arrived to the Formula D pit area, I noticed Robbie Nishida's Dynamic Autosports/Hankook Tire 350Z up on jackstands, in the dusty, dirt covered pit area of Evergreen Speedway. Apparently, just a few minutes before I arrived, Robbie's 350Z made contact with the wall on one of his practice runs, severely damaging the left side of his car. Above is a photo of the car, with hood, fender, and suspension off… as the Dynamic team hustles to collect parts to repair the car in time for tomorrow's main qualifying session.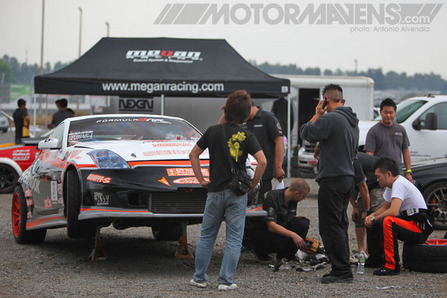 Here's Robbie's crew gathered around the car, everyone trying to do their part to help fix the car and gather parts for the repair as soon as humanly possible.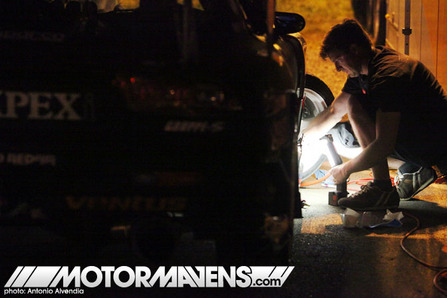 On the other side of the pit area, Chuck Griffice from Apex Integration works on some steering "clearance issues" on Ryuji Miki's FD3S before the big day.
Ryuji's FD3S RX7 has also just received an exterior facelift, with a new aero kit from Japanese RX7 tuning house R Magic. Stay tuned to MotorMavens for more pics of the FD's new exterior appearance; right now, the Apex'i team is still at the track, trying to wrap the front bumper and fenders with red vinyl and placing all the sponsor logos on the car before anyone takes photos of it at the track.
Late into the evening, Dynamic Autosports head honcho Eddie Kim remains on the phone, trying to secure some rush order parts to fix his car so Robbie can run. Apparently, the Dynamic/Hankook team spent roughly $1400 on Robbie's plane ticket from Japan, so they plan to do everything in their power to make sure he has a well tuned car to drive at this event.
The Hankook team has high hopes for Robbie at Seattle, as he achieved a podium finish at last year's Seattle event. Good luck to the Dynamic Autosports team, Apex'i team, and all other teams that are rushing to get their cars prepared for tomorrow's open practice and qualifying!
:: Antonio Alvendia
---