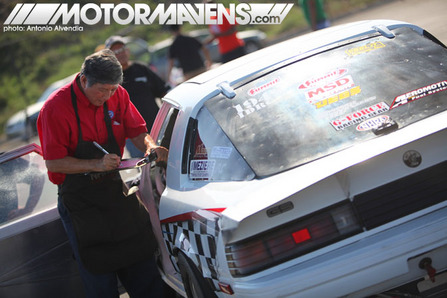 As I looked over our coverage on the IDRC Finals at Fontana last weekend, I thought  should make a complete and separate post about some of my favorite cars out there – the old school draggers! After all, as these cars (and their owners) get on in age, the people that own these cool old school drag cars tend to bring them out less and less. Needless to say, I was more than glad to see some at IDRC Finals! Let's take a look.
Up above, I noticed this first gen Mazda RX7 drag car going through tech inspection. I'm pretty fond of the first gen RX7s if they're done right. I still remember seeing Formula D driver Kyle Mohan's old SA22C (or FB?) RX7 out at California Speedway at Drift Days, back in 2003 or 2004!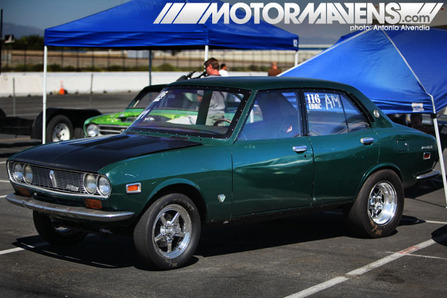 As we walked around through the pits, we noticed this very cool looking 1973 Mazda RX2 4 door, which was fully built drag style. Very, very cool. And rare too!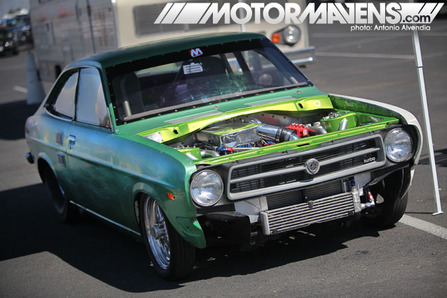 Even though Datsun 240Zs and 510s are probably the most famous of the 1970s Datsuns, my favorite body style would have to be the Datsun 1200 (In Japan, it was called Sunny). 1200s had such awesome looking body styling and lines. I think I like the fact that it's a slant-roof coupe too.
Hmm… I just realized something. Maybe I love the way Datsun 1200s and Mazda RX2s (2 door versions) look because they look very similar to my 1973 TE27 Toyota Corolla SR5. Hmmm… that might just be it. 1970s Japanese two door coupes are just so awesome looking.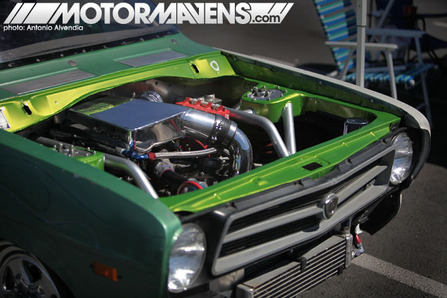 Look close. That isn't a 1200cc Datsun motor in there. The engine has been swapped in favor of a 13B rotary engine. A lot of fabrication work went into building this monster!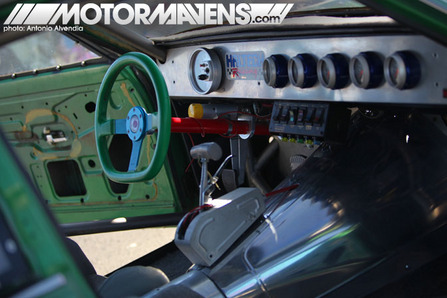 See how clean the tranny tunnel is? Man, look at all that clean sheetmetal. It appears that the car is still in the process of being finished, but it was cool to see it even in this state. Some of the details I liked were the cups on the sheetmetal dash, which allow the Autometer gauges to be angled towards the driver for better visibility.
An Autometer shift light has been mounted low, on the steering console, which has been painted red for some reason. All that green, red and yellow makes me think of the United Colors of Benetton. Anyone remember those Momo Benetton edition steering wheels that were released back in the late 1980s/early 1990s? They were green, yellow, and red. And I've actually seen people rock those on their cars. Crazy!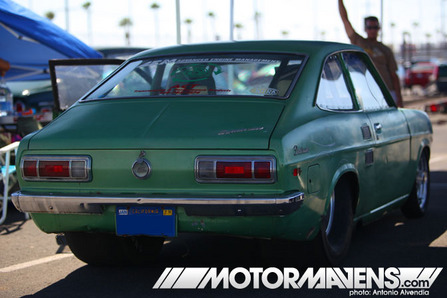 Yeah, I love the way the 1200 rear bumper looks. The taillights look like something from an American car though. I think I just really enjoy the subtle body lines and styling of this car… from the crease in the rear trunk lid to the muscular body line that runs high on the fender, separating the rear quarter panel from the C-pillar, and of course, the awesome looking creased body line that runs along the whole side of the car.
Oh yeah, and did I mention this car is fully tubbed with big ass rear slicks? See for yourself.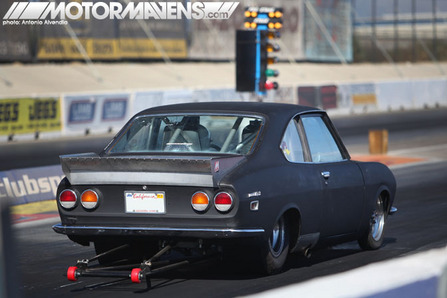 Perhaps my other favorite of the day, this fully tubbed Mazda RX2 coupe looked awesome at the track, as always. This car was driven to the event… yes, with slicks and wheelie bars ON THE FREEWAY. So crazy. Some of you might remember seeing this car before, as I shot photos of it at the last IDRC event we attended.
Nice to see the MotorMavens stickers on the back window and on the rear wing tips. Hopefully the stickers stay there, and have found a permanent home on this RX2.
:: Antonio Alvendia
---