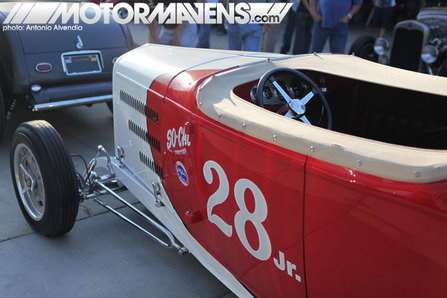 For my first post on MotorMavens, I thought I'd write on a subject you don't normally associate me with – hot rods. Those who are familiar with my work in books, magazines or other websites like Speedhunters.com normally associate my name with drifting, old school Toyotas and other aspects of Japanese car culture.
However, because of my experiences this past year producing content for Speedhunters, I've come to realize I really admire many aspects of hot rod culture, especially traditional hot rods and kustoms.
When it comes to hot rods, one of the biggest and most respected names in the industry is So Cal Speed Shop, which incidentally, is only about 25 minutes away from my house. Some time last year, I visited the So Cal Speed Shop facility as part of a shop tour I shot for Speedhunters, and ever since, I've been running into my friends from So-Cal at different hot rod shows and events.
At the last hot rod show I went to, Alex Maldonado from So-Cal reminded me that they were having a big annual Open House event at their shop, on the day before the big LA Roadster Show. He told me it was like a real big house party, but at their shop, with a bunch of hot rods and kustoms jam packed into their driveways and lining the street immediately in front of the shop. I decided to check out the open house to see if what Alex was saying was legit, or if he was just hyping it up.
The entire day of the open house, I was working on a personal project of mine – I had lots of work to do in my car warehouse, to clear all my old school Toyota parts to make room for one of my cars, which had been sitting in storage for almost 5 years. This personal clean-up project meant several trips to Home Depot that day, to buy miscellaneous hardware and storage bins. On my trips to the hardware store, I noticed the streets of Southern Cali were filled with hot rods all day – some of the higher end ones were on trailers, and some were street driven. It looked like all these cars were heading in the direction of the So Cal Speed Shop Open House. This was an event I shouldn't miss.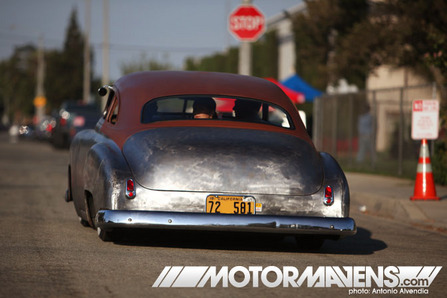 Right as we drove up, I was so happy to see all sorts of real cool kustoms driving in and out of the premises. I just loved the patina of the scuffed up bare metal body as this one drove right past me.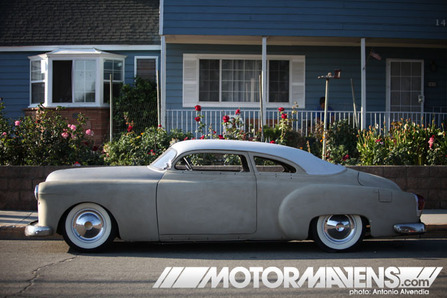 As my little brother and I walked closer towards the shop (we had to park several streets back, because the street in front of their shop was literally closed down by the police, and there were hot rods and kustoms everywhere – parked on the side of the road, and some just parked in the middle of the street), I noticed this clean kustom in progress. I loved the contrasting paint color. Great choice of khaki body color, with a contrasting white roof, and matching whitewall tires with very little chrome. It looks clean; especially parked in front of this house like it belongs there. Don't you agree?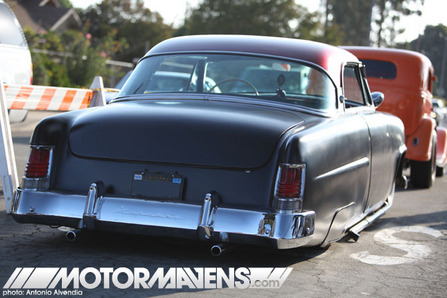 As we got even closer to shop, I saw a bunch of hi-boys and shiny, wild colored hot rods that clearly weren't my style… then all of a sudden, I spotted this awesome looking Mercury, sitting low and mean, with satin black paint and a vintage black California license plate. Look how low it is – you can't even see the rear wheels, and the side exit exhaust pipe looks like it's touching the ground! Coooooooooooooooool.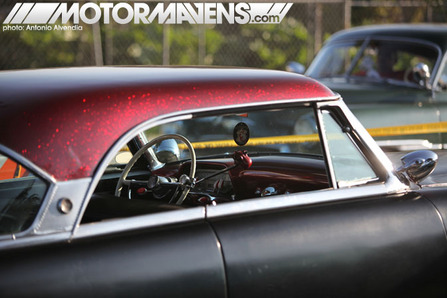 Even though the body was painted satin black, the Merc's roof was painted with a candy apple red hue, with huge amounts of glitter/flake. Check out the old school steering wheel also, which has one of those "steering knob" things attached to it. I wonder if anyone has tried one of those steering knobs for drifting yet?
Regardless of the other details, my favorite thing about this Merc was the super slammed stance and the super low, side exit exhaust.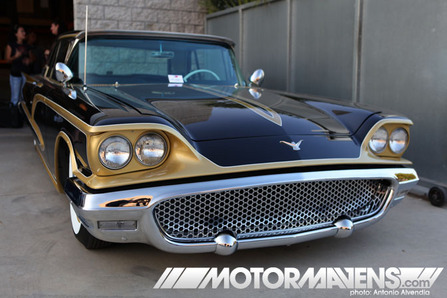 Once we got inside the So-Cal Speed Shop facility, my brother and I were taken by this super cool looking 1958 Ford Thunderbird. Once I got closer, I realized I had actually seen this car before, on a previous visit to SoCal Speed Shop while shooting a shop feature for Speedhunters. This T-bird is owned by lead guitarist Billy Gibbons from ZZ Top, and the last time I saw it, it looked pretty normal with a black paint job. However, this time around, the car was completely repainted and restored by the paint pros at SoCal… black with gold and white to accent the body lines. Gorgeous!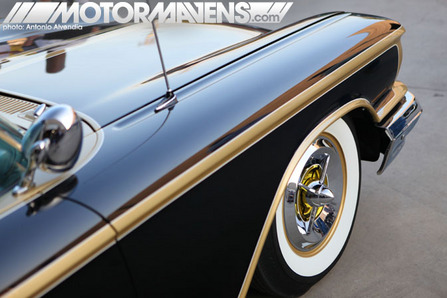 Possibly one of the things I like best about this T-bird is its paint scheme. Damn, the black base with blocked gold sections with white outline… it looked so familiar and endearing to me. Then I realized, "man, this car exactly matches my helmet that was gold leafed and striped by Wildman from Mooneyes this past December!" Wow, no wonder I like it so much. I totally dig the style of this T-bird. Beautiful.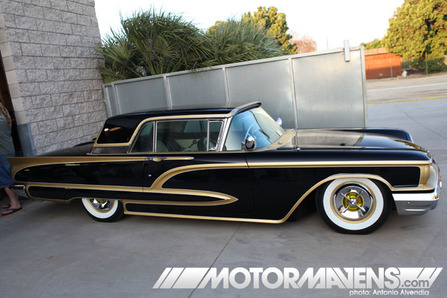 Here's a snapshot showing some more detail of the T-bird's paint job. I think it's super, super cool, especially with the white walls. Check out the white and black interior upholstery too – everything on this car matches!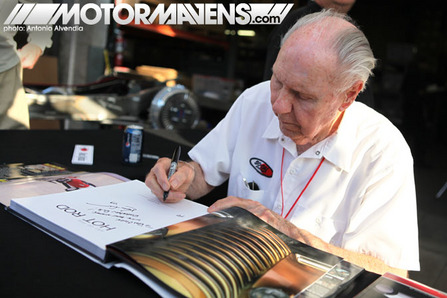 Another treat for event goers was the fact that So-Cal Speed Shop's founder, Alex Xydias, was in attendance to meet fans and autograph books and posters. I was waiting in line to get a signed poster from Mr. Xydias, when some obnoxious good ole boy hot rodder rudely jumped right in front of me right as I was saying hello to Mr. Xydias, and got the last poster! Damn it! Oh well, I suppose I'll have other opportunities to hang out with him and get a poster signed… better yet, I'll just ask him to sign my copy of "So Cal Speed Shop" which was published by Motorbooks, the same company who published my Drifting book.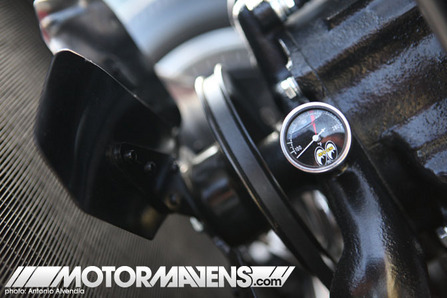 Here's a detail shot, from one of the hot rods in the show. I thought this Mooneyes liquid filled water temp gauge looked pretty cool… attached directly to the engine!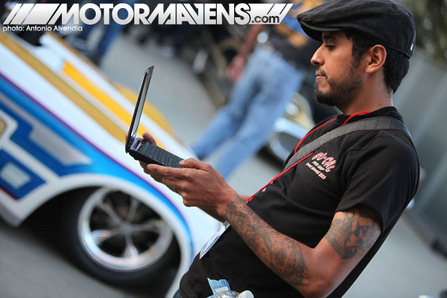 Here's my homie Alex from So-Cal, checking out the new EeePC 1008HA netbook, which we brought to the event. He was trippin out on how thin and lightweight it was, as he chilled behind the shop area holding it, trying to have a peek at the Motor Mavens website.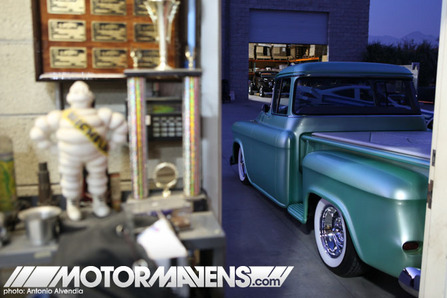 We also stopped in to Jimmy Shine's welding shop and got to chat with him a bit. I really love how Jimmy's shop space looks, and told him that I've tried to make my own shop look kind of similar, but with vintage Japanese drift team stickers displayed on my cabinets instead of old hot rod stickers. (More on this later.)
When it started getting dark, we decided to head out and check out my new favorite place for burgers, a Belgian bar called The Back Abbey in Claremont. They serve authentic Belgian pommes frites (french fries) and 1/2 pound medium rare burgers with caramelized onions, gouda cheese, bacon, and sweet bread buns! Off the chain.
Stay tuned to Motor Mavens for more from So-Cal Speedshop soon!
:: Antonio Alvendia
---