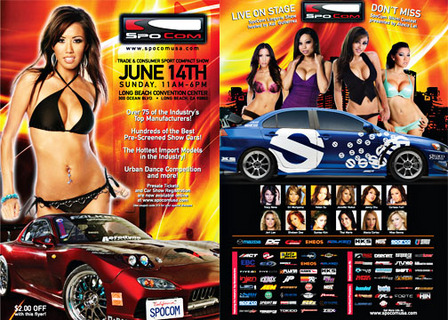 Today, while some of our MotorMavens Atlanta crew is going out to the Southeast Drift event at Turner Field, some of our Cali-based crew is going out to the IDRC drag race event happening at Fontana CA. We just received our new MotorMavens stickers, so be sure to hit us up for a sticker if you see any of our crew at these events!
On Sunday, the SpoCom Show – the Sport Compact Automotive Tradeshow is back at the Long Beach Convention Center (Sunday, June 14th, 2009 from 11am-6pm).  In talking with the people at SpoCom, they're saying this is going to be much bigger than last year!  SpoCom has added over 76,000 sq ft to fit in all the sickest cars and hottest girls (they say there will be over a hundred import models there for those who go to shows just for the T&A). We hear there will be a bikini contest, a lingerie show, and our buddy Tobin Honda from D-Sport Magazine tells us they will be conducting a model search at their booth, so make sure not to miss it!
Of course SpoCom is known for having top notch manufacturers there. This year won't be an exception, with companies like Falken, AEM, HKS, Eibach, Sparco, ACT, Eneos, and KW Suspension (and more!) bringing you all their latest and greatest goods.
We'll be there getting killer footage and photos for everyone out of driving distance from the 562 area code. If you're in Southern Cali though, make sure to get out to Spocom and hit us up for a MotorMavens sticker!
:: Travis Hodges
---