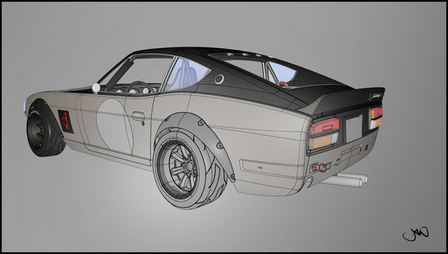 HOLY FFFFFFFFFFFFFFFFFFFFFFFFFF. I'm currently trying to recompose myself; you wouldn't believe how hard my jaw hit the floor when I first saw these renderings. I must have been shaking my head, muttering expletives for a good 20 minutes.
AMAZING. Screw Avatar, because THIS is what 3D is all about. This is a 3D sculpted rendering of a 1972 S30 240Z, which apparently has ZG flares and a standard Z432 nose with a BRE front chin spoiler.
The artist behind all this is actually an old school friend of mine; his name is Jan Trondsen (pronounced yawn, like you're sleepy), and he is first and foremost a car guy that's passionate about vintage Datsuns, and he has been that way since the first day I met him, over ten years ago. Nowadays, Jan is an alumnus of the prestigious Art Center College of Design in Pasadena, and a professional 3D sculptor working for a major car company… but it wasn't like that when we first met. When we first met, we were just a bunch of super broke car enthusiasts from the SF Bay Area that frequented the illegal street races, hardly able to scrape together enough funds to buy rebuild kits for the Mikuni 44phh carbs we wanted for our cars.
Nothing makes me happier or more inspired than seeing good people like Jan progress in their careers, all without losing focus on what made them passionate about cars in the first place. Let's face it. There are WAY too many corporate schmucks working within the auto industry; men and women that don't give a rat's ass about WHY people devote their whole lives to cars, or what makes cars cool. There are way too many non-car-people out there that scored jobs at big car companies just because they had degrees and were looking for a big corporate job with benefits after college. Jan is definitely not one of those. I'm glad to see there are still some folks out there who are intensely passionate about cars like all of us are (by all of us, I'm referring to the MotorMavens readers).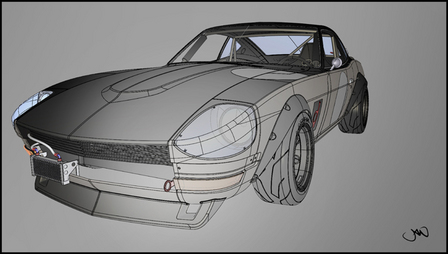 Let's have a look at this Z. Shakotan stance? Check. Good offset RS Watanabe R wheels? Check. Race slicks? Check. Front mounted oil cooler with stainless steel lines and AN fittings? Check. ZG flares and lexan headlight covers? Check. Bullet type door mirrors and roll cage? Check. Holy shit. This car is amazing. And I'm not even a Datsun guy!
According to Jan, this rendering is something he did real quick when he had a little spare time at work. (A little spare time? Holy shit, how much spare time do you have, man? LOL) The car was 3D sculpted using a program called Alias, which is the software that he uses every day. He says that when car designers draft up designs, he takes their drawings and converts them to actual 3D models!
Wait a minute… so does that mean he can make an actual 3D 1:1 full size model of this car?! WTF.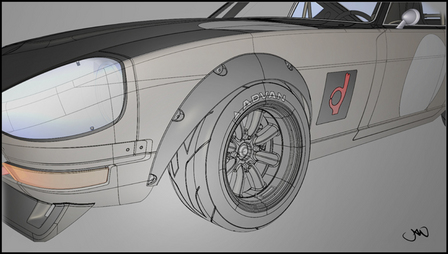 Just look at the immense detail that went into this drawing. This is better than anything I've seen in a video game before. Look at the DETAIL on those 15x9J (-13 offset) front RS Watanabe Type Rs. Perfectly stepped lips; even the wheel weight is there. (Brand new RS Watanabe Rs don't require that much wheel weight though, if you line up the yellow dot on the tire correctly.)
I remember one time, I was mounting brand new tires to a used set of Watanabe Rs I have, and the guy at the tire shop was surprised because my two of my wheels didn't require any weights at all, and the other two only needed .25 weight to balance correctly.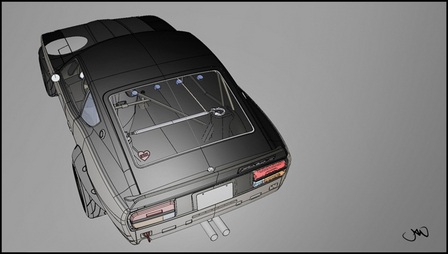 OMG. Rear lexan window with vent holes molded, rear strut tower bar, rollcage, towhook, proper race exhaust, and an "I love Skyline" sticker from the 1970s as an homage to the S30's KPGC10 Hakosuka and KGC110 Kenmeri Skyline brethren… so dope. In fact, if you've ever seen the Kenmeri Skyline television commercial, you'll see Nissan's spokesmodels/representatives Ken and Mary driving along, enjoying their lives with the song "IIIIIIII lovvvvvvve Skyliiiiiiiiiiiineeeeeeeeee" playing in the background.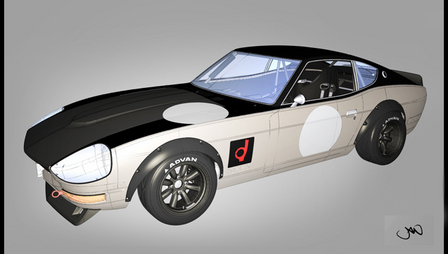 Here's the (unfinished) illustration, with the 15x9J (-13) and 15×9.5J (-19) Watanabe Type R wheels, Advan race tires, satin hood to reduce glare on the windshield, and the gorgeous Datsun OEM color, "bamboo tan."
Oh my God. So gorgeous, this car. It's just incredible.
:: Antonio Alvendia
---