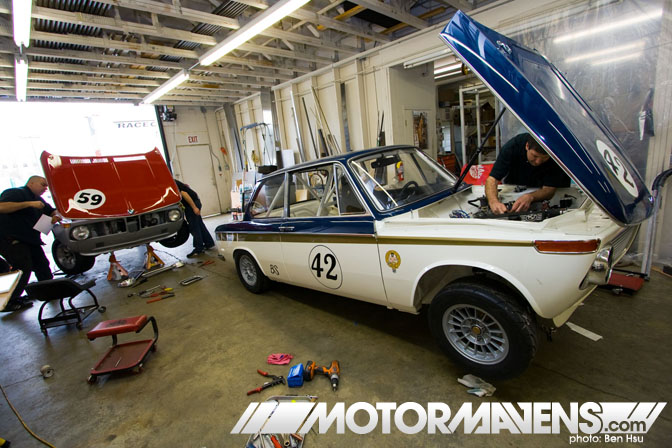 I was up in Seattle earlier this year and took the opportunity to stop by Racecraft, one of the northwest's premier vintage race shops. When I arrived, the men behind the operation were wrenching hard on a pair of BMW 2002 track bandits, each worth over six figures. But founder Jim Froula and his partner Terry Forland are not only immensely skilled at making 30-year-old cars go fast, they also don helmet and glove to get behind the wheel of their own old school race cars.
Each man has his favored marque, which happen to be old rivals and sometimes that manifests itself in good-natured chops-busting around the shop. Terry (leftmost in the above photo) is the resident Bimmer aficionado but old BMWs are such popular race platforms that Jim (foreground) can't help but work on them.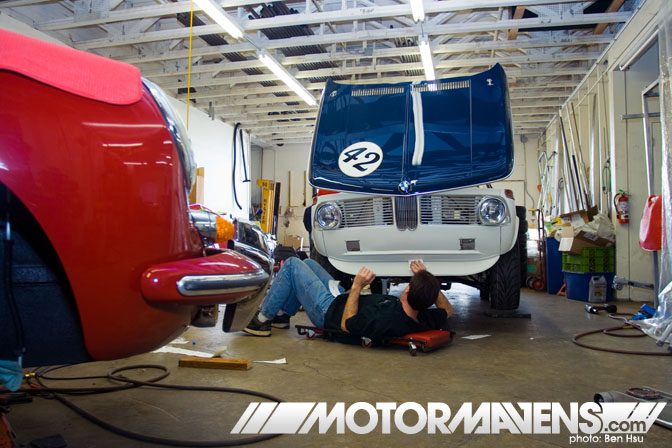 A quick walk around their shop reveals a treasure trove of classics. In addition to competition cars, Jim and Terry are often entrusted with working on prized collector's items seldom seen by us commoners. This lady in red, for example, is no ordinary Porsche. What you're looking at is one of the rarest machines ever to roll out of Zuffenhausen, and the most desirable of the open top 356s.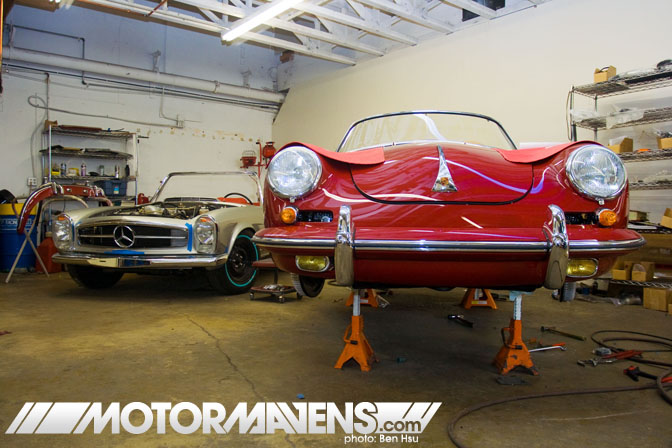 It's a 1961 Porsche 356 Super 90, named after the 90 horses generated by its air-cooled engine. That doesn't sound like much until you realize that back then the regular 356 made only 60hp. The 1600cc motor is a special high-comp unit, with larger twin Solex carbs and many of its internals forged from lightweight alloys. A modified cooling system is fed air by a dual vent pattern on the engine cover, making this car one of the "twin grille roadsters." Porsche built only 20 of these babies, only one or two were painted Ruby Red, and you are looking at one of them.
Behind the Porsche lurks another rare beast, a 1967 Mercedes-Benz 280SL with the rare ZF 5-speed transmission. Most of the 280SLs sold in the States had automatics, and among the few stickshifts most were 4-speeds. In addition, this Benz is a true roadster, meaning it was sold with no convertible top straight from the factory.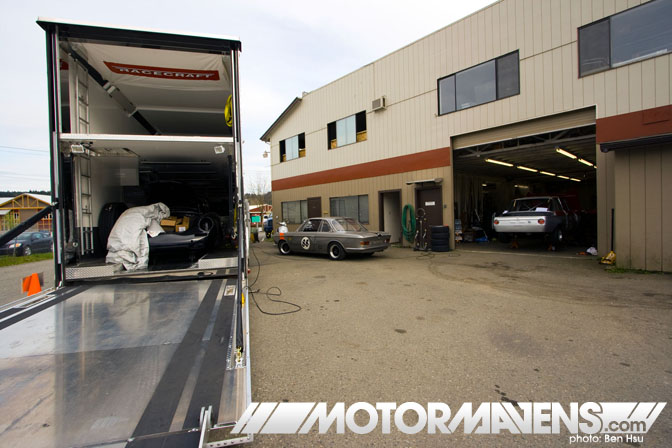 Behind the shop sat a monstrous enclosed double-decker trailer, used to transport Racecraft's period machines to the track. If I had a support vehicle like that I'd probably live in it. Inside, a race-ready Porsche 356 awaits, while a BMW 2000CS sits to the side (more on this car in a later post).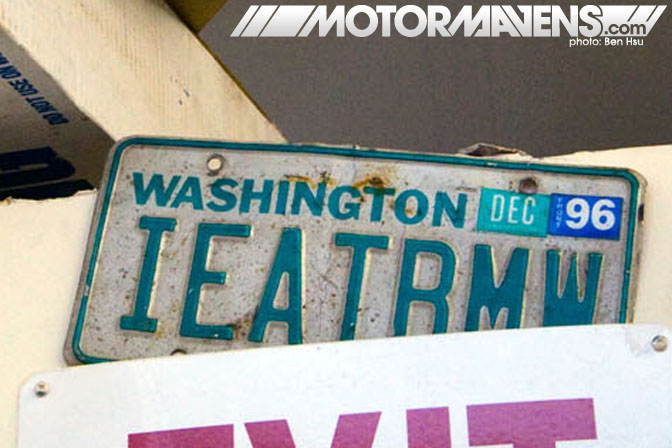 But how did business for Japanese Nostalgic Car bring me to a garage full of European exotics? Well, at the beginning of the post I mentioned that Terry was Racecraft's BMW guy, but I neglected to mention the rival marque that Jim favors. This ballsy "IEATBMW" license plate, which now hangs above Jim's office, was once worn by his race car. What steadfast steed had the confidence to provoke the "Ultimate Driving Machine"?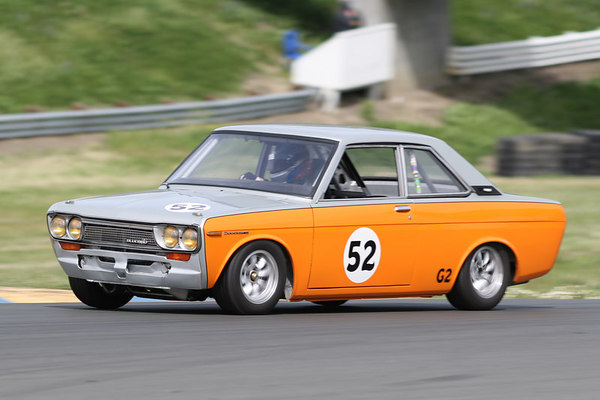 Why it's Nissan, of course! You might recognize Jim from photos of his famous (and gorgeous) race-prepped Bluebird Coupe.
The minute it went on sale, the US-market Datsun 510 was given the backhanded compliment of "poor man's BMW." And even though it proved itself a worthy competitor in its own right time and time again, we Datsun enthusiasts could never quite shake that nickname. But if the lowly Datsun is good enough for the founder of Racecraft and master mechanic to countless competition classics, then it's sure as hell good enough for me.
:: Ben Hsu
---