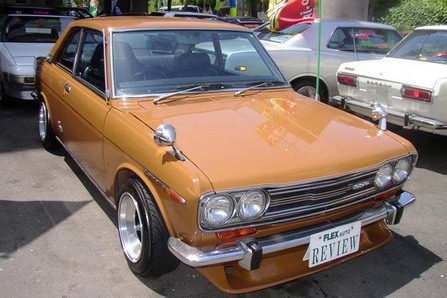 Ever since we started the Motor Mavens blog, I've been so busy that I haven't really had much time to cruise the web like I used to. However, there are a few sites that I try to check once in a while, because I really like the content. Al's Car Stuff Blog is one of the very few sites that I see that consistently posts up cars that I like! I don't know much about Al or his background, but seeing these photos of this Nissan/Datsun KP510 Bluebird 1600 SSS on Al's blog brought me back to a Japan trip I took several years ago.
Back in 2004, I went to visit D1 driver Takahiro Ueno and his shop, Sui Vax in Yokohama, Japan. I was doing a feature photo shoot on Ueno and his shop for Modified Magazine at the time, so I spent the whole day hanging out in Yokohama. When I told him how crazy I was about Japanese nostalgic cars, he said he knew a shop that I would love, and he wanted to take me there. That shop was Flex Auto Review – they restore and sell Japanese classic cars! Ueno was absolutely right. I flipped out when we got there! AWESOME. (I was kind of embarrassed afterwards, because I was so obviously excited when I was walking around Flex Auto… and I didn't quite show the same level of excitement when I was hanging out at Ueno's shop earlier that day. Oops, my bad.)
It has been five years since I last stepped foot into Flex Auto, but seeing these photos on Al's blog got me all excited about going to Yokohama again. (Oh, and I also want to visit the ramen museum to try all the different types of soup broth they have there!)
This Bluebird SSS looks AWESOME!!!!!!!!!! I am in love with the 1970s butterscotch hued paint, the chrome fender mirrors (aftermarket if I'm not mistaken), the classic 510 front chin spoiler, and the wheels! Oh, the wheels.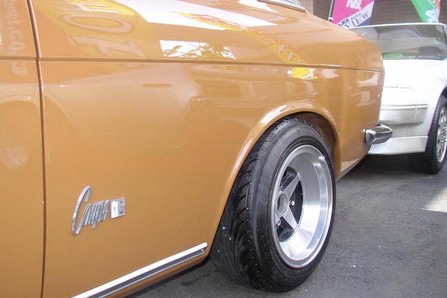 This SSS Coupe sits on old school first generation one piece Work Equip 01 wheels with pretty deep offset! I'm not quite sure the size and offset because I'm not a 510 pro, but just by looking at it, I would guess they're 14×7 or 7.5 inch wide? With 175/60/14 tires on them.
I think they're 175s because there's no way a 185 would stretch like that on a 7J or 7.5J wheel… and I don't think an 8J wheel would fit on a stock fendered Bluebird. (I'm not sure though, because I've never tried it myself.) I personally own a set of first gen 14×8 Work Equip 01s with 185/60/14 tires on them, and the 0 offset ones have a similar lip and similar look on the tire stretch. Maybe they can fit on a Bluebird??? But I was always under the impression that 510s had much smaller fender wells than AE86s… Can anyone drop some knowledge here?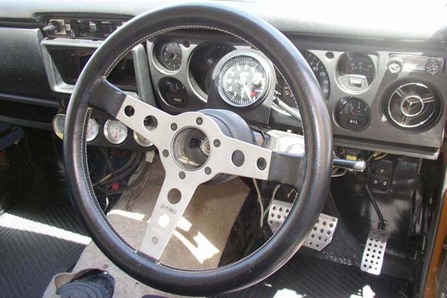 Inside the car, it's all business, with a bunch of gauges mounted to the interior. Unfortunately, the radio/climate control console is missing, and so is the horn button on the Momo Prototipo 350mm steering wheel. Nice steering wheel though. Yes, those are Razo pedals.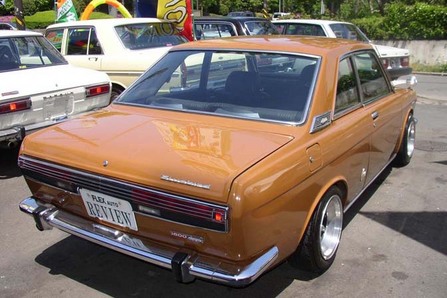 Contrary to popular belief, you can NOT just swap JDM Bluebird taillights onto your 510 to make it look like an authentic Bluebird. See the angled rear pillar? The Bluebird coupe has a completely different roof line; it's more angled than a 510.
This particular Bluebird has a pretty clean set of badges though! And super clean bumpers too! Outstanding.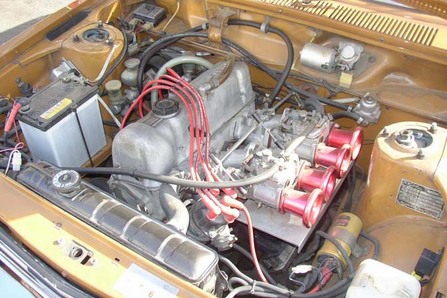 Inside the engine bay, it looks a little dusty, as many old cars do. It looks even MORE dusty than it should because whoever took this photo used a fill flash. Looks like a set of twin side draft carbs with nice full curl funnel lips to suck the air in from all angles and build velocity! Those types of air horns are really expensive! There's an aftermarket heat shield underneath the carbs to separate the hot air from the exhaust headers from the carbs… but in my opinion, the sheetmetal should be longer to be more effective, as the carbs could still suck hot air in, the way the short piece of sheetmetal has been installed. Also, I wonder if people have experimented with using other forms of material like fiberglass or carbon fiber as a heat shield instead of aluminum? Of course the aluminum looks cool, but aluminum heats up faster and conducts heat more than fiberglass/carbon would… just a thought. (Although if it was carbon, the owner should paint it so it would look more period correct…)
I think those are Ultra wires, which have a very thick core and work EXTREMELY well. Cusco camber plates in the factory strut top locations, and a OG Japanese Yuasa battery with an earthing kit (grounding straps). Okay, enough of my ramblings… this is the stuff I look at and think about when I'm looking at old cars.
Time to get ready to leave the house and get my day started!
:: Antonio Alvendia
PS: Yoshi, you better get to work on your 510! I hope this gives you some inspiration, homie!
---