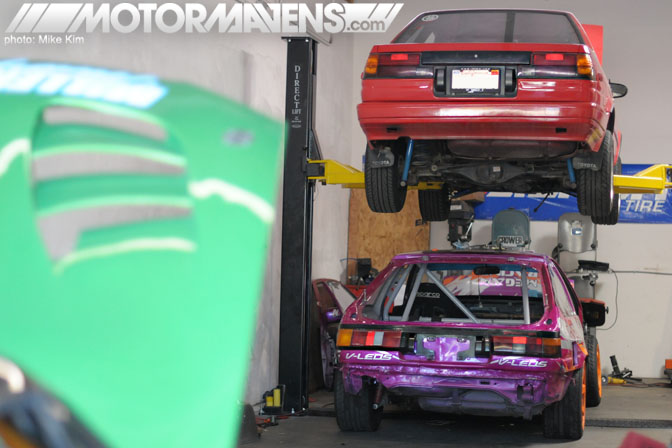 When it comes to drifting, whether it's professional, grassroots, or even street, the
AE86 Toyota Corolla GT-S
is one of the most iconic cars around. The AE86 '
hachi roku
' and its
4AGE engine
are a staple when it comes to drifting. However some more adventurous and fabrication savvy people have opted to swap in different engines. Not everyone is a fan of cross platform engine swaps, but I think pulling off a swap from a pure engineering standpoint is a feat of its own. One of the most desired AE86 cross platform swaps is the
F20C/F22C
engine from the Honda S2000 as it is one of the most powerful 4 cylinder N/A (normally aspirated) engines available.
About a week ago,
JSP Fab
's
John Russakoff
contacted me about an exclusive update to his
Megan Racing/Nexen Tire
Formula Drift competition car. For those of you who don't know John, he is one of the first in the AE86 community to perform a F20C engine swap into the AE86 Toyota Corolla Chassis -
stateside
at least. He has once again broken the
cross platform swap barrier
by putting a
Honda K-Series
front wheel drive
engine into the AE86 while retaining the RWD platform. Going to be the very first fully completed and
running
K-Series AE86 in the US (and maybe even the world), he definitely had some hurdles to jump over when it came to engineering and fabrication.
Read more...
---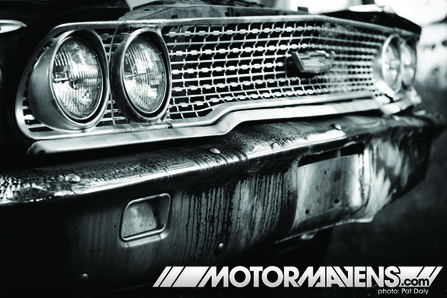 The 2009
Woodward Dream Cruise
officially kicks off today but for many, the world's largest 1 day automotive culture event, has been on our minds for quite some time. The Dream Cruise draws nearly 1 million visitors to the Detroit area, bringing with them upwards to 40,000 vehicles. Nearly every automotive segment is covered, from hot rods to muscle cars and everything else you can imagine. There was even a Hemi-powered BBQ one year, so it's not an exaggeration to say that there is nothing the Dream Cruise doesn't have. I'll be covering the event over the weekend but I thought I'd dive into the wheels I'll be "Cruisin" in.
Read more...
---