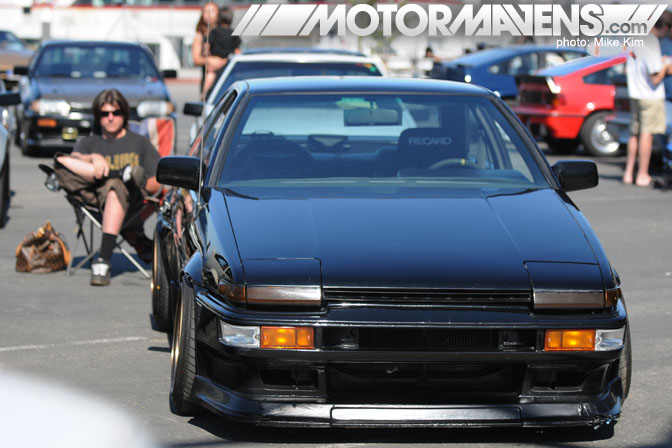 When it comes to drifting, whether it's professional, grassroots, or even street, the AE86 Toyota Corolla GT-S is one of the most iconic cars around.  The AE86 'hachi roku' and its 4AGE engine are a staple when it comes to drifting.  However some more adventurous and fabrication savvy people have opted to swap in different engines.  Not everyone is a fan of cross platform engine swaps, but I think pulling off a swap from a pure engineering standpoint is a feat of its own.  One of the most desired AE86 cross platform swaps is the F20C/F22C engine from the Honda S2000 as it is one of the most powerful 4 cylinder N/A (normally aspirated) engines available.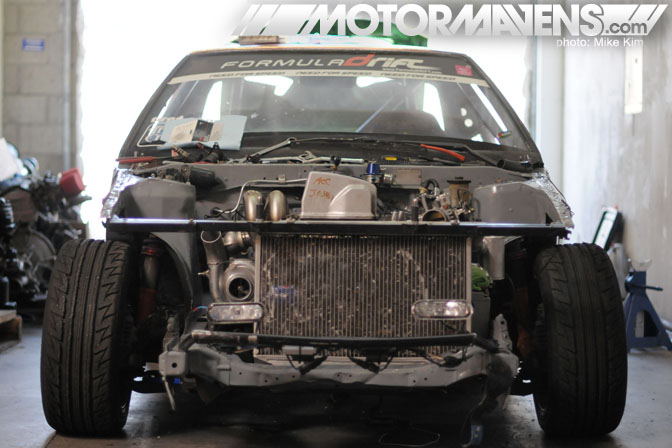 About a week ago, JSP Fab's John Russakoff contacted me about an exclusive update to his Megan Racing/Nexen Tire Formula Drift competition car.  For those of you who don't know John, he is one of the first in the AE86 community to perform a F20C engine swap into the AE86 Toyota Corolla Chassis – stateside at least.  He has once again broken the cross platform swap barrier by putting a Honda K-Series front wheel drive engine into the AE86 while retaining the RWD platform.  Going to be the very first fully completed and running K-Series AE86 in the US (and maybe even the world), he definitely had some hurdles to jump over when it came to engineering and fabrication.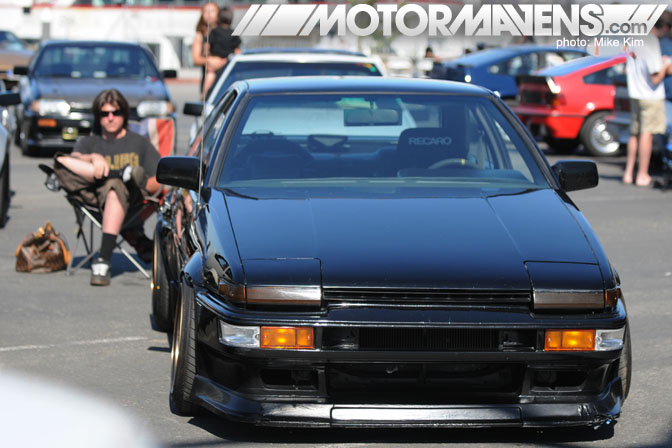 To give you a little flashback this is John's old street car, a F20 powered AE86 sitting on Volk TE37V wheels with JBlood rear widebody over-fenders.  I remember last year watching him drift this car at Willow Springs' Streets of Willow track during the Just Drift All Star Bash.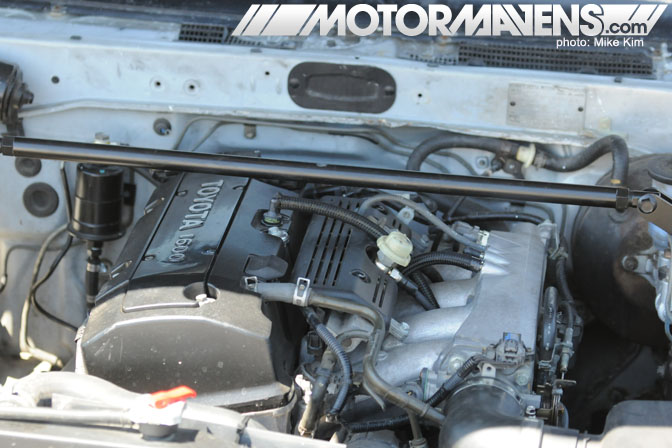 The F20 with a custom made "TOYOTA 1600" wire cover can fool even most knowledgeable of car enthusiasts (I know people it has fooled).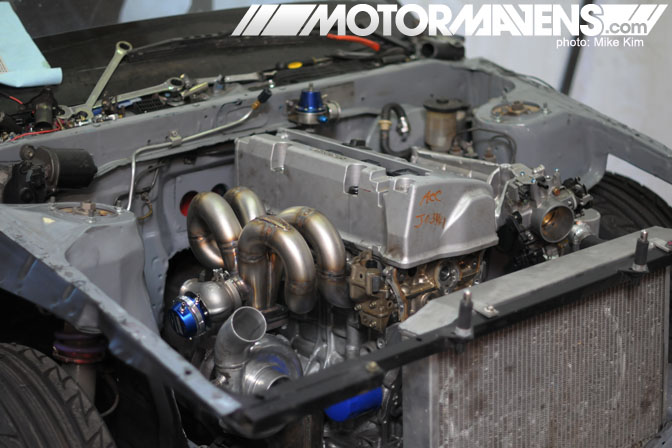 Onto the K-Series build. JSP's new sponsor, Saul Salceda at Mission Critical Performance, fully built an Acura TSX K24A Block with a RSX Type S valve head for this conversion job.  John had custom fabricated a JSP RamHorn turbo manifold for the swap.  The build consisted of a Mission Critical 5 axis CNC ported K20A2 head, DC5 Integra Type R cams, ARP head studs, Supertech 12.5:1 compression pistons, Brian Crower connecting rods, Cosworth head gasket, Supertech valves, springs and retainers all sitting on an MCP blueprinted sleeved and .050 over bore K24 block.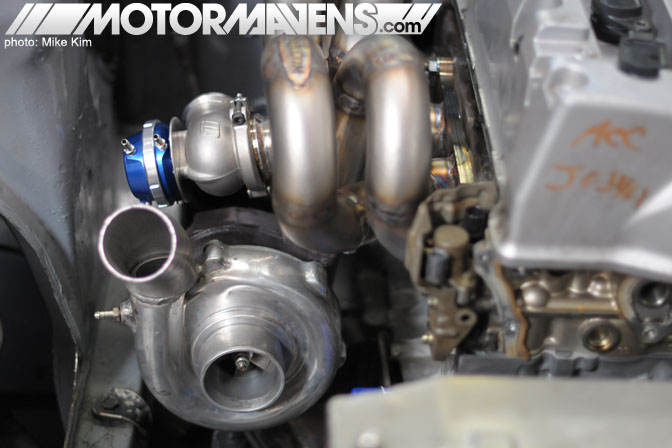 John installed a mock-up turbo on the manifold, with a Turbosmart 45mm wastegate to use to check for clearance.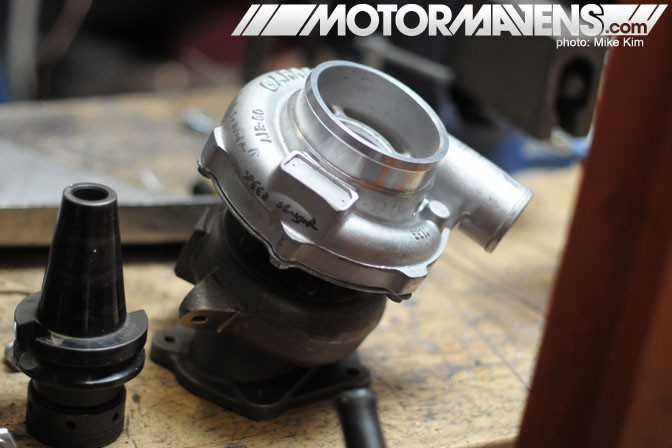 This Garrett GT3071 turbo is identical to the one he is going to use on the final setup.  This one, however, was destined for Jeff Abbott's green Formula D NB Miata.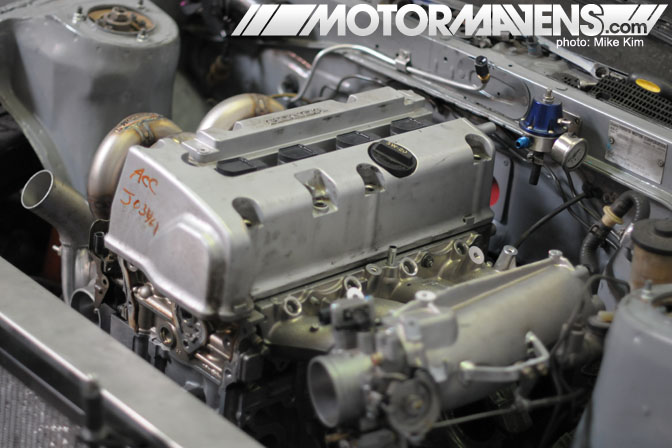 Instead of having to R&D and build an intake manifold from scratch, John took the preexisting RBC intake manifold from a 2006-2011 Civic Si K20Z3 then cut and welded the plenum backwards for his RWD setup.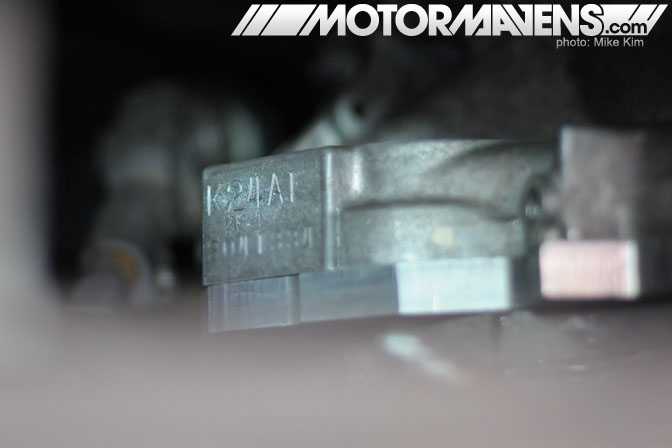 Here's a little peek at the block (for those non believers) and the Mission Critical adapter plate that was built for holding the block to the transmission.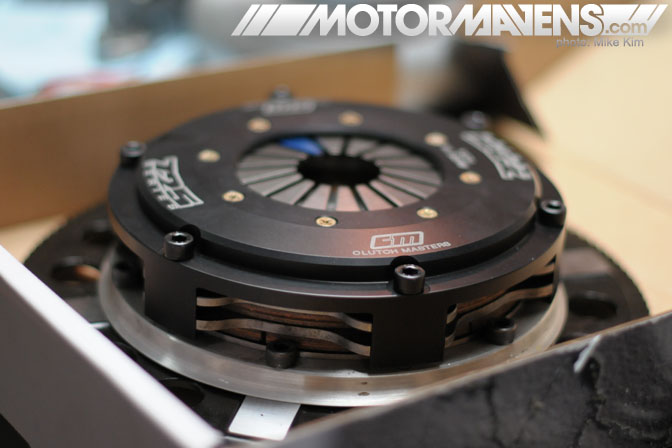 As for the clutch, John sent a test block and transmission to Clutch Masters, where they were able to R&D a completely custom twin plate clutch within a couple of days for his build.  Consisting of both K-series and F-series components this clutch as it sits is a one of a kind prototype.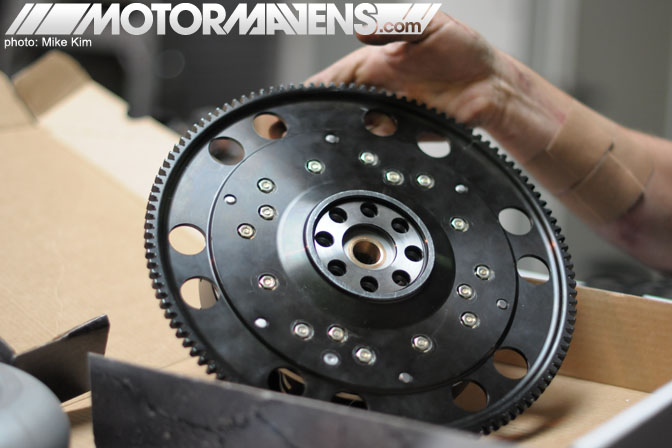 Just to get into a few details, Clutch Masters had to use a K-series flywheel with an S2000 center spline for this setup to work.  You can see here that John has been busting his ass getting this swap done, so a few giant Band-Aids, to cover some burns, was all he needed to keep moving.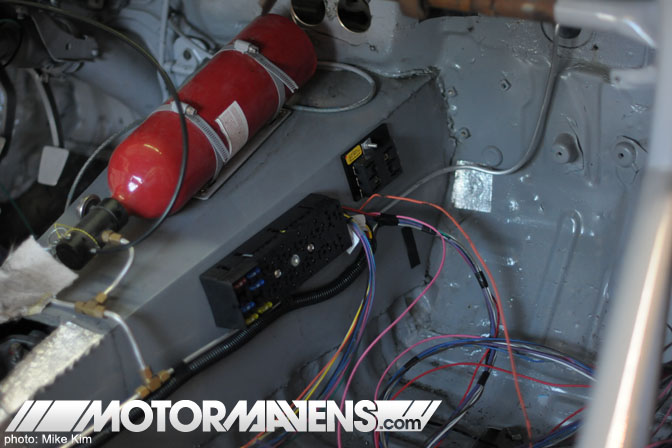 The main brain controlling the swap is a Hondata K-Pro ECU which is going on the passenger foot rest.  If you're lucky enough to get a ride-along, just be careful with your feet when in the car so you don't set off his fire extinguisher or break his ECU.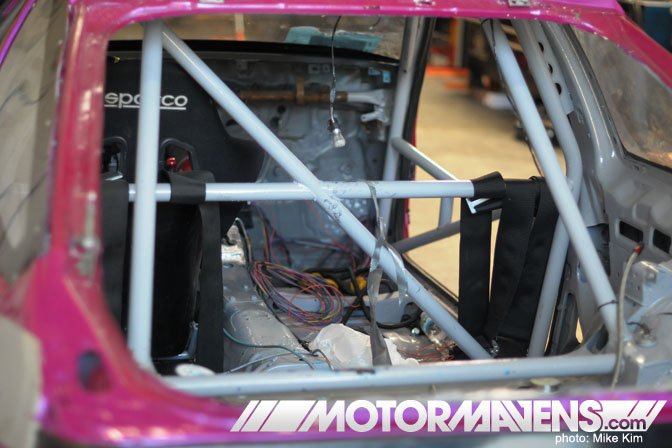 This was how the car looked just a week before the it needed to be shipped off to Florida.  As for a ride a long, I didn't see a passenger seat in his car so I don't think you'll have to worry as much.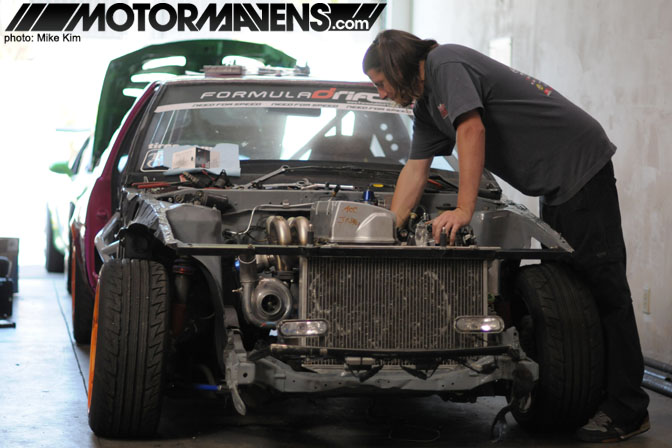 When I arrived at the shop John was working on the wiring for the K-Pro which was sitting on top, rather then inside of the car.  He then told me 2 straight weeks with no sleep was the only thing that let him finish the build before Formula Drift at Palm Beach International Raceway in Florida.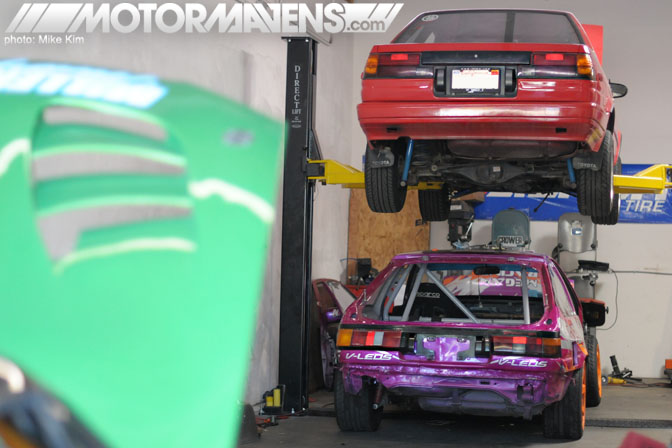 The things I really admire and appreciate about builds like this are that nowadays, with all of the big money sponsors and V8s that are popping up, it's nice to see that 4 cylinder engines still have a fighting chance with just a little bit of help and some really good driving.  It's definitely a one of a kind, and its going to be one hell of a sight to see.  For those of you that are going to Formula D Palm Beach in Florida, stop by the Megan Racing trailer to check out this first-of-its-kind completed swap.
To see what else John has cooking in his lab, check out www.jspfab.com and also check out his sponsors Megan Racing, Clutch Masters, and Nexen Tire to name a few.
:: Mike Kim
PS: Special Thanks to John Russakoff for giving me a heads up about this build!  Also thanks to his sponsors for making this swap possible as I am a former AE86 owner and a huge Honda K-series fanatic!
---