HAHAHAHA AWESOME! I love how people have been uploading all their old VHS videos to YouTube. I wonder how many people have seen this old school video!
It's not the craziest drifting action video or anything, but that's not the point anyway. I love it because it shows the real style and culture of hashiriya life in Japan. This is what it's really like… just a bunch of friends screwing around and having fun with their cars!
This particular video features a particular AE86 crew based in the Tokyo/Fussa area; these are the members of a drift team with a pretty strange name… Hey Man! (As if all drift team names weren't strange.) I love this video because it shows old school footage of some of my real good friends that I hang out with when I'm in Japan.
The driver intros are pretty funny too… these guys look soooo young in the video! This video has a special cameo appearance by none other than Hiroshi Takahashi (Kaicho) from the legendary AE86 drift team, RUNNING FREE. The very first time I met Hiroshi was when he came out to Buttonwillow Raceway (2000? 2001?) to do a drift demo here in the United States as part of a special event hosted by SpeedTrial USA and Club4AG. (Props to Tommy and Moto for arranging that event!) Hiroshi is an AWESOME drifter, and a dedicated Toyota guy… in fact, he now works at one of the Toyota dealers in the Tokyo area. (I won't say which one, so people don't go and bug him at work.)
Shinji Minowa, who's rocking an old school surfer haircut in the video, eventually became a D1 Grand Prix driver sponsored by Toyo Tires. He actually came out with Hiroshi to do the drift demo at Buttonwillow, which was the first time we met. Since then I've had the chance to hang out with him in Japan and the USA several times. Just like all the other members of the Hey Man crew, Shinji is super cool. He has a shop near the Yokota area called Hey Man Products… Anyway, if you're interested in seeing more stuff about Shinji, his AE86 and his shop, let me know. I can probably arrange it!
This video also features some in-car footage with Charlie Tyson! Again, this video isn't super crazy like one of Ueo's sick manji videos or anything, but it's one of the few times I've seen Charlie on a video, so I think it's cool. He's a pretty low key guy, but the crazy thing is, he's the very first member of the Hey Man crew that I ever interacted with; he helped me get a set of redline taillights for my kouki AE86 back in 1999 or 2000 when I didn't even know him! (Thanks a lot to PJ Peji for hooking that up!)
We also see other friends like Jimmy, Maurice, and Christine in the video… but the guy with the Hitler mustache is none other than Robbie Nishida, who most US drifting fans know. I was introduced to Robbie at the Ebisu Circuit booth at Tokyo Auto Salon in 2004. Kumakubo introduced him as a good friend of his, but then I recognized his face from an old AE86 video I had… I think it was an AE86 Club video, but I'm not sure. Robbie told us he would be interested in drifting in the United States, so my friend Kenta and I walked over to the other side of the show with him and introduced him to Nick Fousekis from Falken Tires. In fact, Kumakubo walked over with us too, and he told Nick if Falken would sponsor Robbie with tires, Kumakubo would let Robbie drive one of his own cars. (The famous K-Style S13 K-truck!!!)
At the very first American drift event he ever competed at (Formula D Wall Speedway 2005), Robbie made Formula D history by beating Mopar's unbeatable Iceman, Samuel Hubinette in a tandem battle! It was pretty damn epic for that time. Everyone was like whaaaaaaaaaaaaaaaaat!!! I remember the reaction in the pit area and grandstands… EVERYONE was going bananas and jumping up and down when the judges announced that Robbie won the tandem match. It didn't matter if they were supporters of Falken or not… even people from other tire brands were jumping up and down, because they had never seen anyone beat Samuel in tandem until that day. What a good way to start your drifting career in the USA!
Anyway, Robbie will be driving an R35 Nissan GTR in this year's Formula D Championship series, so if you see him at an event, make sure to walk up to him and say, "Hey Man!"
:: Antonio Alvendia
---
As many of you know, those of us in the Los Angeles area had a Christmas get together this past Saturday night at
The Corner Bar in Burbank CA
. On behalf of our entire group of friends who threw the party (
Schikane Clothing, Driftwell Footwork Essentials, Tokyo Drive Productions
and
The Motor Mavens Crew
), we'd like to express our deepest thanks to all of those who came out to chill with us, and those who couldn't make it, but were there with us in spirit.
Big thanks also to those who showed support of the party by donating gifts for the raffle (in no particular order) - Mishimoto, Eneos Oil, DSPORT Magazine, Buddy Club USA, HKS, Hankook Tires, Jack Daniels, and Jagermeister.
I'm just going to post some of the pics from our party on the site. To view more photos,
Add the Motor Mavens Crew
as a friend on Facebook
, and you can see more photos and view the tags and whatnot in case you want to be a stalker and randomly add girls that you don't know. (Go for it, haha)
Read more...
---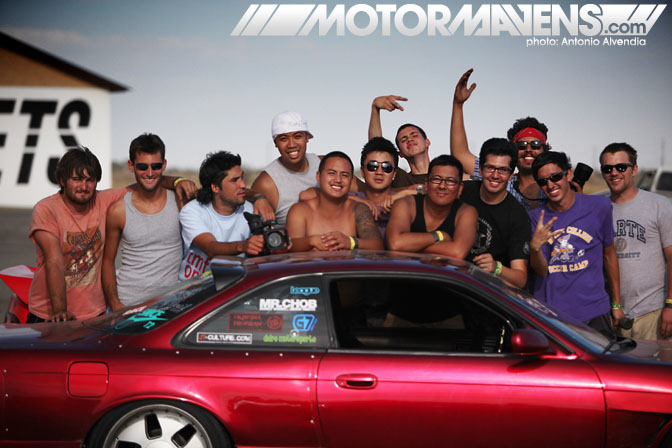 DISCLAIMER: I know everyone's waiting for Part 2, Part 3, Part 4, Part 5, and Part 6 of our Just Drift/Ziptied All Star Bash Summer Slidetacular Drifting Bonanza coverage… but I just wanted to post this up real quick to say I'll post more images later tonight, so sorry to make you guys wait!
I just got a few calls and texts from some of the Chi Town and Southern Cali homies in this picture (Can you spot anyone you know in the pics? How many names can you drop? haha), and since they're out in Cali on summer vacation, they said they want to check out some of the dope LA grub and gear spots today! Right now we're going to figure out where we're gonna go… (more…)
---