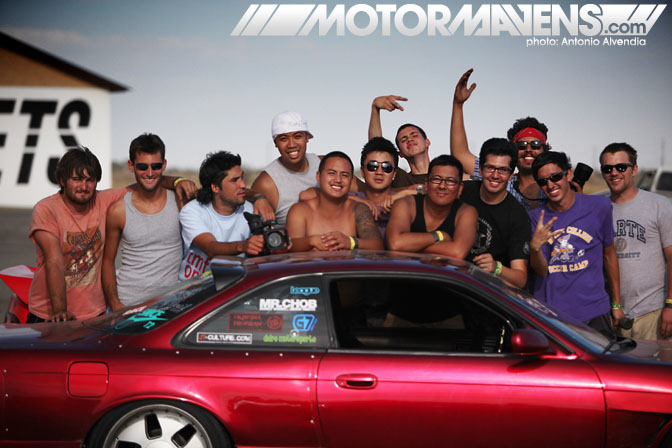 DISCLAIMER: I know everyone's waiting for Part 2, Part 3, Part 4, Part 5, and Part 6 of our Just Drift/Ziptied All Star Bash Summer Slidetacular Drifting Bonanza coverage… but I just wanted to post this up real quick to say I'll post more images later tonight, so sorry to make you guys wait!
I just got a few calls and texts from some of the Chi Town and Southern Cali homies in this picture (Can you spot anyone you know in the pics? How many names can you drop? haha), and since they're out in Cali on summer vacation, they said they want to check out some of the dope LA grub and gear spots today! Right now we're going to figure out where we're gonna go… Barracuda/Sportie LA on Melrose? Undefeated? Proper in Long Beach? Bowls in SGV? Versailles Cuban garlic chicken with fried plantains? Or maybe Hawaiian food like lau lau, lomi lomi salmon, kalua pork and Hawaiian iced tea? Or maybe Koreatown for all you can eat KBBQ and a hostess-slash-coffee shop-slash-house of ill repute? LOL. I dunno…  it's up to the guys.
As for the other Motor Mavens Crew… Andy Sapp has just gotten back to ATL from the North vs South drift event at VIR this past weekend, and Dax Rodriguez got back to AZ late last night, and is now at work in the 100 degree heat… so I think it's safe to say we won't have an update until later tonight til Dax and I can go through all our photos and edit/post them! (And Andy is going to need some time to go through all his video footage from VIR)
So yeah, I'm gonna "call in sick" to hang out with my out-of-state friends, because the Motor Mavens philosophy puts priority on chillin out with friends! Check out Allen Chu's photos on Jtuned or Mike Garrett and Linhbergh's photos at Speedhunters if you want to look at ASB coverage immediately, as we were all hanging out at the track together this weekend. Oh snap, there I go name dropping again.
But make sure to keep your EeePCs, Macbooks, and iPhones locked onto MotorMavens.com for more ASB photos soon!!! We love all our grassroots drifting friends and we love ALL STAR BASH! Thanks for the support and THANKS FOR ROCKING OUR STICKERS!!!!!!!!!!!!!!!!!!!!!!!!!!!!!!!!!
Big ups to Risky Devil. Our Chicago famalam!
:: Antonio Alvendia
---