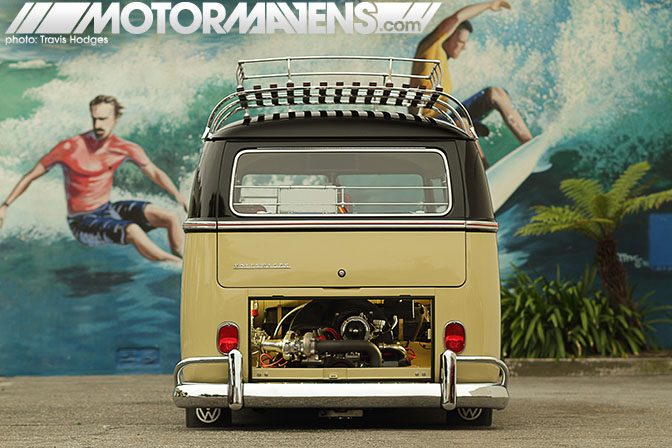 Many of us are dreamers, striving toward our dreams and goals, stopping at nothing to reach that finish line.
Rolando Alvarado's 1965 Type II Volkswagen Bus
took 30+ years to cross the metaphorical finish line - but what a great finish line to cross!
Growing up, Rolando was always a fan of the air-cooled Volkswagen scene and it quickly became a personal goal of his to acquire one. It was his father's 1954 European oval window VW Bug that got his heart pumping and started his love for the air-cooled engines. Despite that, it took a while for Rolando to realize his dream. It wasn't until 1980 that he finally got his very first VW. Of course, being the die-hard VW head that he is, it ended up being a 69' VW Bug.
The first time I laid eyes on this Bus, I just knew that there had to be a story behind it. To many, a Bus may just be another form of transportation, but to me this iconic Bus was a moment in a time when life was a lot simpler - the time of Wood Stock, hippies running through Haight and Ashbury in San Francisco, Jefferson Airplane...good times. During the photo shoot, this Bus almost became a time capsule to channel what life was like back then - an icon to remind us how things used to be.
Read more...
---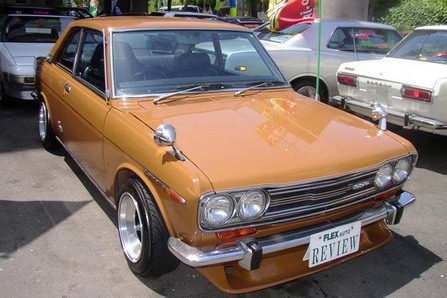 Ever since we started the Motor Mavens blog, I've been so busy that I haven't really had much time to cruise the web like I used to. However, there are a few sites that I try to check once in a while, because I really like the content.
Al's Car Stuff Blog
is
one of the very few
sites that I see that consistently posts up cars that I like! I don't know much about Al or his background, but seeing these photos of this
Nissan/Datsun KP510 Bluebird 1600 SSS
on Al's blog brought me back to a Japan trip I took several years ago.
Back in 2004, I went to visit D1 driver
Takahiro Ueno
and his shop,
Sui Vax
in Yokohama, Japan. I was doing a feature photo shoot on Ueno and his shop for Modified Magazine at the time, so I spent the whole day hanging out in Yokohama. When I told him how crazy I was about Japanese nostalgic cars, he said he knew a shop that I would love, and he wanted to take me there. That shop was
Flex Auto Review
- they restore and sell Japanese classic cars! Ueno was absolutely right. I flipped out when we got there! AWESOME. (I was kind of embarrassed afterwards, because I was so
obviously
excited when I was walking around Flex Auto... and I didn't quite show the same level of excitement when I was hanging out at
Ueno's
shop earlier that day. Oops, my bad.)
Read more...
---