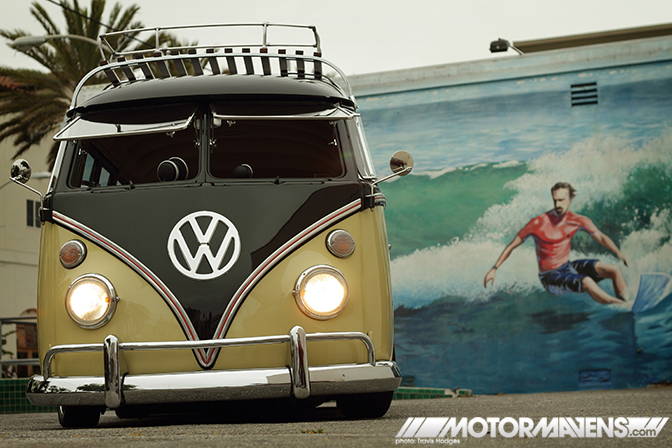 Many of us are dreamers, striving toward our dreams and goals, stopping at nothing to reach that finish line. Rolando Alvarado's 1965 Type II Volkswagen Bus took 30+ years to cross the metaphorical finish line – but what a great finish line to cross!
Growing up, Rolando was always a fan of the air-cooled Volkswagen scene and it quickly became a personal goal of his to acquire one. It was his father's 1954 European oval window VW Bug that got his heart pumping and started his love for the air-cooled engines. Despite that, it took a while for Rolando to realize his dream. It wasn't until 1980 that he finally got his very first VW. Of course, being the die-hard VW head that he is, it ended up being a 69' VW Bug.
The first time I laid eyes on this Bus, I just knew that there had to be a story behind it. To many, a Bus may just be another form of transportation, but to me this iconic Bus was a moment in a time when life was a lot simpler – the time of Wood Stock, hippies running through Haight and Ashbury in San Francisco, Jefferson Airplane…good times. During the photo shoot, this Bus almost became a time capsule to channel what life was like back then – an icon to remind us how things used to be.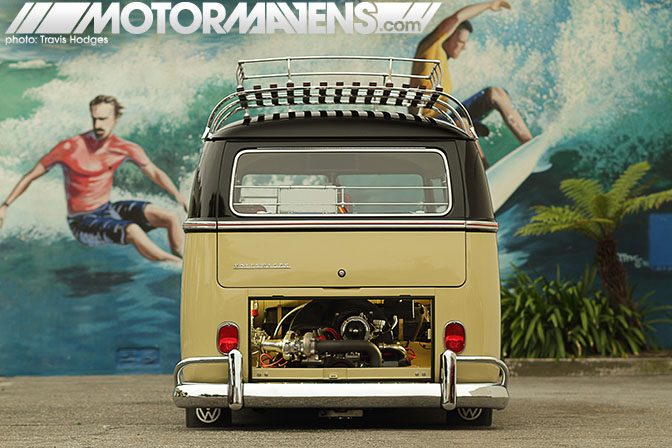 Fast forward to 2010, a couple of days before shooting this magnificent Volkswagen Bus, and you would find me on a desperate hunt for the perfect beach locations to capture what this bus would truly become symbolic of: the California Surfing Culture.  I wanted to capture that iconic image that was so endemic to, and representative of, southern California. While wandering around Huntington Beach, I wanted to show the culture that has stuck with me through all of the years since I moved back to California. So, if you'll indulge me, I'd like to think of this feature as a bit of an homage to the surfing culture.
We started our early morning photoshoot on the side of the Huntington Beach Surf Museum. It just seemed to fit the essence of the Bus. Man! Doesn't that engine just pop right out at you…? I know you're probably thinking "what's that modular looking thing protruding from that shiny engine bay?"  More on that in a second.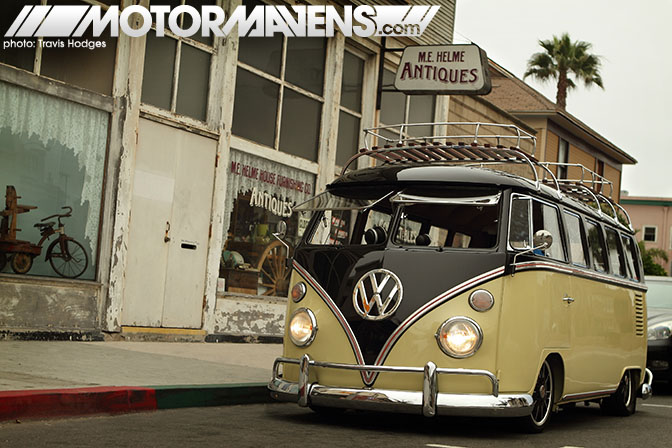 First, back to the story of how this bus came to be. After the 69' Bug decided to blow its brains out all over the side of the 405, Rolando stopped tinkering with cars until the year 2000. It was then, while browsing the Samba forums, that he discovered his next big future project – you guessed it, this 1965 Type II VW Bus. However, acquiring this Bus immediately became a master's class in "easier said than done". So, a couple of days later, Rolando found himself making the trek out to Tijuana, Mexico with $2,500 in hand. Nothing left to do but trailer the Bus back home to Cali. However, despite the logistical issues involved in trailering the Bus, Rolando considered himself lucky to find this gem. It came complete with all windows and interior already in place. The only thing missing was the engine but Rolando was cooking up something special to handle that small deficiency. More on that later…
One thing about this bus I found to be unique is the stance. Anybody who owns a bus will tell you it's difficult to get it to sit just right but Rolando was able to make it happen. Franklin at VW Werks was able to work his magic and design and fabricate a custom narrowed and lowered ball joint front end with drop spindles. To get the bus to ride just right, Rolando tossed out the stock shocks and went for Fox Adjustable Nitrogen shocks for all four corners. Mixing it up with a little bit of the old and new, Rolando opted for some modern stopping power by adding some Porsche 944 disk brake bust kit with Wilwood four piston calipers rounding things out with Performance Lab stainless steel brake lines.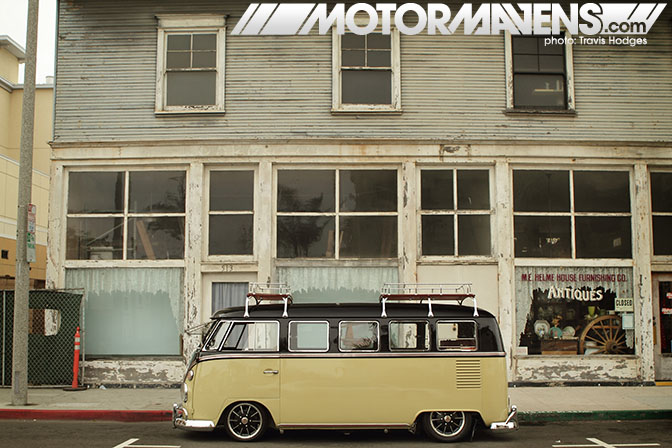 This paint job took three years to complete because the painter was somewhat of a derelict who left the bus in the back of his shop to collect dust. If you've ever lived through a build project, you can imagine how stressful this was on Rolando.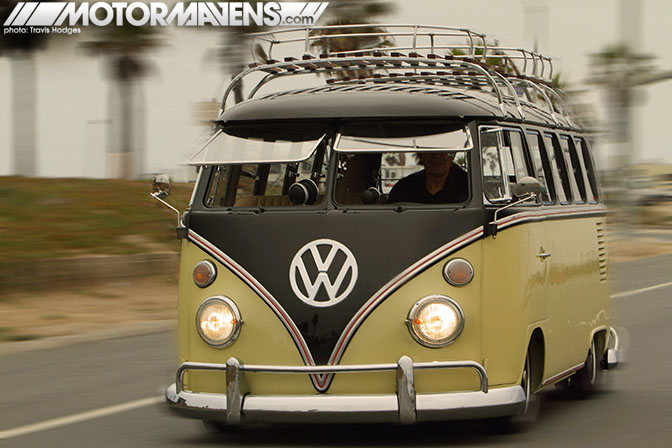 After shooting the bus in Surf-City Huntington Beach, we headed down the coast for a nice, Saturday morning cruise to our next location. While photographer Travis Hodges took his life into his own hands by hanging out the window to get this shot, traffic stopped as on-lookers and everyone (young and old) pointed and gawked.
Before we go further, I'd like to shine light on some of the history of what made the VW Bus such a prized vehicle. Regarded as one of the most sought-after model Buses in the world, the Type II Volkswagen Bus was a forerunner of the modern cargo and passenger vans. It has spawned a number of imitators, both in the United States and in Europe, some of which include: the Ford Econoline, Dodge A100, and the Corvair 95 Corvan. The Corvair even adopted the Type 2 rear engine configuration.
The Type II Bus is also known as the Splittie due to the front split –windows.  The Type II Bus was commissioned due to the needs of a post-war Germany. Ben Pon, a Dutch fellow (who was actually a major importer of VW Beetles to the United States), was responsible for convincing the Volkswagen factory that a commercial transporter was needed after the Second World War. He drew up sketches of his idea of a "box on wheels". In 1950, the Type II Bus was born – without rear windows or bumpers. They were originally based on the VW Beetle chassis but that chassis proved to be too weak for the production of a larger bus thus a new chassis was designed specifically for it.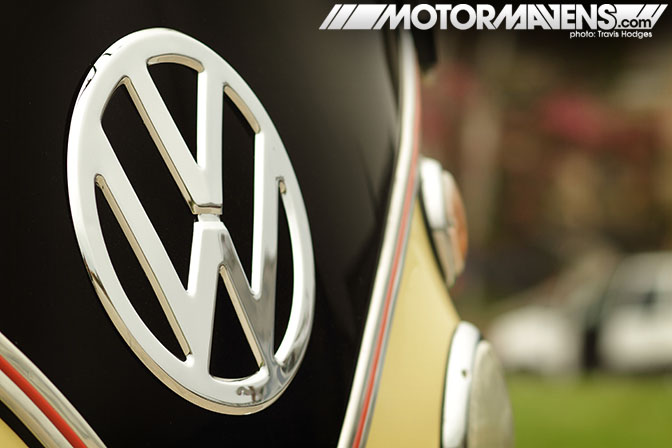 Among American enthusiasts, it is often very common to refer to the different models by the number of their windows. The basic "Kombi", which is a shortened version of the German word Kombinationskraftwagen (meaning "combination motor vehicle"). It was given that name because of the side windows and removable rear seats which cause it to be both a passenger and a cargo vehicle combined. However, despite being billed as a cargo vehicle, don't expect it to do any heavy lifting.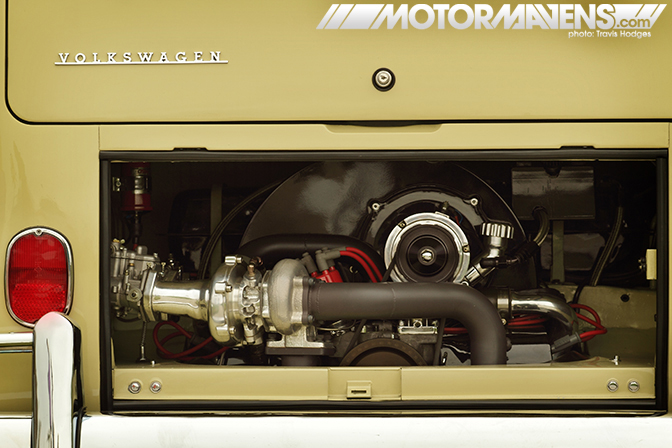 After the bus was brought home and inspected, Rolando immediately got on the horn to engine builder Victor Nemjivar of So Cal Performance Lab who hand-built the motor from the bottom up. Just looking at the engine spec list gives the impression that Victor took a blank canvas and churned out something of mad scientist proportions.
The engine started off as a 1600cc motor which served as a basis for the epic-ness that was about to take place. Rolando then commissioned Victor to bore out the engine to an astonishing 2276cc. From there, Victor made it happen: ported and polished heads, AA 94mm forged ceramic coated pistons, custom designed heads with turbo chambers including matching ported and modified end castings. For all you motor heads, this gives you some clue to the amount of work that has gone into this project.
After all was said and done, this still wasn't enough for Rolando. He opted to go with a Garrett T3/T4 Turbo set-up. YES…I said it – a TURBO'd Air cooled Bus! Estimated horsepower, according to Rolando, is about 235hp with 12lbs of boost on pump gas.
To get all of that air-cooled power to the wheels, Rolando got good friend Ricky Wright of The Wright Gear Box to build him a Super Turbo Freeway Flyer transmission. Believe it or not, Rolando tells me that he's able to keep up with freeway traffic. He's even able to pass the slower moving vehicles. Imagine getting smoked by a turboed VW Bus…Just plain nuts.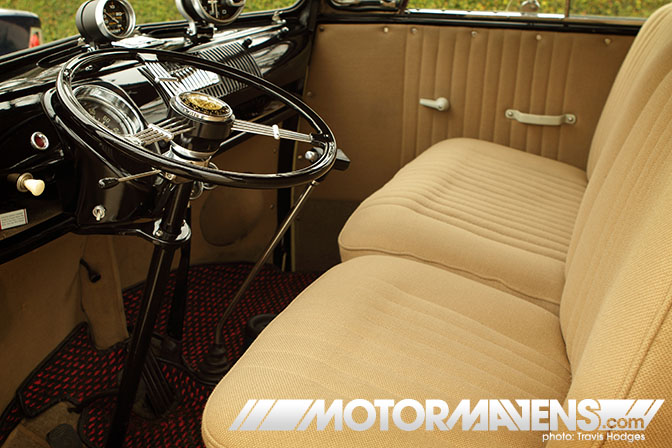 After all these years (and modifications), this Bus still has that factory look to it. Which seems to be just fine with its admirers. During our photo shoot with Rolando, his bus attracted so much attention that it kinda got in Travis' way and delayed the photoshoot. While we were on location at Corona Del Mar State Beach, people were coming up to Travis and me, asking tons of questions about what we were doing. Rolando tells me that he gets this all the time – guys in Ferraris, Lamborghinis, and Porsches were all stopping to give him props on what a fine job he had done. I definitely have to say it really is a conversation starter.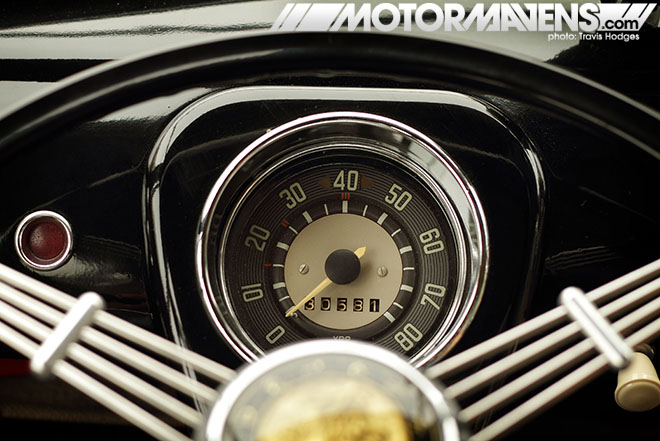 The vintage gauge cluster paired with the Flat 4 Banjo steering wheel add just the right kind of  touch to any classic VW bus.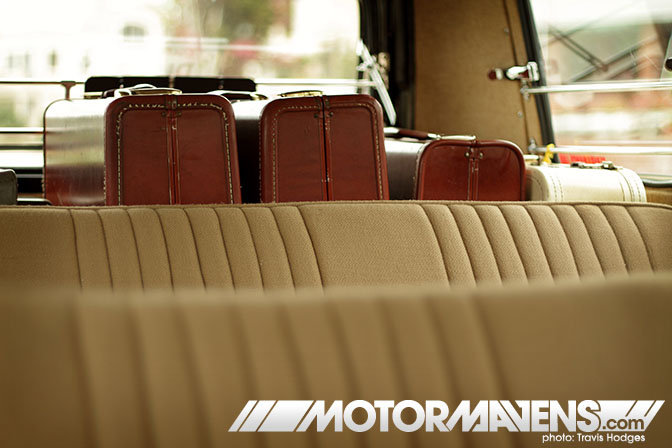 The ten years it has taken Rolando, to piece together his ride, has been  full of happiness, joy, sadness, heartache, and simple appreciation. It has given him so many cool opportunities and, in his own words, "I just  love going to car shows and meeting all these new and wonderful people! Most of all, I just enjoy driving this thing. This isn't a garage queen or a trailer junkie."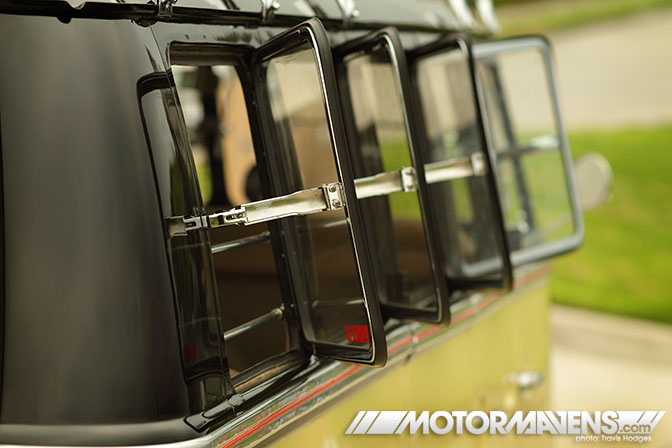 I must admit that the one thing I love most about this Bus is the classic vibe. Although I was born in a different era, I'm completely drawn in by the appeal of the culture that it represents. I love the openness of this bus, the windows, the color and, most of all, that engine. It's simple, clean, and a major attention-getter.
Rolando would like to send a special thanks to all who were involved in this project with a special thanks to his wife Carmen and his son Ray for all of their support and patience and to Victor and the whole So Cal Performance lab Crew!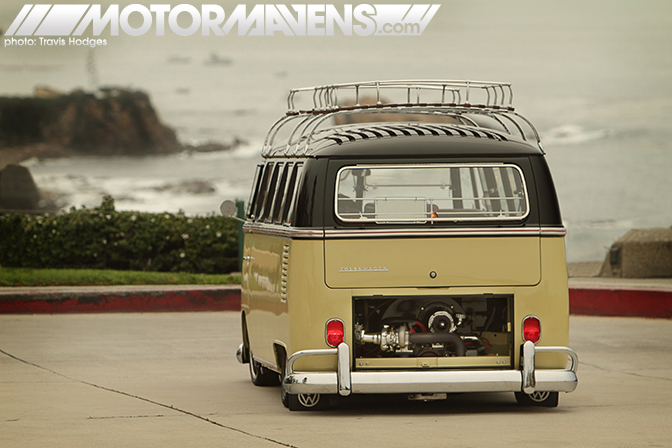 While searching for that one shot that would  seal the deal on this feature (the "Money Shot") , I stumbled upon this lovely cove in Corona Del Mar. We ran into some complications along the way, though. An elderly woman confronted us saying that she paid good money to live in this neighborhood and that she was just sick and tired of us kids ruining it – it seems the bus was disturbing her view. Not everyone's a fan, I guess. HAHA! Other than that, the shoot went off without a hitch.
I would like to thank  Travis Hodges for seeing my vision and capturing it in the most creative light and, most importantly, Rolando for the Bus and for his time and patience.
::Tamer Omran
1600
,
1965
,
2276cc
,
Air- Cooled
,
aircoooled
,
Corona Del Mar
,
Custom
,
Flat 4 Banjo
,
Fox Adjustable Nitrogen
,
Garrett
,
Garrett T3/T4
,
Gene berg
,
hot rod
,
Huntington Beach Surf Museum
,
Kustom
,
Passenger Van
,
Performance Lab
,
Porsche 944
,
Porsche Wheels
,
Ricky Wright
,
Rolando Alvarado
,
So Cal Performance Lab
,
Super Turbo Freeway Flyer
,
T3
,
T3/T4
,
T4
,
Tamer Omran
,
The Wright Gear Box
,
Travis Hodges
,
Type 2
,
Type II
,
Type II VW Bus
,
Van
,
Victor Nemjivar
,
Volkswagen
,
Volkswagen Bus
,
VW
,
VW Werks
,
Webers carbs
,
Westminster
,
Wilwood
---