---
---
---
---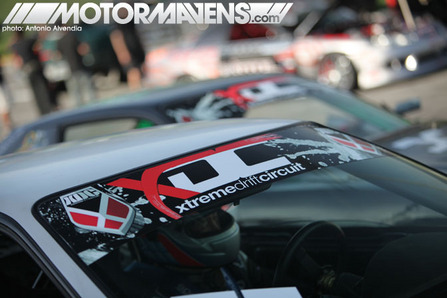 Most people that are familiar with drifting in the United States have heard of Irwindale, California. After all, Irwindale's most famous attraction, Irwindale Speedway has been home to many major "firsts" in the drifting community. Irwindale Speedway was the venue for numerous early Drift Day events; the Video Option Ikaten on January 17th, 2003; the first Drift Showoff on March 3rd 2003; the RS-R Drift Festival on April 6, 2003; the first D1 Grand Prix event in the USA on August 31, 2003; and the first Formula D homecoming at Irwindale on August 29, 2004.
I mention these particular events because they were all milestone events for the grassroots drifting community. Since then, Irwindale has become a recognized name and a
home
for grassroots drifting in the West Coast. This past weekend marked the first ever
XDC
(
Xtreme Drift Circuit
) event at Irwindale. Whether or not this XDC event (or the series in general) will turn out to be a major milestone in the minds of drifters in the United States remains to be seen. However, I can tell you that I observed some re-invigoration and renewed interest in high level grassroots drifting competition from some of the drivers. Hell, if having high-skill-level grassroots drivers spend the time and effort in making the journey from most major regions of the United States (and Canada too) just to compete in this event doesn't indicate what kind of hype this new series is generating, then I don't know what will. It looks as if XDC is heading towards becoming a major force in the grassroots drifting arena.
I'll be honest - when I first heard about
yet another drifting series
launching this year, I kind of rolled my eyes, just like everyone else did. "Oh jeez," I thought. "Another drifting series is trying to come up and compete with Formula D again?" Well, if you observed how the whole "Nopi Drift Series" turned out, you might understand where some of the drifting community's skepticism comes from. However, when I found out that this new XDC Series was actually slated as a "feeder series" which would sharpen up the skill levels of grassroots drifters across the country and allow them to graduate into Formula D competition, I thought, "hmmm... I think this might actually work out."
The Motor Mavens Movement
is all about supporting grassroots drivers and local street teams and crews from all over the world. Formula D did a good thing by empowering the local drifting organizers in different regions to hold Pro Am "driver search" events (like Vegas Pro Am and Evergreen Pro Am, etc), but what I think really boosts the level of drivers that want to graduate into the Formula D series is having the ability to compete regularly on different tracks, against different drivers from different geographical regions.
This "nationalization" and/or "globalization" of competition between the drifting community's hometown heroes is the only way grassroots drivers can really
prove
how good they are. However, with the level of drift car builds and big money that's required to actually run an entire Formula D season nowadays, it's nearly impossible for
REAL grassroots drivers
with
REAL grassroots style drift cars
to actually compete against the Formula D series' hundred-thousand-dollar engine builds, Nascar V8s and full race cars with silhouettes of their OEM bodies dzus-fastened onto tube frames. It saddens some people to see drifting turning into a major pro motorsport like Nascar, but it's all a natural progression, I suppose.
Read more...
---
---
---
---
---
---