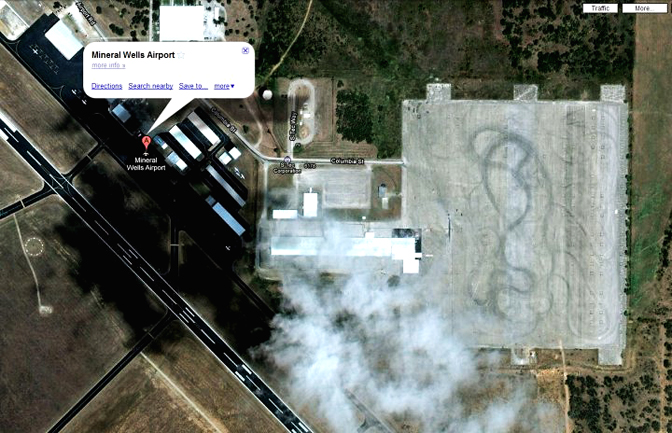 Mineral Wells is a small city nestled deep in the countryside west of Dallas, Texas.  It is a calm, rural town surrounded by rolling hills and farmland.  The atmosphere is generally peaceful and quiet, but occasionally through the year the silence is broken by the sounds of screeching tires, exhausts, and blow off valves as drifters roll in to participate in one of the most premiere drifting venues in the state!
The drifting is held in a lot located just behind the runway at the Mineral Wells Airport.  It was built over sixty years ago as a Cold War helicopter landing pad and decommissioned shortly afterward –  sitting empty for years until automotive enthusiasts began renting it out for grassroots events.  What makes this venue so incredible is the vast expanse of open area.  With enough cones, you can build a course easily capable of triple digit entry speeds.  You won't find a faster venue in the state.  The large size also allows plenty of room for trucks, trailers, and tents as well.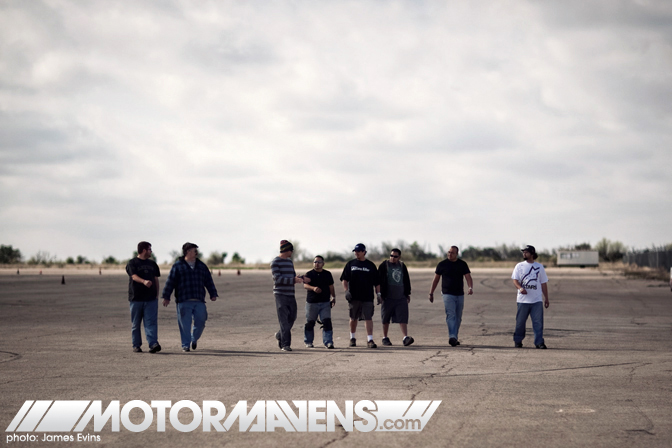 Aaron Losey of Fabricated Motorsports (the guy in the striped shirt and beanie) is the man behind the majority of the drift events in Texas.  His events are always very well organized and safe, with a fun and laid back atmosphere.  The attendance level is usually very good, with driver experience ranging from some of the best talent in the nation to absolute rookies with no driving time whatsoever.  Luckily, the more experienced drivers are always willing to offer assistance and Aaron usually spends the majority of his time giving hands-on training.
Aaron holds a driver meeting before each event, as usual, and then walks the course afterward.  He explains the layout as well as goes over suggestions and driving lines.  He is a very talented drifter as well as an event coordinator, so he is able to explain and assist the drivers very well.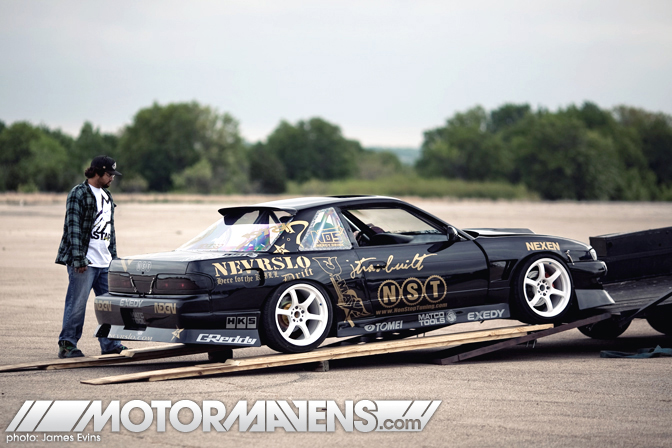 Josh Steele can be seen here unloading his S13 240SX.  He also drifts a black 350Z with a similar vinyl scheme.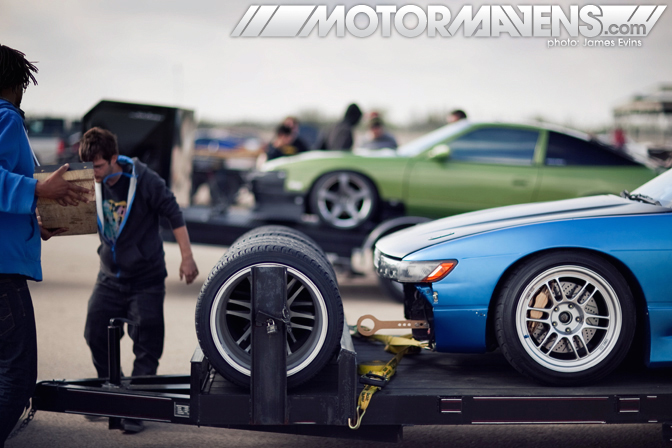 I didn't catch this guy's name, but the car is GM LS2 powered and he has been progressing rapidly at events.  I admire how clean he keeps it, and it's always looking good while rocking Enkei RPF1s.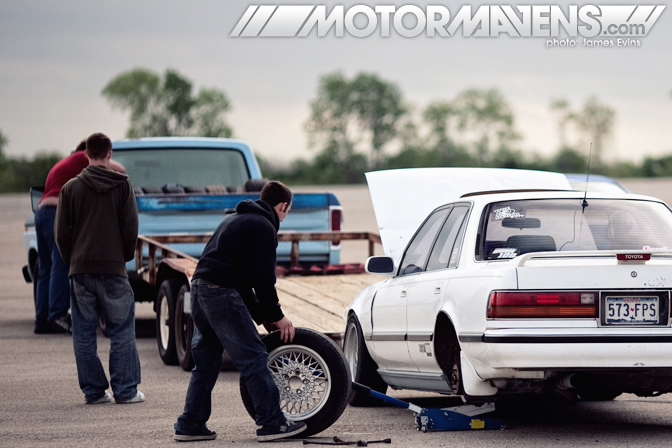 I like to see other makes and models at drift events!  Ever since the debut of Ameen Rizvi's JZX83 Toyota Cressida (which was previously featured here on MotorMavens), I've seen plenty of Cressidas pop up out of the woodwork in Texas. MX83 Cressidas normally come with a 7MGE engine, but just like Ameen's famous brown Cress, this one happens to be powered by a 2JZGTE also.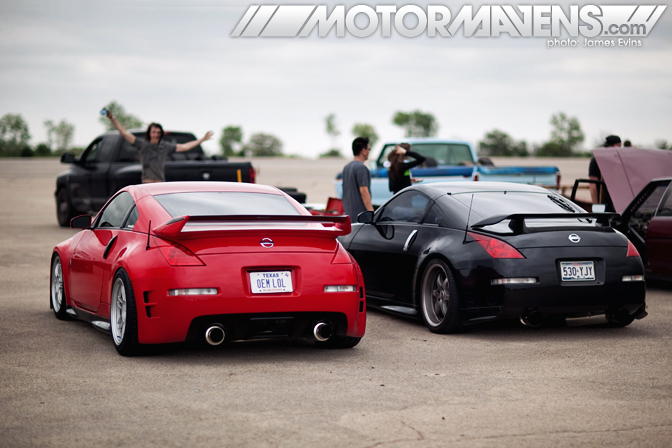 I am often impressed by the spectators and the cars they bring out!  These two Z33 350Zs were looking super clean!  I liked the plate on the red car – "OEM LOL" hahahah!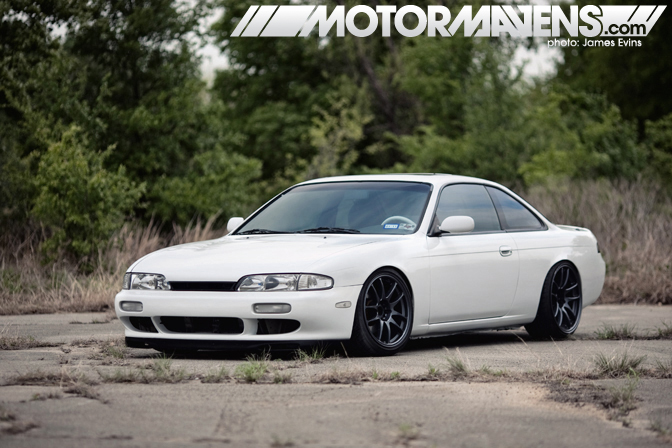 While this clean white zenki S14 looks super simple, the execution and stance are perfection! Wouldn't you agree?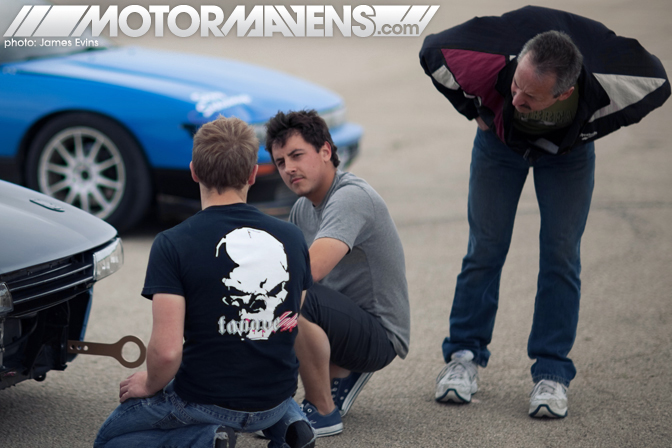 Here is Stew Leask (in the skull shirt) giving some advice to the owner of this LS2 powered 240SX.  Stew is no stranger to LS swaps! Look for his silver LS1 powered S13 in Formula D this year – rumor has it he may be attending the Atlanta event.  I'm hoping we can get some coverage of the car here on MotorMavens in the near future.  You guys will love it!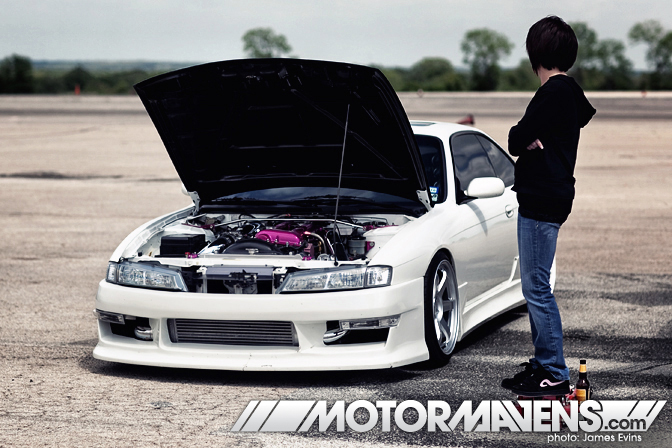 Aubre Houck watches the other drivers while her kouki S14 cools down – by the way, that's Aubre not Audre.  I love the fact that not only does she own one of the most immaculate cars I've seen, but she doesn't hesitate to beat it up around the track!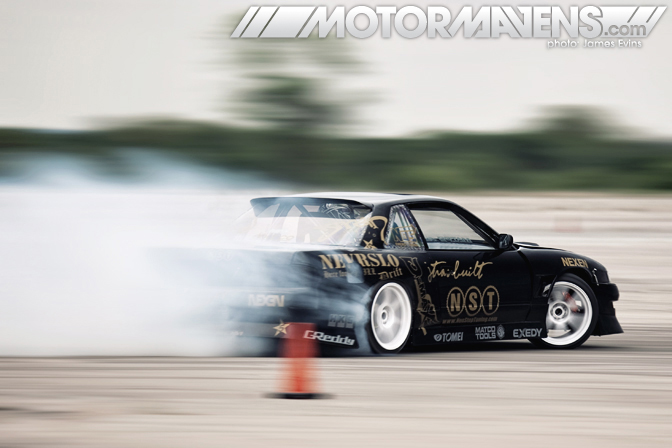 Here's a smoky photo of Josh Steele's S13 in action!  He was looking very consistent all day long!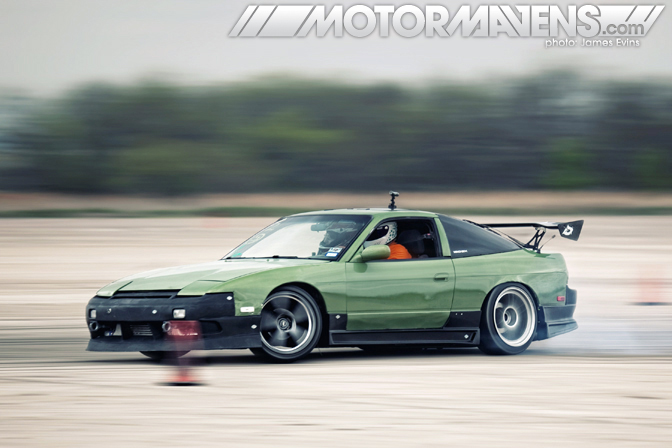 Here's Brock getting his green machine sideways! I'm sure his S13 hatchback is going to look awesome as soon as he paints the aero!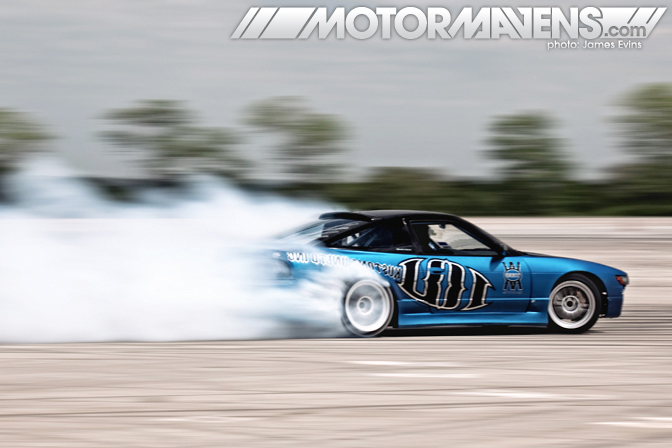 Fourth gear entries?  No problem!  This S13 Sileighty laid down a tremendous amount of smoke! This is how you do it at Mineral Wells!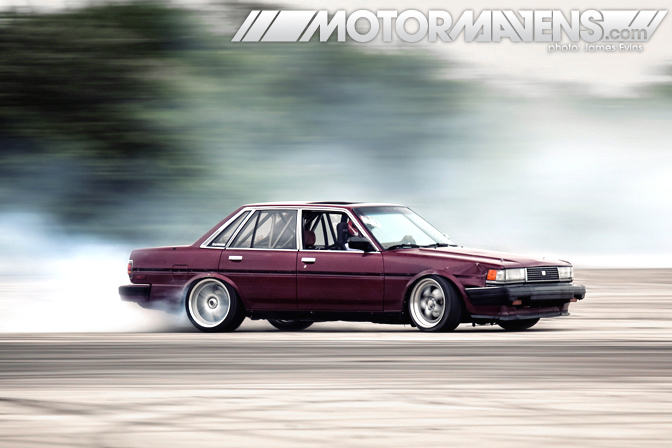 Here's Robert Turnbow in his 1JZGTE swapped Toyota Cressida. This thing was tons of fun! I had a chance to ride with him a couple times.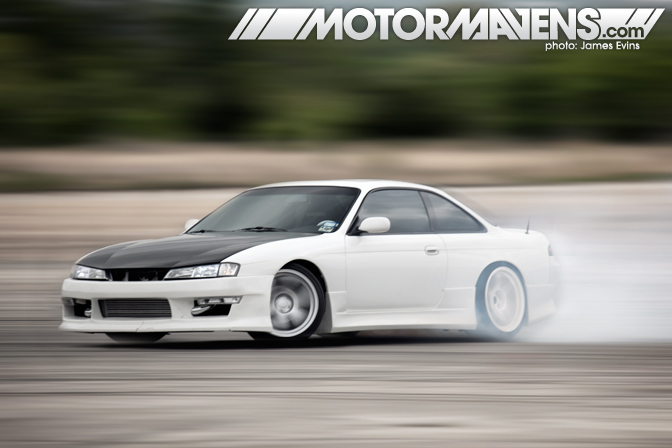 Girl owned and girl driven – Aubre Houck lays it down!  Actually, it's possible Stew Leask was driving when I shot this, but Aubre definitely was out there driving it hard as well!
While this was not the largest event I've covered, the Mineral Wells event is definitely one that I felt was important.  This venue is at the core of the grassroots drifting scene in Texas and I'm glad I had a chance to introduce you all to it.  We have another very impressive event coming up this summer – Lone Star Bash!  It's the biggest grassroots event in the South.  Stay tuned to MotorMavens, as I'll be bringing you that coverage as it happens!
:: James Evins
1JZGTE
,
240SX
,
Aaron Losey
,
Ameen Rizvi
,
Aubre Houck
,
Avon Bellamy
,
Cressida
,
drifting
,
Enkei
,
grassroots
,
James Evins
,
Josh Steele
,
JZX70
,
JZX81
,
JZX83
,
LS2
,
Mineral Wells
,
MX73
,
MX83
,
Robert Turnbow
,
RPF1
,
S13
,
S14
,
Stew Leask
,
Texas
---