Ryan Tuerck shows YAER around the track at Formula D from Ryan Davis on Vimeo.
Have you ever wondered what it would be like to be in the DRIVER'S seat, drifting around Irwindale Speedway's oval? I asked Ryan Tuerck if he could show us around the track from a driver's perspective. He was excited to show us how an FD run went down, so we grabbed some cameras and followed him out. Have a look! (more…)
---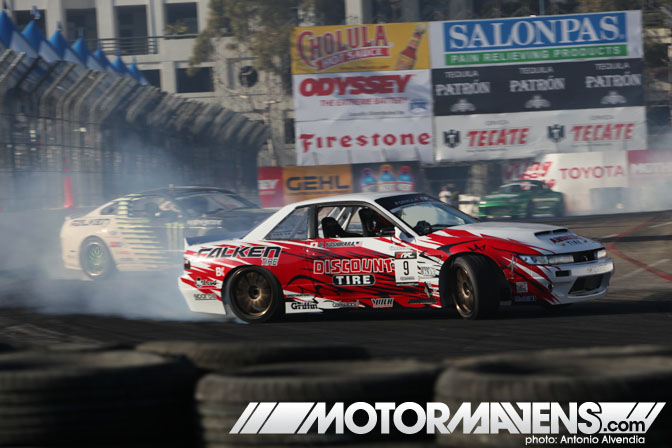 It's hard to believe that it has already been a week since Formula Drift took over the Streets of Long Beach. This weekend, the famous street course is still home to many a race fan. However this time, Long Beach has been taken over with open wheel racing fans that have been going to the Toyota Grand Prix of Long Beach for years and years. Since we don't really cover open wheel racing on Motor Mavens, I thought it would be good to post up some more photos from our experiences at Long Beach last weekend. (I know, some of you are thinking, it's about damn time!)
The first photo in our series is from one of the practice sessions. I think the practice sessions were actually a lot cooler and funner to watch at times than some of the tandem bouts, because it felt like freestyle drifting chaos within the confines of the white cement barriers and tire stacks that lined the streets of the LBC.
Read more...
---
If you remember, back in September of 2009, MotorMavens was the first to break news of Conrad Grunewald's brand new, Hankook Tire sponsored, Chevrolet Camaro SS entering the Formula D Championship. At the time, it was still only a concept and was still being built by Luke Lonberger at BLU808. All we had were a few mid-build photos and renderings, but they still had all of the Motor Mavens readers salivating!
Well, she's come a long way since then! She's up and running and looking HOT. While we were checking Facebook this morning, we spotted this video of her first drift runs at Laguna Seca during some "cone course tuning." Can you say BEAST?! Running 305 wide tires and lighting 'em up in third gear from 1500 rpm all the way to the redline with no problem, they can definitely check "power" off the to do list. I heard some people on Facebook saying that this car had 2300 HORSEPOWER?! Is that really true?! Twenty three hundred?!?!?!
There's not really much more we can say about it that you can't see and hear for yourself. Good Luck to CG Racing and BLU808 with this beautiful new competition Camaro SS! We can't wait for the Pony Wars to get restarted at Formula Drift!
:: Avon Bellamy
---