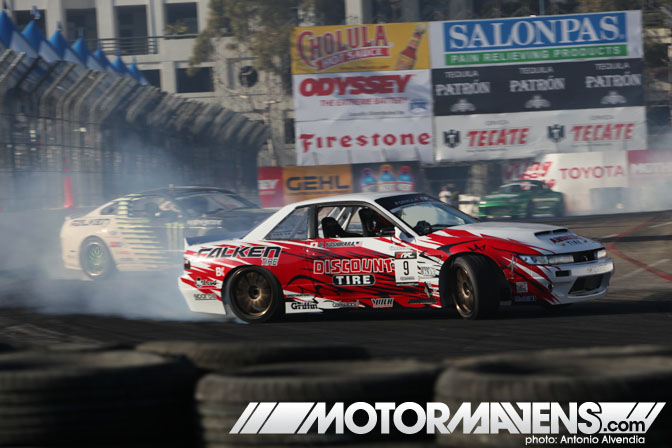 It's hard to believe that it has already been a week since Formula Drift took over the Streets of Long Beach. This weekend, the famous street course is still home to many a race fan. However this time, Long Beach has been taken over with open wheel racing fans that have been going to the Toyota Grand Prix of Long Beach for years and years. Since we don't really cover open wheel racing on Motor Mavens, I thought it would be good to post up some more photos from our experiences at Long Beach last weekend. (I know, some of you are thinking, it's about damn time!)
The first photo in our series is from one of the practice sessions. I think the practice sessions were actually a lot cooler and funner to watch at times than some of the tandem bouts, because it felt like freestyle drifting chaos within the confines of the white cement barriers and tire stacks that lined the streets of the LBC.
Up above, we see Daijiro Yoshihara driving his Rocket Bunnied-out Discount Tire S13 Silvia, which is powered by a V8 engine. Dai does a hell of a job driving this car, but I'm wondering if the S13 suspension is getting a little dated for modern day Formula D competition. By no means am I an expert on the state of the art suspension setups all the pro drivers are running nowadays, but Dai's S13 is competing against 2010 and 2009 chassis cars… there have got to be some major differences in the overall feel and response of the car. Also, I've been told that Dai's car 480 rwhp. When I first heard that, I thought, "Damn! That's as much as a stock R35 GTR!" However, when I found out that some of Dai's teammates are running something like 700 horsepower, I started thinking that Falken should boost up the power on his V8 to help equalize the playing field and the chances he's got at winning. It seems that Formula D is a power game now… aside from pure driving skills, top tier drivers need the horsepower and the torque to maintain drift in several different gears, for several different types of racetracks. Big power has become a necessity to compete with what the rest of the field is playing with, I suppose.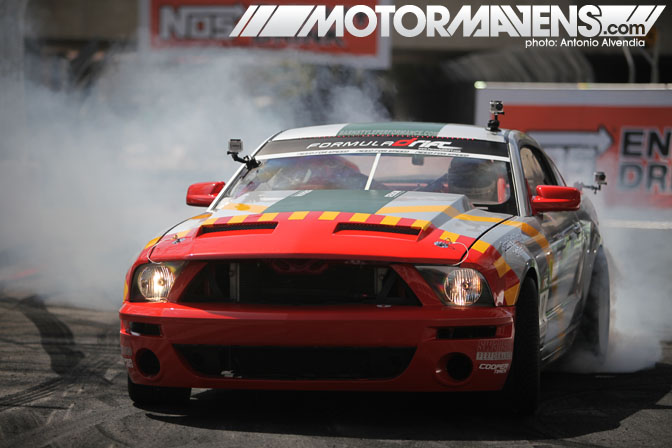 This oddly painted Ford Mustang is being driven by Tony Brakohiapa. Now, we don't usually give lectures in US history here at MotorMavens, but we all felt this particular story was significant enough to make an exception. Tony B has partnered with Top Cover Racing this year as a sponsor of his 2010 Formula D campaign.
After I spoke to MotorMavens co-founder Avon Bellamy about this development, we thought it was interesting that Top Cover was inspired by the Tuskegee Airmen, which makes this racing partnership particularly interesting and compelling. He dropped some of this knowledge on me, so we both thought it might be good to mention the significance of the Tuskegee back story here…
The Tuskegee Airmen were best known as the first African-American fighter pilots to serve in the US Air Force, but their story is a powerful one which actually transcends all ethnic and social boundaries. This was a group of men who not only fought bravely for their country during the World War II overthrow of Nazi Germany (that's Hitler, in case you didn't know)… they were also risking their lives and fighting a war for the United States during a time when most of the US citizens they were risking their lives for would have protested their right to drink from public water fountains or "ride in the front of the bus."
Remember… this all took place during 1940s America, and these men were not allowed to vote. They were not allowed to eat in certain restaurants, much less fly American fighter planes in combat… just because they were black. No one thought they would even be capable of completing the training to become fighter pilots. However, after they successfully completed their training and were deployed for combat against Nazi fighter pilots in Germany, their combat records showed an incredible level of flying skill, earning them tons of awards including two Distinguished Unit Citations, several Silver Stars (the 3rd highest award for valor in the face of the enemy), eight Purple Hearts and hundreds of Distinguished Flying Crosses and Air Medals. Not bad for a bunch of guys who still couldn't vote!
Not only did they overcome adversity from the enemy, but also from their own country… and they did it with honor and bravery. Their planes were nicknamed "The Redtails" for the distinctive red color of the vertical stabilizers on their P-51C Mustangs (Mustang, get it?) and they were so good in combat that they began to get requests for bomber escort from all-White Bomb Groups. They had gained a reputation for bringing their bomber crews back alive through the toughest enemy fire – a testament to what courage, willpower, and skill can do for any human being under any condition. Much respect to the Tuskegee Airmen for showing us all that we can beat any opponent with willpower and determination, no matter how difficult it may be.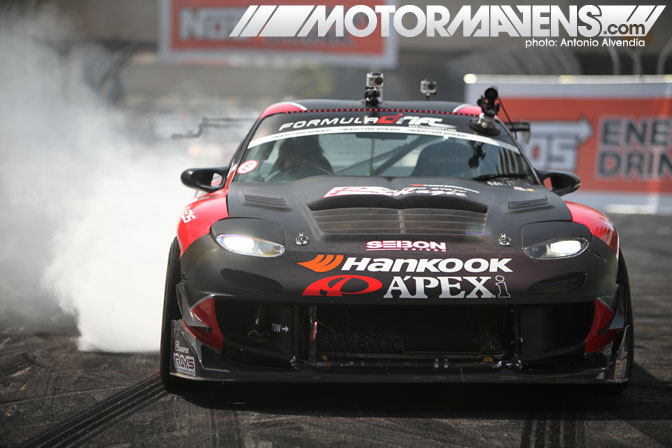 Well, this next team might not exactly have history fighting off Nazis, but the A'pex Integration team and driver Ryuji Miki certainly have a strong history in the drifting arena. As one of the top teams from the original D1 Grand Prix series, Apex'i successfully campaigned an FD3S RX7 for years, with Youichi Imamura behind the wheel. No stranger to top level drifting competition, Ryuji Miki was actually the 2004 D1 Grand Prix series champion, when he was driving the Top Secret S15 Silvia. I know the FD3S is a more difficult care to drive, because it's a bit more snappy than an S-chassis, but I hope Ryuji brings his D1 championship-level game to Formula D competition very soon.
I think the Apex'i FD3S RX7 looks so dope. Here's a photo of it burning out at the start line. One weird thing I noticed… it looks like more smoke is coming off the rear right tire… I don't remember clearly now, but I wonder if there was some wind that was pushing the smoke directionally… or if the LSD on the car was just getting old? Hmm…?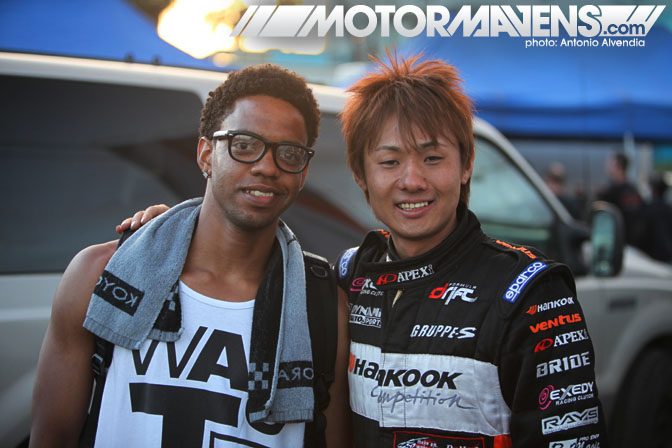 Here's a photo of Ryuji with rotary maniac Edward Uche. My close friends from the D1GP series in Japan, Team Orange, tease Ryuji all the time because they think he looks like a Koala. In fact, those guys actually call him Koala jokingly on a regular basis.
Not to mention, when I first officially "met" him back in 2004, he was the D1 Series champion, and they had me casually walk up to him and say, "Miki san, anata wa sugoiiiiii D1 driver. Demo… koala ni niteru." It basically means, Miki san, you are a hella dope D1 driver. But yo… you look like a koala.
Everyone in the Team Orange pit area was watching his facial expression intently as I randomly walked up to him and said that. Miki was like WTF?! Who the hell is this guy? It was pretty funny. I remember that Kumakubo, Tanaka, Naoto Suenaga, and Igusa from Team Orange were all there, as well as Toshiki Yoshioka and Matsuoka san from Team Droo-P (the mohawk guy that built Yoshioka's old AE86 coupe, in case you don't know his name). Needless to say, there were all rolling with laughter, because Miki was so shocked! I suppose, that's how I first got to know Miki and became friends with him. Actually, he probably still wants to kick my ass for that. I wish I could chill with all those guys more often.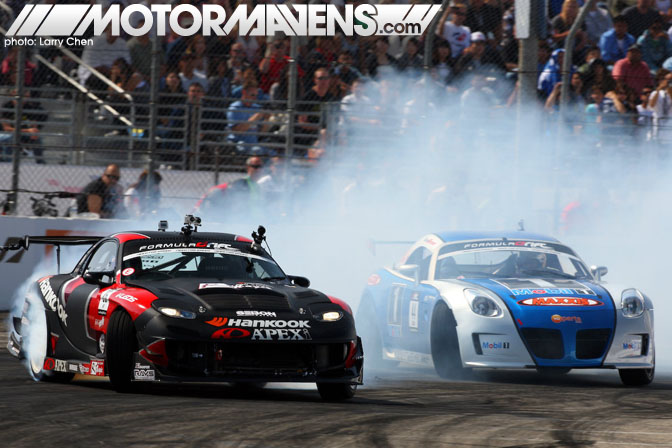 Here's a photo of Miki battling it out with Mobil 1/Gardella Racing sponsored driver Ryan "Hampshaa" Tuerck.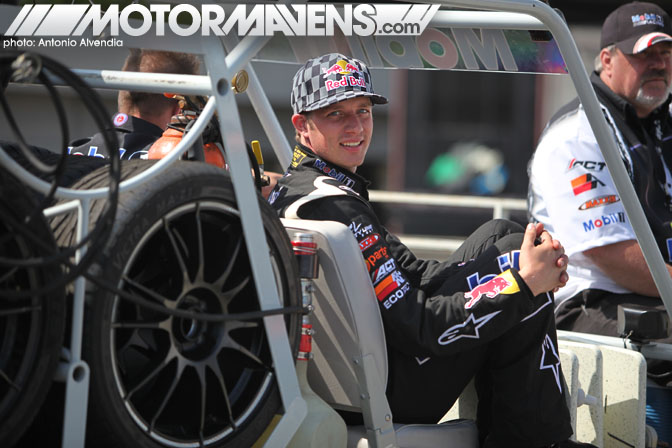 Here's Hampshaa, sitting in the team golf cart. I suppose most people are familiar with Ryan's Pontiac Solstice competition car, in my opinion, the coolest vehicle that Gardella Racing brings to the track is their customized golf cart! I spoke to Gary Gardella about this when I first met him. I didn't know what Gary looked like back then, but I walked up to him and started taking photos of his golf cart! I thought it was dope how it basically has a roll cage with custom mounts for wheels/tires and tools. It's definitely one of the most stylish and functional golf carts in the Formula D series in my opinion. I do think it looks pretty fresh.
At Long Beach, I was able to catch up with Ryan and tell him how dope I thought his "off season" drift video was. It was so cool to see him drifting his RPS13 through the empty grassy parking lot in the video. According to Ryan, he accidentally discovered it because some people he knew kept talking about that area, which happens to be right by his house. Anyway, if you haven't seen the video yet, click the link and peep it out.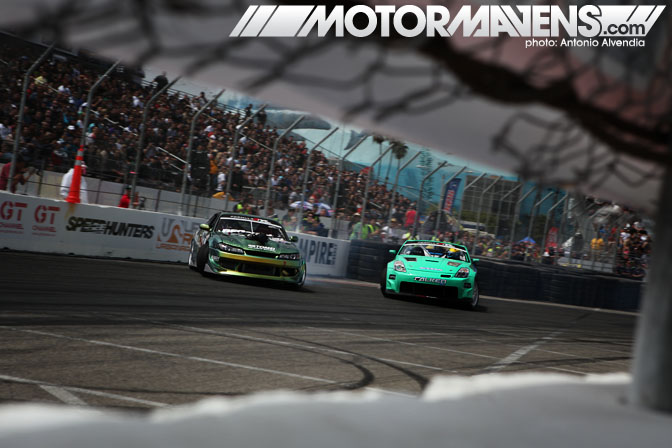 One of the challenges at Formula D Long Beach is the lack of good shooting locations. You basically have about 234234567 photographers competing for the same crappy photo holes cut in the fences of at the Long Beach course. It's not the best situation for people trying to shoot. Therefore, people need to try out different lenses and go to different sections of the course all the time in order to get good photos. My "favorite" thing about Long Beach is when you roll up to a "photo hole" cut in the fence, and the photographer next to you is being a jerk.
There was a super rude Korean photographer with long hair at Long Beach this year who kept bumping in to me and pushing his way around the photo areas all day. He even knocked his tripod into my L lens as he passed me, and he didn't even say sorry or excuse me. Needless, to say, I got pissed off at his apparent rudeness. When she saw that I got mad, the girl he was with tried to make an excuse for him, as if I should be more understanding that he was being rude. I've never seen them at Formula D events before, but I hope I never see them again.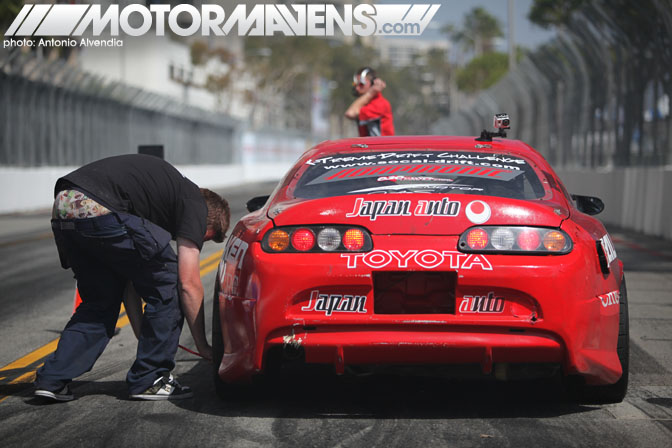 Moving on to something more positive, I was extremely happy to see a JZA80 Toyota Supra back in Formula D competition. This car is being driven by Norwegian Fredric Aasbo, who was straight up KILLIN IT with his aggressive driving style. He certainly made people notice him at Long Beach!
In case you don't know about Aasbo, he is a two-time Norwegian drifting champion – apparently, he has won more drifting events than any other driver in Europe. He did pretty damn well at Long Beach, placing 4th Place at his very first official Formula Drift event! Now THAT is how to make an impression on people! Hell yeah!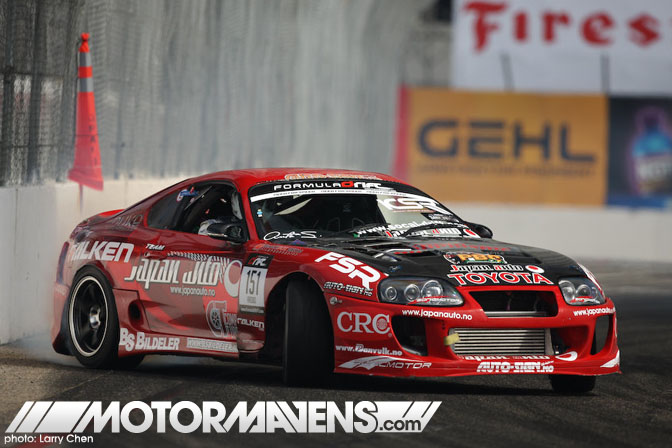 Here's a photo of Aasbo's JZA80 Supra drifting through the spectator area at Long Beach. His aggressive driving style definitely scored him some points from the judges and made him get noticed by the fans!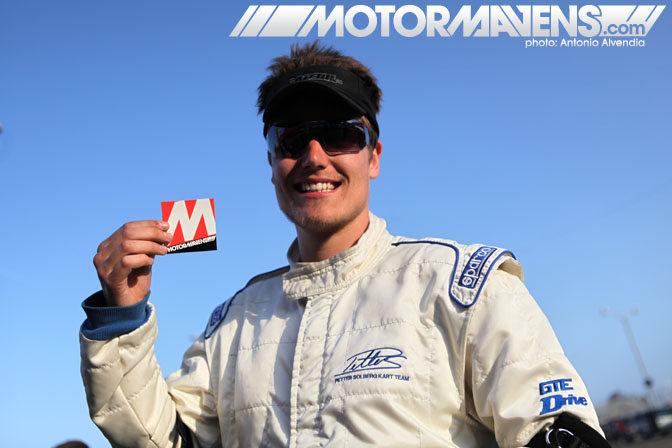 At the end of the day, Fredric walked up to the MotorMavens booth to introduce himself and tell us he follows our blog. He said he wanted a sticker to rock on his Supra… it was awesome to meet him! Super cool guy! We'll definitely have more on Aasbo on MotorMavens in the future!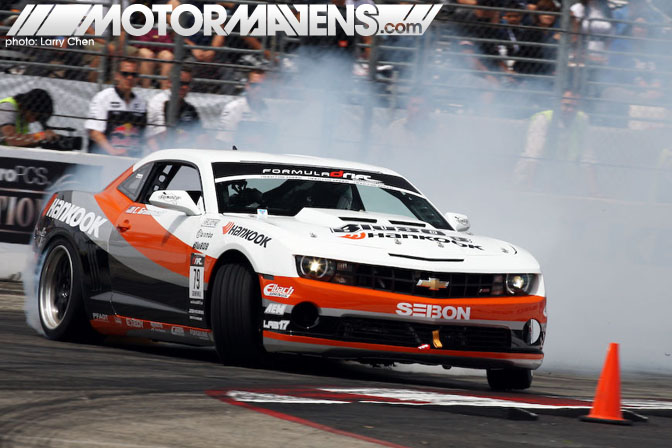 Here's another car that rocks a MotorMavens sticker (although you can hardly see it since it's so low on the door, haha!) on the roll call. This is Conrad Grunewald's Chevrolet Camaro. This car is exciting to me, because I'd love to see it doing battle with some of the Mustangs in the Formula D series! Conrad had a strong showing with this car at Long Beach! I'm sure he'll do well for the rest of the season!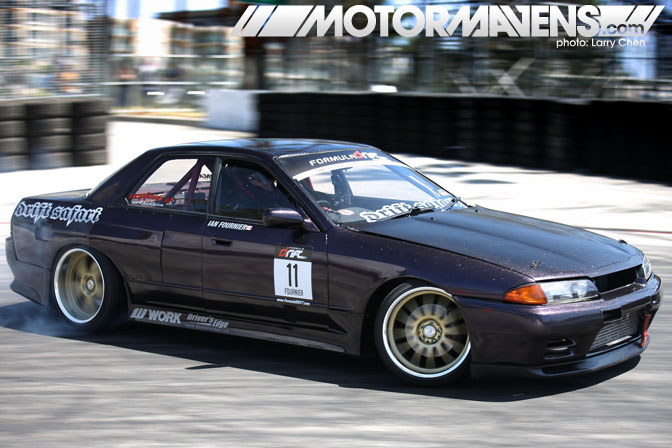 Now here's a privateer with a cool car… this is Ian Fournier from the Drift Safari team from Vancouver BC. In my opinion, Ian's car is one of the best looking privateer cars in the series. It doesn't have any pointless splashes of graphics on it. It just looks clean and aggressive, with a nice, low front lip and aggressive fitting Work wheels. this is what a fresh drift car is all about. We wish the best of luck to Ian on his 2010 season!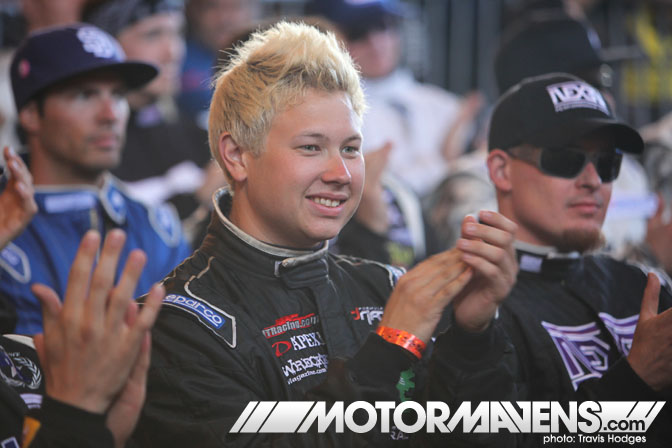 Here's another friend who started as a privateer and basically turned pro. This is Patrick Mordaunt, who drives a kouki S14 240SX, sponsored by AIT, Apex'i and Wrecked Magazine. Pat is super cool, and has been dedicated to drifting for quite some time. He has been drifting ever since he was in high school… in fact, I think he began drifting before he even had a driver's license! Similar story to Kenshiro Gushi!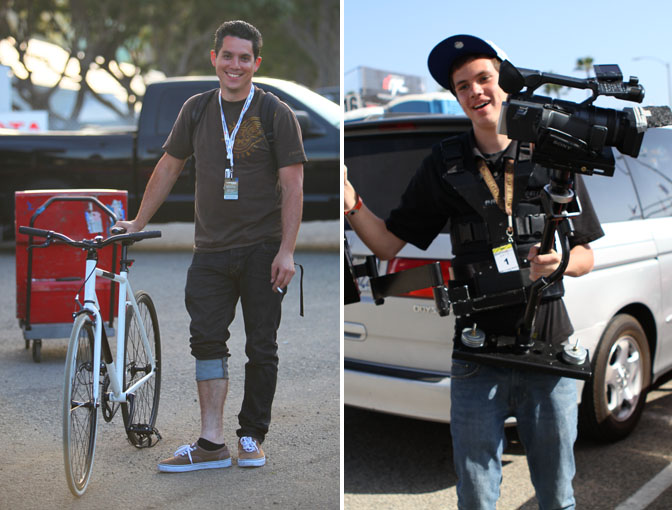 Let's turn our attention away from pro drivers for a moment and highlight some of the grassroots drifters in attendance at Formula D. On the left is Eric Castro. Castro is a street drifter-turned-fixie rider who has a background working on sets in the motion pictures industry. It was cool to see him out at the track this weekend, especially since he was rocking an old Cipher Garage/SSR Mk-III shirt that he bought at the Cipher Garage booth back in 2006 or something. It's cool to see people still rocking shirts that you made several years back! By the way, Castro has his pant leg rolled up, not because he's trying to represent 1990s hip hop style… it's so he doesn't cut up his jeans on his bike chain when he rides it around the track, haha.
On the right side, we see part-French, part Vietnamese, part camera mount Teddy Phuthanhdanh from drift crew Team Mulsanne. I first met Teddy because his dad has a history of doing media coverage for magazines in France. However, recently he has been getting recognition as an aggressive driver, with his crew of teal-painted S-chassis cars. I can't wait to see what kind of video Teddy ends up with, since he was shooting with this interesting steadicam setup all day. He looks like a robot filmer, haha! It was cool to see him rocking an old school Cipher Garage lanyard around his neck, too! =)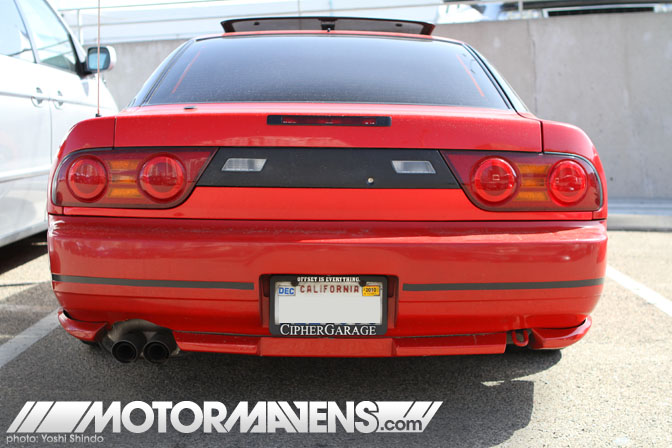 By the way, here's a snapshot that Yoshi took of Teddy's clean red RPS13. I personally think this car looks DOPE! We'll see much more of this aggressive street car on the site soon. It is super low, with great wheel fitment. Also dig the original "Offset is Everything" license plate frame from Cipher Garage that Teddy got from my booth way back in 2006. Yup, FOUR YEARS ago. Crazy how time flies.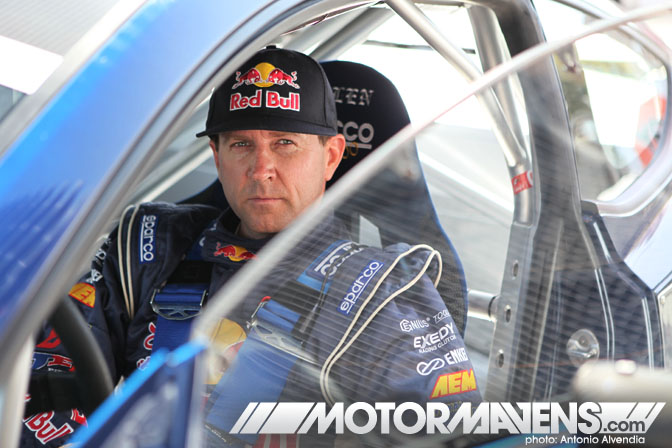 Here's a guy that people love to hate… this is obviously Rhys Millen. People seem to hate on Rhys and his car all the time, but I personally like the guy. I also respect how he demands excellence from himself and from his crew. It definitely shows in the way he drives and the way his team and his car is presented. I think a lot of people can learn from the way Rhys and his team present themselves at the track. That's one professional organization, Team RMR.
I heard his wife Pressley is pregnant, and Rhys is going to be a daddy soon! Congrats to the RMR family! You know that's gonna be one lucky kid, growing up with some super cool car toys.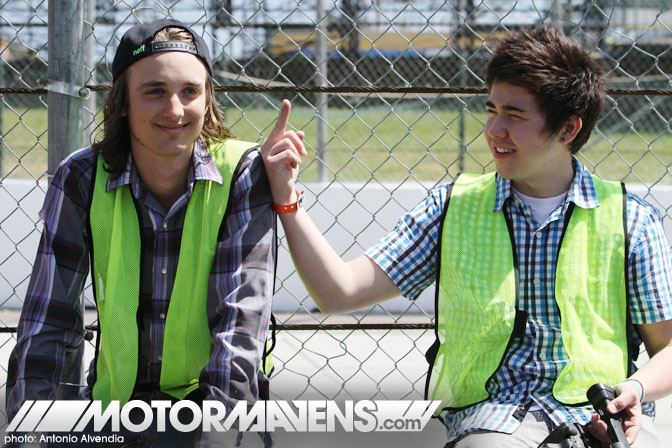 Here's a couple youngbucks from the Motor Mavens fam. On the left is Oregon-based skate filmmaker Justin Shreeve, who has been making a name for himself and producing outstanding videos, like The Spirit of Formula D Long Beach that was recently released on our site.
On the right is Washington state-based filmmaker and super slammed Subaru driver Abbitt Wilkerson. Abbitt actually turned eighteen on Formula D Saturday last week, and decided to spend his birthday taking in the sounds and sights of cars drifting through Long Beach. He's seen here flipping off Justin because Justin accidentally ruined one of Abbitt's shots that day; Abbitt was filming trackside, when Justin randomly called him to say "what's up, did you get that cool run?" and just as Justin said that, a car crashed right in front of Abbitt, who wasn't filming it because he was on the phone with Justin. Needless to say, Abbitt Wilkerson wanted to kill Justin, haha.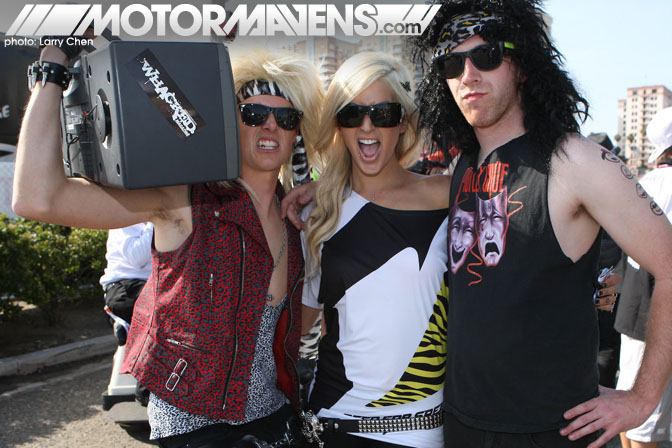 Here's a photo that our boy Larry Chen shot of Matt Powers' tight pants-rocking, long haired entourage. I like the chick in the middle – she looks pretty hot. And I normally don't even like blonde chicks! Maybe it's because she reminds me of Paris Hilton in that "One Night in Paris" video… LOL, nevermind.
Notice that sticker on the boombox? At first I thought it was a Wrecked Magazine sticker, but when I looked close, I realized it said, "Whacked Magazine" in the same font. What the hell? Oh man, it's another work of AE86er Al Lagura and his WantVsNeed blog. If you haven't seen WantVsNeed yet, go check it out. It's basically a collection of photos of girls, some art stuff, some friends, and very few car photos.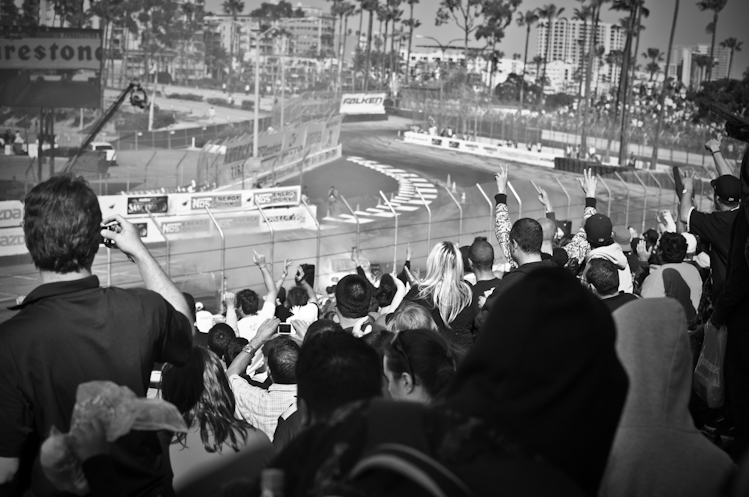 Here's a black and white photo that Al posted on his WantVsNeed blog. I thought I'd repost it here, since I've never really been in the grandstands at Long Beach before. So this is what it looks like from up there…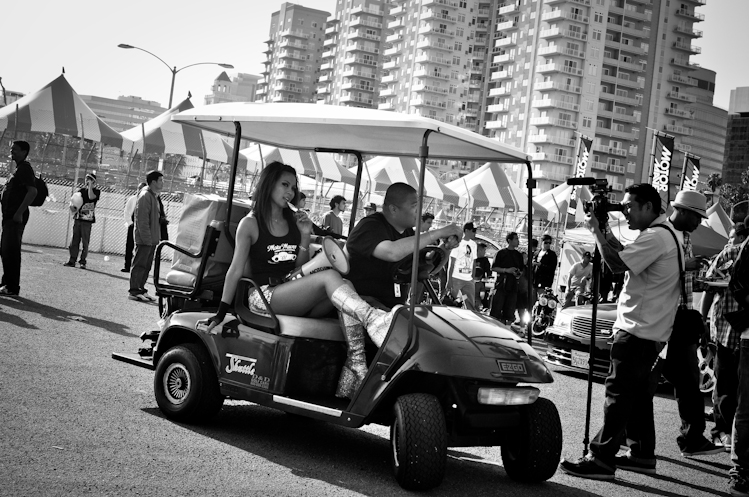 Here's another photo from Al's camera. I didn't even know he was taking photos of us. This here is Brandon from Bowls, shooting a little video interview with me, as Al captured the moment with his camera. All I can say is, Joanna's legs look pretty damn good in this photo, don't you think?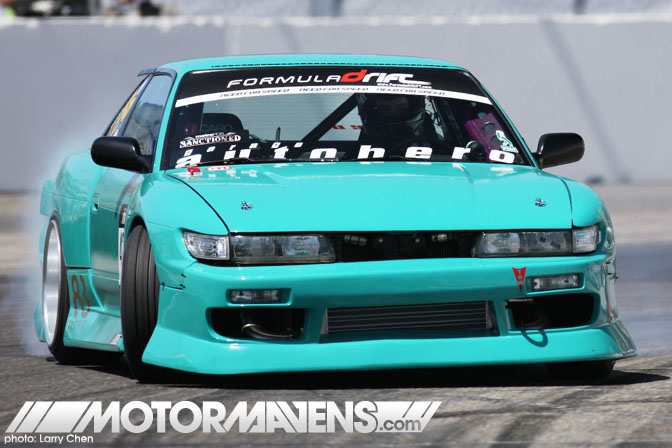 This here is our boy Roland Gallagher from Garage Autohero in Seattle. Roland has been down with MotorMavens since it first started… in fact, his car was one of the very first I shot when I was beginning to promote this site!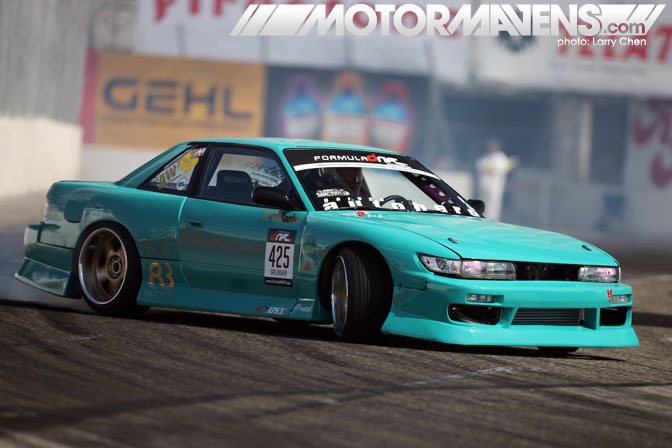 Roland has been going big all year long. His car looks awesome because of his aggressive driving style and his wheels! I wish more cars in the FD series could rock wheels like Roland's!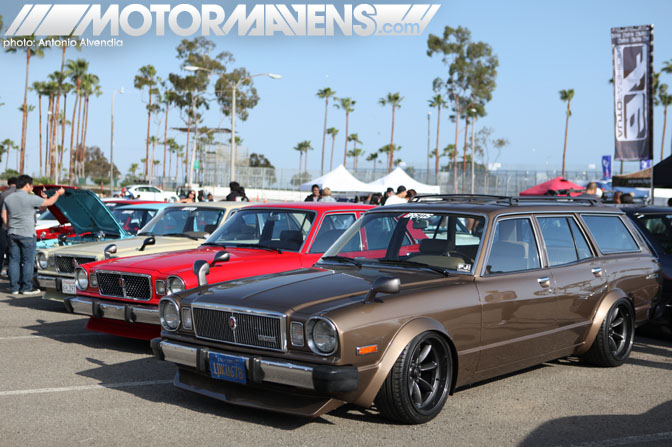 This line of MX32 Cressidas in the One-of-One carshow area was pretty cool. It's pretty rare to find MX32 Cressidas nowadays, let alone restored ones that are this clean. I realllllllllllly want an MX32 pretty bad! I'm gonna keep searching! I love the way these cars look… I just kinda wish the brown one didn't have those fender flares on it. And those Rota wheels. It's cool though, to each his own I suppose.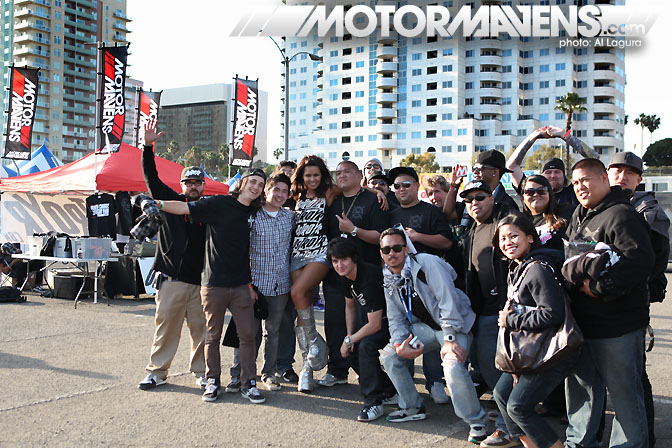 Here's a photo that Al Lagura took of the Mighty MotorMavens and DSTROYR crew and friends in front of our booth at Long Beach. From L-R, we have Jon Chase (designer of DSTROYR), Justin Shreeve, Abbitt Wilkerson, Mike Kim (smelling Joanna's hair in the back), Joanna Aimee, me, Stephen from Alpinestars (aka Frodo), Roland Gallagher (in the back, smelling Lucas's hat), Lucas Perez, Tamer Omran (up front in the gray jacket), Yoshi Shindo (with the hat and sunglasses), George Gallagher (Roland's dad), HerbrockOne from Cipher Garage (the founder of Driftwell apparel and the first person to import brand new kouki AE86 bumpers into the USA), Edward Uche, John's GF, Karen Z (owner of the famous Voltex/ARC Lancer Evo 9 from Import Tuner), Jay Bryan (JDM Ego), John Sayno, and Jack Hsu/Blue Dolphin.
Man, that's a lot of mofos.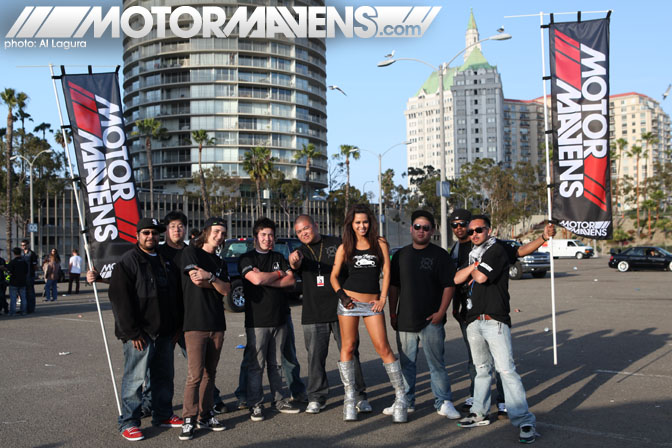 Some more name dropping… these are some of the members of the Motor Mavens Crew, with our newly created MotorMavens battle flags. From Left to Right, we have AE86er Lucas Perez, Mac and iPhone expert Mike Kim, skate videographer that just lost his job Justin Shreeve, internet famous teenybopper idol Abbitt Wilkerson, video director Travis Hodges hiding behind Abbitt, me, Joanna with the short short skirt (God bless her for wearing that skirt), Tube8 subscriber Yoshi Shindo, rotary lover Edward Uche, and European car junkie Tamer Omran. This is the crew!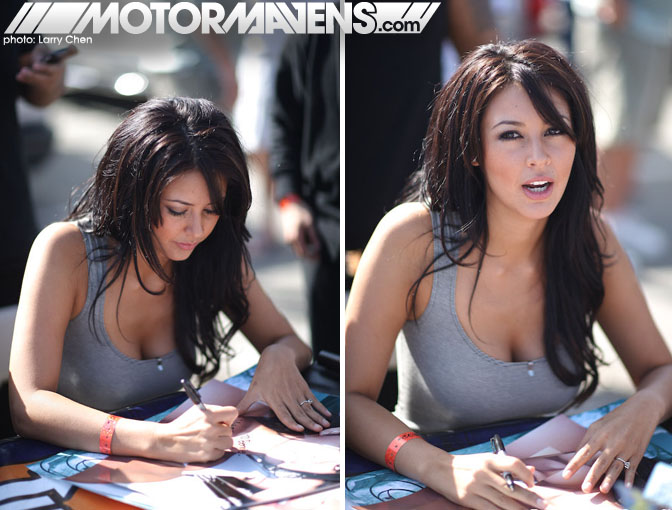 Oh, speaking of "looks good in a skirt," this is the new Miss Formula D. I haven't had a chance to meet her yet, but I noticed her from some photos that our boy Larry Chen took of her.  B A N G I N. Good choice, Formula D!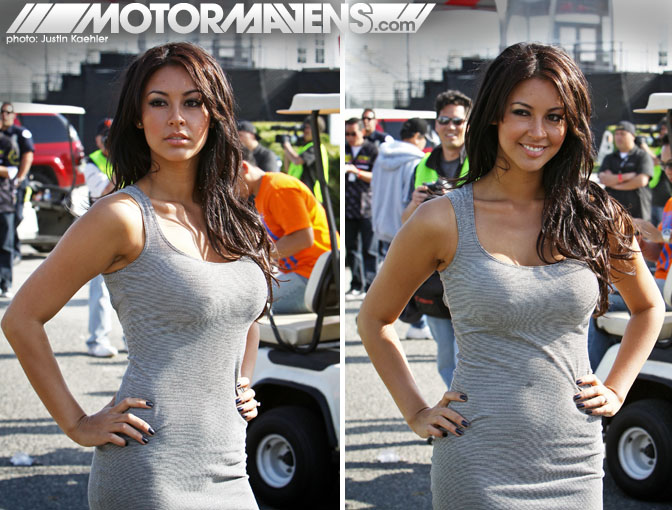 Here are some more pics of her, from Justin Kaehler. Again… BA N G I N .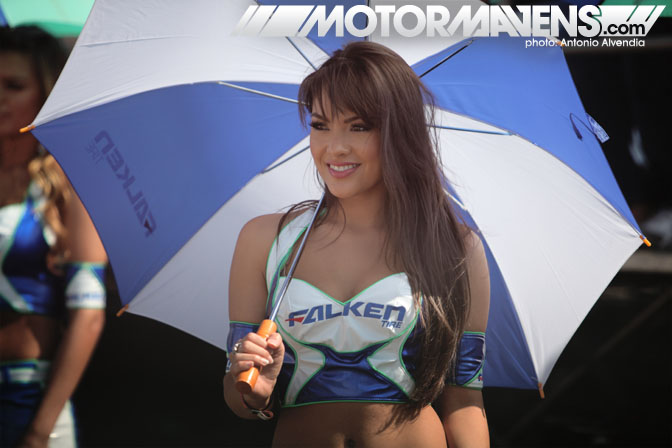 Since we're on the topic of hot chicks, I thought I'd post up one last photo… this is my Randyl Dawn, one of my favorite Falken umbrella girls. Not only is she gorgeous, she has a great personality too! Look for more photos of Randyl on our site in the future!
This story is long enough! I hope you like the photos – I'm out!
:: Antonio Alvendia
Photography by Antonio Alvendia, Larry Chen, Justin Kaehler, Al Lagura, Mike Kim, Travis Hodges, and Yoshi Shindo
Buy copies of these photos at www.DriftFotos.com
More Formula D Long Beach 2010 stories on MOTORMAVENS
2010 Camaro
,
Abbitt Wilkerson
,
Al Lagura
,
Antonio Alvendia
,
Camaro
,
Conrad Grunewald
,
Cressida
,
Daijiro Yoshihara
,
Drift Safari
,
DSTROYR
,
Edward Uche
,
Eric Castro
,
FD3S
,
Formula D Long Beach 2010
,
Formula Drift
,
Fredric Aasbo
,
Gardella Racing
,
Hyundai Genesis
,
Ian Fournier
,
Jay Bryan
,
JDM Ego
,
Joanna Aimee
,
Jon Chase
,
Justin Shreeve
,
JZA80
,
Melyssa Grace
,
Mobil 1
,
Mustang
,
MX32
,
Pat Mordaunt
,
R32
,
Randyl Dawn
,
Rhys Millen
,
RMR
,
Roland Gallagher
,
RPS13
,
RX7
,
Ryan Tuerck
,
Ryuji Miki
,
S13
,
Silvia
,
Skyline
,
Supra
,
Teddy Phuthanhdanh
,
Tony Brakohiapa. Tuskegee Airmen
,
WantVsNeed
,
Wrecked Magazine
,
Yoshi Shindo
---