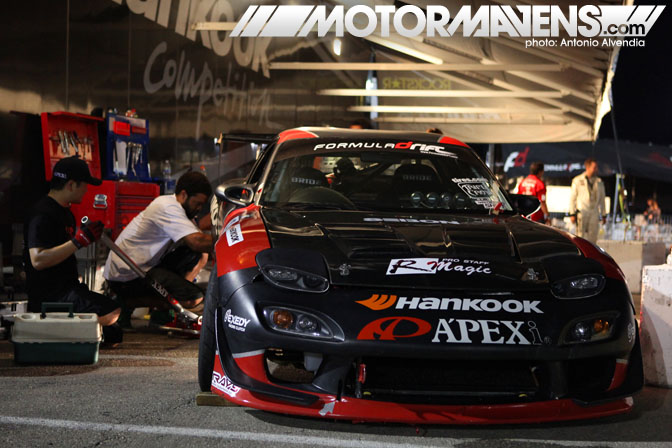 It has been ten days since the Formula D tour rolled the dice through Sin City, and what an event it was. We've already shown you numerous photos and videos from the Vegas event, so we thought we'd wrap up our photographic coverage of the event today.
In the pit area right before qualifying, the Apex'i crew was busy at work - either their differential or ring and pinion seized up, because the rear wheels on Ryuji Miki's FD3s wouldn't spin at all - they were completely locked up! The Apex'i crew always seems to be working tirelessly, as we always see them working on their cars on the side of the track.
In this photo, we see Jeren Walker from DSPORT Magazine offering to lend a helping hand, so that the Apex'i crew could get the car back on track and Miki could qualify. Jeren works for a magazine - he wasn't hired to help Apex'i; he had nothing to gain from getting down and dirty, helping to get Miki's car back on track. Yet he willingly volunteered to help, because that's what people do from the grassroots drifting scene. Wait... Apex'i..? Grassroots?
Read more...
---