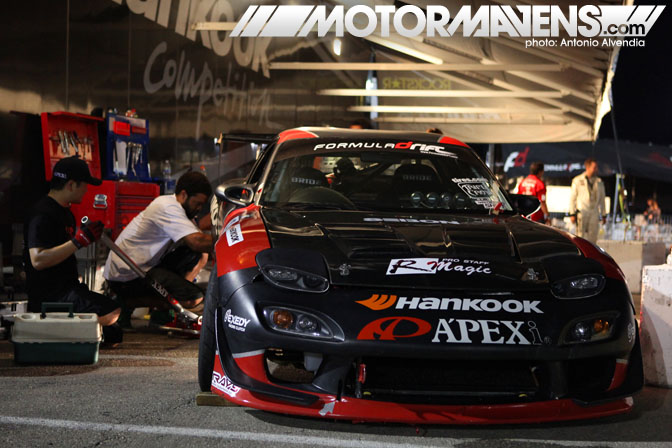 It has been ten days since the Formula D tour rolled the dice through Sin City, and what an event it was. We've already shown you numerous photos and videos from the Vegas event, so we thought we'd wrap up our photographic coverage of the event today.
In the pit area right before qualifying, the Apex'i crew was busy at work – either their differential or ring and pinion seized up, because the rear wheels on Ryuji Miki's FD3s wouldn't spin at all – they were completely locked up! The Apex'i crew always seems to be working tirelessly, as we always see them working on their cars on the side of the track.
In this photo, we see Jeren Walker from DSPORT Magazine offering to lend a helping hand, so that the Apex'i crew could get the car back on track and Miki could qualify. Jeren works for a magazine – he wasn't hired to help Apex'i; he had nothing to gain from getting down and dirty, helping to get Miki's car back on track. Yet he willingly volunteered to help, because that's what people do from the grassroots drifting scene. Wait… Apex'i..? Grassroots?
It may come as a surprise to many, but even though the Apex'i drift team gives off the appearance of a huge professional top ranked team with tons of funding, they're actually running on a very tight budget. They work hard, late into the night, wrenching on their car, testing and tuning, just like all the other privateers in the Formula D circuit. This is one reason why we respect them so much. The entire Motor Mavens crew respects the hell out of grassroots drifters. This is what it's all about!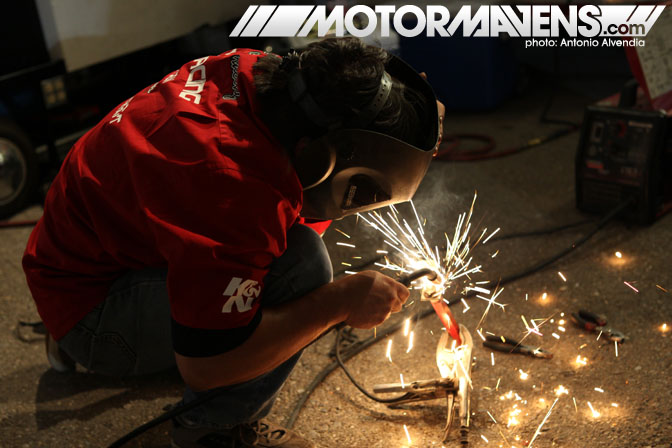 On the other side of the Hankook trailer where Apex'i pits, Renee, a mechanic from Jeff Jones Racing welds up a broken BattleVersion suspension component for another completely unrelated drift team's (CityTire/Kallusive 350Z) car. Again, this type of camaraderie is the standard amongst grassroots drifters… GRASSROOTS drifters.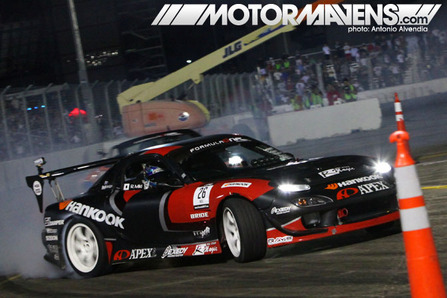 Oh… continuing our story about the Apex'i crew… thanks to their homie Jeren from DSPORT, they were able to get the FD's rear end swapped out quickly, and Ryuji Miki was able to run qualifying (even though he didn't have any practice using the newly swapped-in 4.3:1 rear end setup). Miki had been practicing earlier that night with the 4.7:1 gear ratio, which is a higher ratio normally used on short tracks that give more wheel speed and more smoke. Nevertheless, the koala-faced former D1 star was able to make it happen, and he qualified just fine, bringing home a 2nd Place trophy at the end. (Well, it's about freakin TIME, Koala! Congrats on earning your keep!)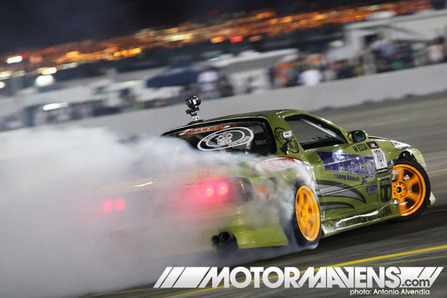 The Apex'i team didn't have the only RX7 that was kicking ass that night. Mike Essa, a Formula D Pro-Am driver that's new to the "big show" certainly impressed judges and audience alike with the big smoke, speed, and angle coming from the fenderwells of his FC3S RX7. Look out for this guy in the future. He's gonna be big.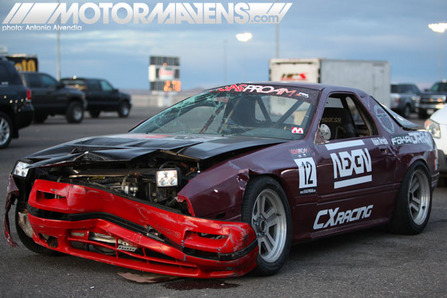 Unfortunately, not all the RX7s did well in Vegas. We just saw Kelvin Arreola's FC3S making smoke not too long ago at the Megan Racing Drift event, but in Vegas, he actually FLIPPED THE CAR OVER while qualifying! Good thing he wasn't hurt… Kelvin says he is going to try to fix the car and run it at All Star Bash this weekend! Good luck man! Nice deep dish rear Starion wheels BTW…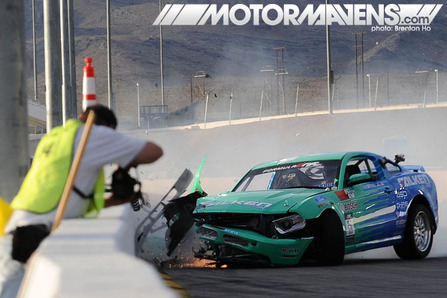 Apparently Kelvin wasn't the only one who ended up making contact with the wall! Everyone has been talking about how Falken Motorsports/Drift Alliance driver Vaughn Gittin Jr from Glen Burnie MDsmashed his 2010 Ford Mustang to bits as it collided with the concrete k-rail in Las Vegas! **BANG**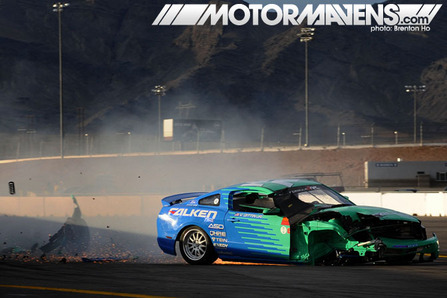 Scraaaaaape…… you know the sound of nails screeching across a chalkboard? Well, that must have been a little bit what this sounded like, if you add in some additional clunking metal sounds from the brakes and coilovers bouncing around independently of the springs and umm… the rest of the car. ***screeeeeeeeeeeeeeeeeeeeeeeeech!***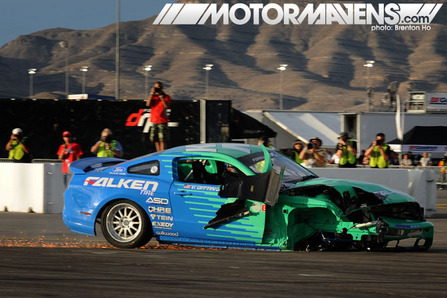 Seems to me like our friend Joey Redmond needs to use this photo on the cover of Wrecked Magazine!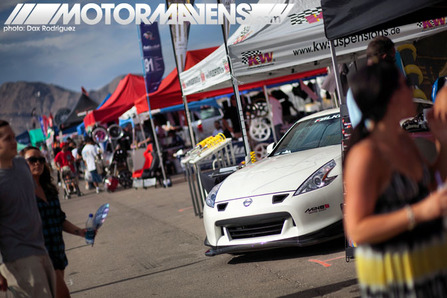 Even though it was incredibly hot in Vegas, the vendor row still seemed pretty lively, with lots of drifting fans going through the booths to see what the different vendors had on display. One of our favorites was this Mine's 370Z that we saw backed up against the KW Suspensions booth.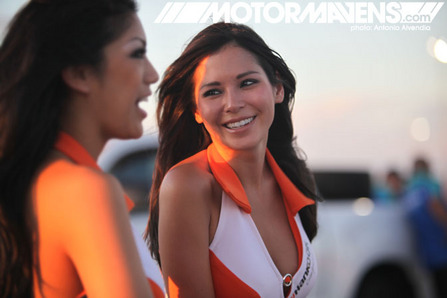 Secret: Umbrella girls love air conditioning. Since we are already aware of this fact, we spent some of our day hanging out with Hankook race queens Janelle and Kathy in the car – Kathy was telling us about the new movie she was just cast in! We can't wait to see it! We don't know anything about the story, but at least we know it has a sexy leading lady!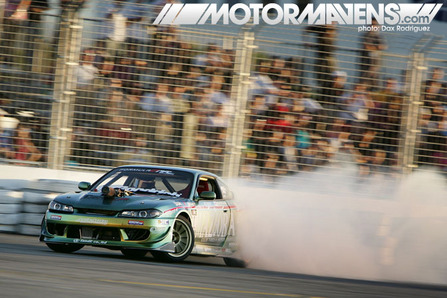 Big smoke and a big supercharger on Yamanaka's Mazoora painted Silvia…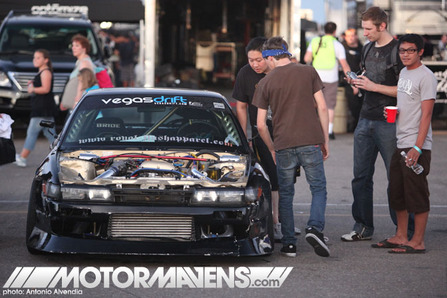 However, most of the people in the pits were a bit more drawn to the S13 Silvia owned by Vegas Ray of the 702's Royal Flush crew… and for obvious reasons! Aggressive aero? Check. Aggressive offset wheels? Check. SR20DET? Check. Rollcage? Check. Crazy ass street bomber? You bet your ass. Stay tuned to Motor Mavens for more on this car! And check VegasDrift and VegasProAm to get more info on the Sin City drift scene!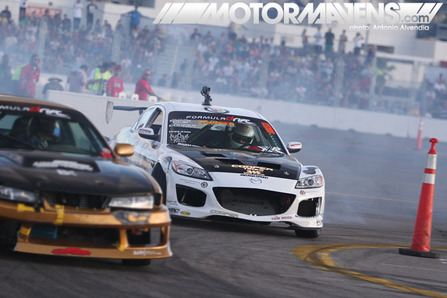 Speaking of aggressive, Kyle Mohan looked intense as ever as he chased down Pat Mordaunt's S14 with his KMR Mazda RX8…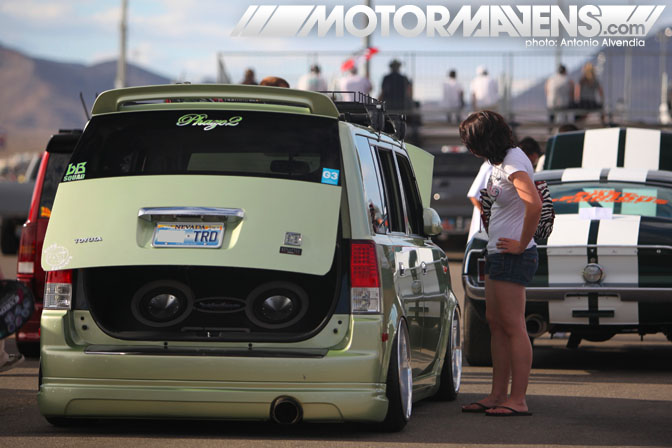 While, in the car show area, they had the most successful JTuned Auto Gallery that we've seen all year. We think there were more cars in the Vegas carshow portion of Formula D than there were at all the other FD rounds combined. Congratulations to our JTuned homies for a job well done!
Nice stance on this Phaze2 bB by the way!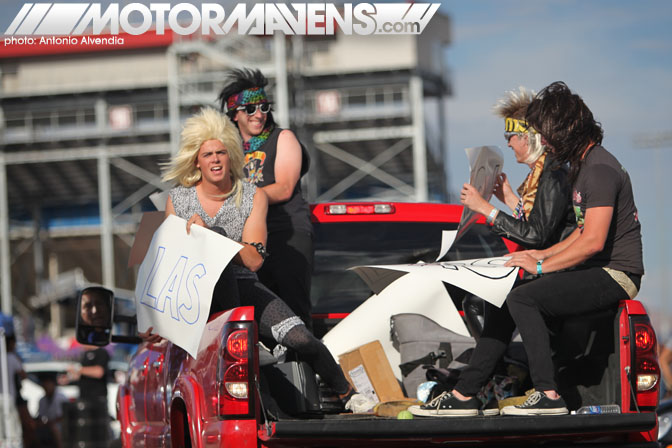 Cruising through the pits, it was impossible not to notice the Matt Powers fan club stirring things up, looking like they stepped out of the Wayne's World movie! haha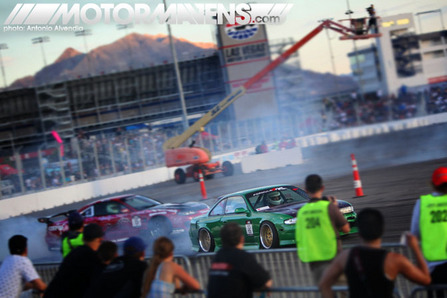 And on the track, Matt Powers was definitely stirring things up in his battles against former D1GP Champion AE86er Katsuhiro Ueo, who was driving the red Driftspeed car. Matt may be a newbie to professional drifting, but we give him props for his style! Not only does his car look awesome, but he was also able to stick pretty close to Ueo, considering Ueo has between 150-220 more horsepower than Matt does, and about twice the driving experience. If not more!
So big ups to Matt for hanging in there with a seasoned veteran like Ueo! Keep pushing!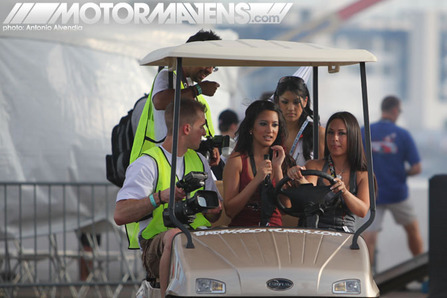 Speaking of pushing, there were a bunch of guys with cameras pushing their luck with PMgirls Miki, Mariel, and Janelle… this photo looks funny because the guys are looking at the girls, but the girls look like they're all purposefully turning away… LOL Sorry. Just sayin!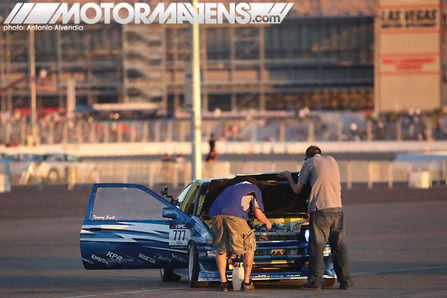 Back on the grid, Vegas native Tommy Suell had to cool his SR-powered AE86 down quickly in between tandem drifting runs with Apex'i driver Ryuji Miki. We're not sure if everyone realizes it, but Tommy's AE86 is actually right hand drive. Tommy grew up in Japan and can speak fluent Japanese. Hopefully he is comfortable  enough to cuss Miki out in Japanese for beating him in tandem! Props to Tommy and his crew for all their hard work! Notice the Vegas number on Tommy's door? 777 spin em!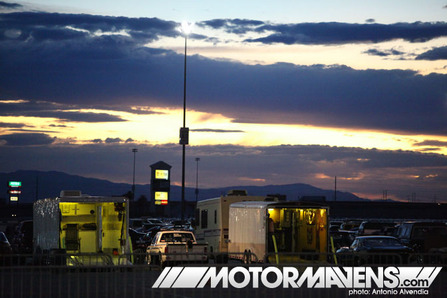 As night fell, many people trackside noticed the awesome colors in the sky, combined with white tire smoke and the sound of screeching tires…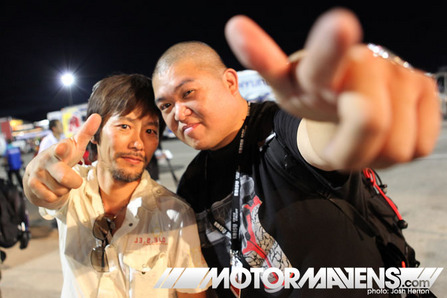 And in the pit area, I ran into a friend from Japan! As I was walking with my friends, I heard someone yell my name, and I turned around to see this guy say, "Antonio! Remember me?" Of course!!! For those who don't know, this is Mori-san from the MSC drifting championship in Japan. I told him about our new site, and he said he was down to do some collabo stuff… OH SNAP! You definitely gotta stay tuned to Motor Mavens to check for further developments on that!
Dope photo by our bearded homie Josh Herron!
:: Antonio Alvendia
More MotorMavens coverage from Formula D Las Vegas
Everything Drift Top 32 Rundown
VegasDrift and VegasProAm
---