Last weekend's Formula Drift Seattle event at Evergreen Speedway in Monroe, Washington was unforgettable. Tons of familiar faces and unusually warm weather made for the best FD experience I've ever had. Since I've been shooting at this location so much lately, I was able to take my time and really enjoy the event, rather than scrambling to get shots.
Last weekend also marked a milestone for me, as it had been one year since shooting my first FD event with a media pass. FD Seattle '09 was also when I met quite a few friends in the industry, such as Antonio Alvendia, Larry Chen, Drew Fishbein, Ross Fairfield, Will Roegge, and Josh Herron, among many others. Last year around this time, I knew next to no one and now I can comfortably say I feel at home in the professional and grassroots drifting communities.
With this video, I chose to take a much lighter approach than last year as a representation of the comfort and relaxation I now feel among my fellow videographers, photographers, and drivers who congregate for these great events.
This year, I also met a guy named Jason from ContourHD/VHoldr, who was nice enough to let me test out a couple of his HD 1080p wearable/mountable POV cameras for some of the shots!
I would also like to take this opportunity to thank everyone who has supported me along the way, especially the MotorMavens Crew, Formula Drift, Evergreen Drift, and KP Race. Without all the love, it just wouldn't be worth it.
Thank you.
:: Justin Shreeve

Shreeve Films on Vimeo
MotorMavens Crew on Facebook

---
To be completely honest, up until earlier this year, I knew next to nothing of KP Race. I knew it was an auto shop located somewhere in Washington (With names like Snoqualmie and Skookumchuck, the towns all seem to blend together in my mind). That was, until I received a call from a guy who goes by the name of "Victor Moore." Hey, I'd have an alias, too, if I were him. Don't worry, your secret's safe with me, Tiger. Haha! Anyway, the conversation consisted of a request to travel the US with Victor, Chris Jeanneret, and Matt Brandow as they work their way up the Formula Drift Ranks in 2010. How could I resist?! Free rides all over the country and food along the way! Say no more; I'm in!
Traveling with these fine young gentlemen took me back to a simpler time in life. A time when all that mattered was having fun. A time when you jumped in a 1988 Ford Probe and drove all day, just to bomb a hill in San Francisco or skate a new park in Vancouver, BC. From late night In-N-Out runs, to shenanigans at Hooters in Long Beach, drifting was far from the best part of the journey, for me. That's probably why I love it so much! Just like skateboarding in my younger years, drifting has given me the opportunity to meet literally hundreds of new people who share a common love.
This video documents the adventures of KP Race as they fight for the Formula Drift podium. Despite a privateer budget and terribly timed mechanical failure, these guys are always upbeat and having a good time. Don't get me wrong, though. These guys are seriously dedicated to the sport and have the drive and motivation necessary to reach the top. Expect to see plenty more of KP Race in the 2010 season!
:: Justin Shreeve
---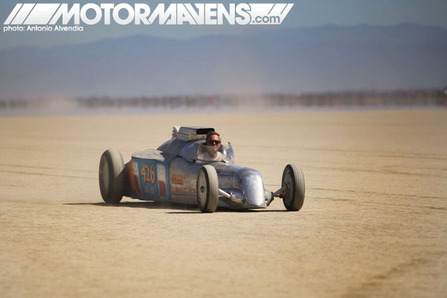 About an hour and a half north of Los Angeles lies
El Mirage
, a historic dry lake bed that has been a home to
land speed racing
and the organization that hosts these land speed racing events, the
Southern California Timing Association
(
SCTA
) for over 60 years. Just think about it - sixty years! That's a long time. Even though it is only about 1.5 hours from where I live and I've known about El Mirage for years, I had never actually been to El Mirage until this past weekend.
For me, the journey to El Mirage was something like a time warp. We had to drive through the high desert of the Antelope Valley, and eventually began noticing lots of old homes and old buildings... not to mention ghost-town looking businesses that look like they haven't seen a customer walk through their doors in a decade.
On Sunday, Travis and I decided to drive our Nissan Cube press vehicle up to El Mirage to check out the scene and see what it was all about. On the way to the legendary dry lake bed, we stopped off at this liquor store/gas station for drinks, and were happy to find an old Ford hot rod parked outside at the gas pump. I approached the owner of the car, a gentleman named Dave, and said hello while he was refueling his hot rod with a funnel, as the gas station's modern style gas nozzles wouldn't be long or slender enough to get the entire neck of the fuel nozzle into the vintage gas tank without spilling onto the side of his old Ford.
Read more...
---
Antonio has just gotten back from Seattle Formula D, and I'm sure many of you are waiting to see the photos from the event. He is currently preparing photos and stories to post up, but while he's doing that, we thought we would change the pace just a little bit.
Many of you I'm sure have seen some of Antonio's stories and photos from the 2009 Ink and Iron festival. (There are A LOT more photos by the way… we just thought we'd spread out the postings in case not everyone was feeling the style.) While we were at the show, we decided to get some video footage of the event. This time we only used Antonio's Canon 5D Mark II digital SLR camera in video mode. He's just starting out with trying his hand at shooting video… it's a really different skill than shooting still photos, as there are different techniques that make both disciplines challenging.
Many of you may not be aware of this, but the 5D Mark II is becoming a huge favorite of the independent filmmaker. The 5D's insane depth of field, color quality and low light capabilies make it ideal. There's no high speed or time lapse capability, it simply has amazing picture quality.
Along with video footage we got from the 5D Mark II, we integrated some of Antonio's still shots. See if you can tell which shots are stills. Enjoy the new video and let us know what you think.
:: Travis Hodges
---
Check out our newest video on Streetfire.net, which highlights video footage from the IDRC West Coast Nationals at the California Speedway Drag strip in Fontana. One of our friends, Tobin Honda from DSPORT Magazine was promoting the event, so we definitely wanted to be there to show our support.
FWD, All-Motor and Street class cars were running all day. Some of the car setups were pretty crazy, but many of them were modified street cars. It was cool to see the Honda Civics and CRX's with wheelie bars and parachutes, but for us, seeing the normal street cars run was pretty cool because they were more stylish and were also driven to the track! You should also make note of the FWD 's grip tire placement. Not where you would typically see them on a dragster.
On the RWD side, you have to keep an eye out for one of our favorite cars at IDRC; the Mazda RX2 drag car that was featured in Antonio's carspotting story from the event.
With the continued help of Antonio's brother Dave, we were able to get some great coverage combining the footage from the small Canon HF S100 consumer HD video camera I'm testing with the video capabilities from Antonio's Canon 5D MarkII digital SLR.
Enjoy the video and let us know what you think of the footage from the cameras!
:: Travis Hodges
---