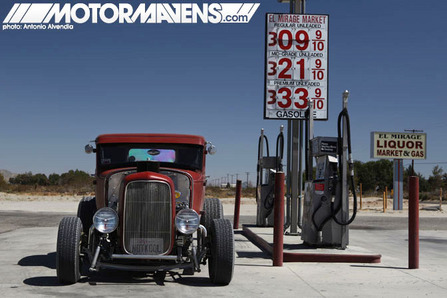 About an hour and a half north of Los Angeles lies El Mirage, a historic dry lake bed that has been a home to land speed racing and the organization that hosts these land speed racing events, the Southern California Timing Association (SCTA) for over 60 years. Just think about it – sixty years! That's a long time. Even though it is only about 1.5 hours from where I live and I've known about El Mirage for years, I had never actually been to El Mirage until this past weekend.
For me, the journey to El Mirage was something like a time warp. We had to drive through the high desert of the Antelope Valley, and eventually began noticing lots of old homes and old buildings… not to mention ghost-town looking businesses that look like they haven't seen a customer walk through their doors in a decade.
On Sunday, Travis and I decided to drive our Nissan Cube press vehicle up to El Mirage to check out the scene and see what it was all about. On the way to the legendary dry lake bed, we stopped off at this liquor store/gas station for drinks, and were happy to find an old Ford hot rod parked outside at the gas pump. I approached the owner of the car, a gentleman named Dave, and said hello while he was refueling his hot rod with a funnel, as the gas station's modern style gas nozzles wouldn't be long or slender enough to get the entire neck of the fuel nozzle into the vintage gas tank without spilling onto the side of his old Ford.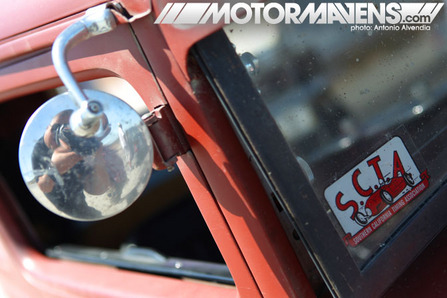 I noticed that Dave's car had an SCTA sticker on it, and asked if he had just come from El Mirage. The obvious answer was yes; in fact, Dave drove his Ford all the way down from San Jose CA (about 6 hours away) for the day, just to watch the event. That's some dedication!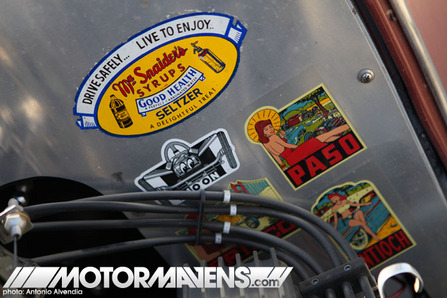 Perhaps what I liked best about Dave's hot rod were the minor details, like the cool stickers on his stainless steel firewall. Anyone who knows me knows that I absolutely LOVE collecting stickers from different race tracks or places I've been to, so I totally dug the period correct looking stickers on Dave's car.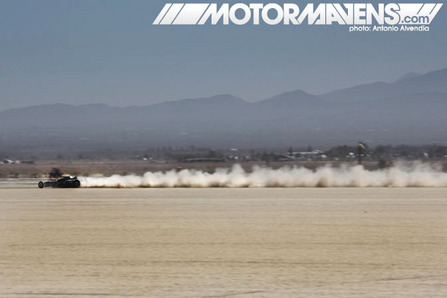 Once we finally got to the dry lake bed and paid our entrance fee, we drove through the dusty grounds of El Mirage, not even knowing where to go. I figured we should just keep driving until we see cars, but at the same time I was a little worried that we might get t-boned by a land speed car going 200mph or something!
Luckily, we were able to find our way without getting hit or getting in anyone's way. Just as we got out of the car and started walking around, we witnessed this high speed run (above), which looked super cool with all the dust trailing off the rear of the speeding car as if it were tire smoke!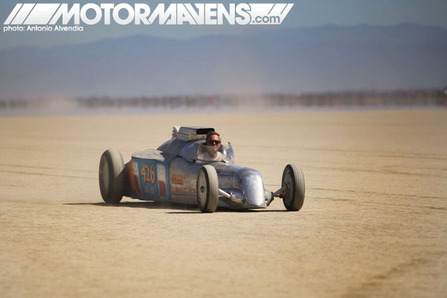 We were able to get a closer look at the car several minutes later, as the car made its way back to the start line. For some reason, the raw sheetmetal surface of the car and the patina of its vintage racing livery set against the dry desert background made me think of that old school movie, Mad Max: Beyond Thunderdome. Does anyone know what I'm talking about?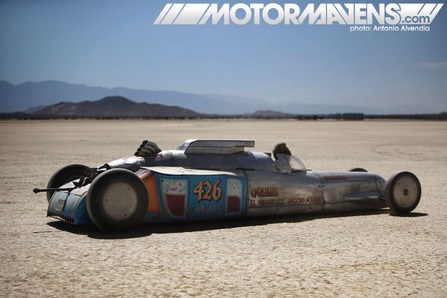 The colors and graphics on the side, combined with the raw metal finish of the car made me think of something from the old days of Medieval Europe, like knights charging through the desert on the crusades. This particular crusader was apparently a Land Speed record holder at El Mirage – it even says so on the side of the car. Coooooooool.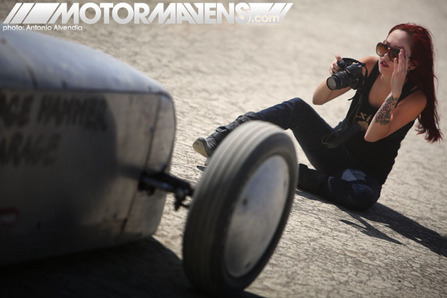 While we were exploring the area looking at cars, I also took notice of a certain female photographer walking around and snapping photos by herself. What impressed me, though, was despite the fact that she was rocking some stylish looking tall boots and raw denim jeans, she wasn't afraid to get down and dirty to get the shot.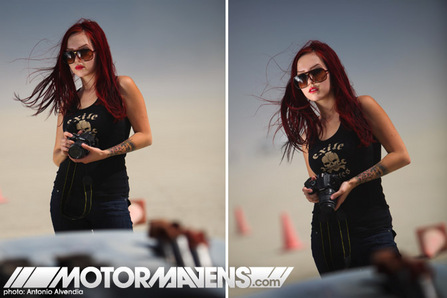 We began talking to each other as we were taking photos, and all the while, I was thinking to myself, this girl certainly looked more stylish than any of the other female photographers I've seen taking photos… especially at a race track. And this girl was just cruising around, rolling solo. In the middle of the desert. All because she loved the cars. RESPECT!
I just knew I had to write a little something about meeting her, so I asked her if I could take a couple candid photos of her taking photos. She graciously obliged, and here's what we captured.
We ended up chillin and talking further, but our conversation was cut short because the high desert winds began blowing the dust and sand around like crazy, making it unsafe to run the cars at such high speeds. We even saw some twisters out on one section of the lake bed! All the car owners began packing up their things; it was definitely time to make like a banana…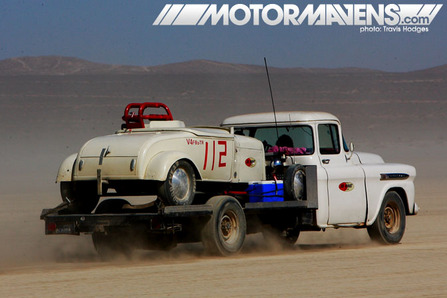 As it sped off into the distance, I got a snap of a period correct flatbed truck from So Cal Speed Shop, with a period correct land speed car strapped down to it. Very cool! So Cal Speed Shop just has so much damn style. I love it.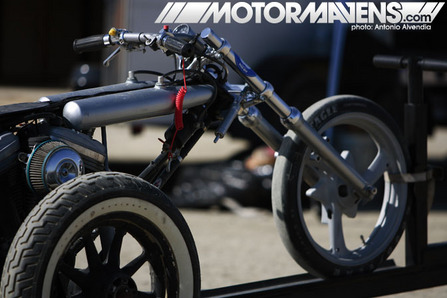 Another thing I didn't expect to see… check out this land speed racing motorcycle!!! Doesn't it look bad ass?! Look at the angled front forks with the crazy looking race wheels on it, and the Goodyear Eagle slick tire up front. Even the fuel tank looks crazy… I wouldn't think a small tank like that could hold enough fuel for a high speed pass, but apparently it does. People need to make their Ruckuses look like this. Sooooo effin bad ass.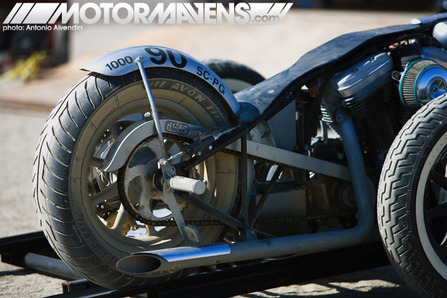 Let's take a look at the rear tire and fender too. This bike is propelled by an Avon directional tire, while the low profile perfectly shaped rear fender prevents dirt and dust from kicking up. I dunno, all I could think of when looking at this bike was that a tiny, thin piece of metal is the only thing preventing the rider's groin from receiving a highly undesirable tire rash (OUCH). I dunno. Even with that fender in place, you would have to be pretty damn confident to ride this thing, with balls of steel. Seriously, look how close the family jewels would be to the rapidly spinning rear tire!!! Oh hell no. The other thing I noticed was the straight pipe header, which looks cool as hell; low to the ground with the angle cut tip.
This is just a small sampling of what Land Speed Racing is all about. I can't wait to attend a future event and capture more of the nostalgic high speed goodness that takes place at El Mirage. Who's down to roll with me?
:: Antonio Alvendia
---