Official Wörthersee 2010 Video of the Low-Familia from Thomas Diewald on Vimeo.
Every year, droves of Euro-inspired enthusiasts come out to a little city in Austria for a fun-filled weekend of girls, beer, cars (and more beer). This year there were some amazing cars –  from a first gen Volkswagen rabbit (Mk1) swapped with a 1.8t to sick Audis sitting just right on big wheels riding on Air.
I have to hand it to the Europeans, they sure know how to do up their rides – everything from getting the stance of the car just perfect to even the minute details in chrome and the polishing of every single nut and bolt. That's just pure dedication. The theme that seems to be running all throughout Europe is Air-ride. I saw it much more this year than ever before. The versatility and ride quality were just amazing – it just makes sense.
Here's a video from the guys at LOW-FAMILIA as I just happened to come across their video and thought I might share it amongst you guys to give you a sneak peek at how the Europeans do up their rides.
Big -ups to Thomas Dieweld for putting together such a sick video of the show.
For more info click the link below
:: Tamer Omran
---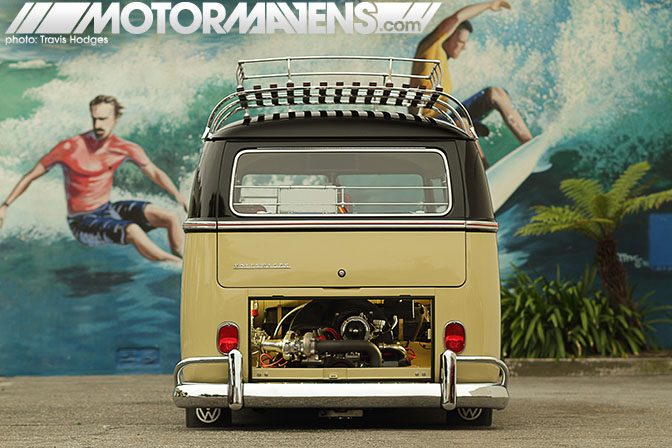 Many of us are dreamers, striving toward our dreams and goals, stopping at nothing to reach that finish line.
Rolando Alvarado's 1965 Type II Volkswagen Bus
took 30+ years to cross the metaphorical finish line - but what a great finish line to cross!
Growing up, Rolando was always a fan of the air-cooled Volkswagen scene and it quickly became a personal goal of his to acquire one. It was his father's 1954 European oval window VW Bug that got his heart pumping and started his love for the air-cooled engines. Despite that, it took a while for Rolando to realize his dream. It wasn't until 1980 that he finally got his very first VW. Of course, being the die-hard VW head that he is, it ended up being a 69' VW Bug.
The first time I laid eyes on this Bus, I just knew that there had to be a story behind it. To many, a Bus may just be another form of transportation, but to me this iconic Bus was a moment in a time when life was a lot simpler - the time of Wood Stock, hippies running through Haight and Ashbury in San Francisco, Jefferson Airplane...good times. During the photo shoot, this Bus almost became a time capsule to channel what life was like back then - an icon to remind us how things used to be.
Read more...
---